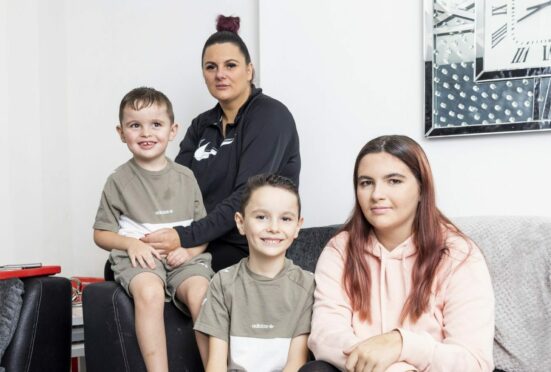 Scots living in social housing are being hospitalised with breathing problems as the number of complaints about damp and mould in homes surges by almost a fifth in two years, we can reveal.
Ministers are being urged to tackle the issue with new urgency after a coroner found two-year-old Awaab Ishak died of a respiratory condition caused by exposure to mould in his home in Rochdale. Following his death, his family called for legislation to prevent similar, needless tragedies.
In Scotland, the number of reports by ­tenants to councils and housing associations about mould or dampness has risen by a fifth in two years, according to information obtained by The Post. Figures obtained from 22 Scots councils detail 14,451 reports of mould or dampness in 2021-22 compared with 12,099 in the year before, an increase of 19%.
NHS guidance says damp-related mould in homes can produce allergens, irritants and toxic substances and trigger asthma attacks and the charity Positive Action in Housing said the surging number of complaints must prompt urgent, effective action to protect the health of tenants.
It said: "The fact that over 14,000 homes are reported as having mould or dampness last year is shocking. The 20% rise is a sharp increase and we fully expect a steeper rise in the coming year because of the rise in energy prices and people being afraid of turning on the heating because of unaffordable energy costs.
"These figures are a wake-up call to the Scottish housing sector and the Scottish Government. They need to address the inevitable poor health consequences for our families, elderly, and children and babies, and also the existing housing infrastructure.
"The government needs to provide funds for more energy-efficient house-building. Housing associations can commit to a programme of draft proofing and insulation, and remedy defective properties as an urgency.
"Additional energy discounts for ­vulnerable households would also help people stay healthy and avoid additional costs to the NHS."
One of Scotland's leading litigation experts said she is aware of children and their parents being hospitalised because of damp and warned housing providers would face legal action if effective action was not taken to remove damp and protect tenants.
Claire Campbell, who leads a ­specialist ­litigation team at Thompsons Solicitors Scotland, said: "Thousands of Scottish families have been living in houses riddled with mould and dampness for decades, suffering damage to their health and well-being. The problem has been painted over, literally, by housing providers who continued covering up mould with a lick of paint rather than undergoing the remedial work that would eradicate the problem.
"Over the years we've seen hundreds of ­families living in such conditions because landlords have been cutting maintenance budgets and failing to carry out high levels of remedial work on their housing stock.
"Now the gravity of the issue has been highlighted with the coroner's verdict in Rochdale, housing associations need to get their houses in order or face claims for damage to physical and mental health and psychological wellbeing as well as loss of belongings and substantial legal costs."
She added: "We have recently settled a case out of court between Glasgow housing association the Wheatley Group for a family where both an adult as well as children suffered health issues and were hospitalised because of the housing conditions they were living under.
"We have many families suffering ­breathing difficulties, asthma, respiratory illnesses and skin conditions as a result of living in houses with mould and dampness."
The figures obtained under freedom of information laws show the number of reports by tenants to Scottish councils and housing associations rising sharply across the country. Aberdeen City Council carried out 1,841 inspections following reports of damp or mould growth in 2021-22, compared with 1,649 in 2019-20, a rise of 12%.
In Edinburgh, 1,222 dampness surveys were carried out in 2021-22 on reports of dampness, mould and condensation, compared with 424 in 2019-20, a rise of 188%. Spending on ­treatment rose from £209,000 to £292,014. Edinburgh City Council said the rise in reports was partly due to change in approach where every report now resulted in a survey being carried out.
Dundee City Council received 489 complaints resulting in damp inspections in 2021-22, compared to 258 in 2019-20, a rise of 90%. Remedial work spending fell from £911,000 to £356,000.
In Glasgow, social landlord Wheatley Homes received 3,380 reports of damp or mould from tenants in 2021-22, compared with 3,510 reports in 2019-20, a drop of 4%. Spending increased from £1.8 million to £1.9m over the same period.
North Lanarkshire Council said it could not provide figures on the number of complaints it received, but that there were 2,279 properties installed with mould inhibiters in 2021-22, compared with 1,921 in 2019-20.
Last month the Scottish Housing Regulator wrote to councils and housing associations urging them to ensure they have "appropriate, proactive systems" to identify and deal with cases of mould and damp "timeously and effectively".
Scottish Conservative MSP Miles Briggs met the Scottish Housing Regulator and has urged Scottish Housing Secretary Shona Robison to answer how she is going to tackle the issue. He said: "Scotland must act now to tackle the widespread problem of mould-infested ­housing if we are to escape a repeat of the tragedy we have seen in England.
"I was shocked to hear from the Housing Regulator just how housing providers can offer properties with mould and dampness and still consider them habitable. Scotland has had more than its fair share of poor-quality housing for decades, with local authorities and housing associations painting over the problem.
"I've been pressing Shona Robison for answers on just how widespread poor-quality housing is across the whole of Scotland, and have asked her what she intends to do about it. Long term, we need better-quality ­housing stock, but we also need robust preventative measures put in place to tackle the health consequences too many families are facing right now."
Dr Ian Sinha, a consultant respiratory ­paediatrician with an interest in the impact of poverty on child health said babies who arrived home from hospital to a damp mouldy home spent their calories (energy) surviving the deleterious effects of their poor homes while those in more affluent families thrive much better in warm and healthier environments.
According to the Scottish Government, the most recent Scottish Housing Condition Survey, which was for 2019, showed 99% of social homes were free from damp and 86% were free from any sign of mould.
The Scottish Government said: "Everyone should have a warm, safe and affordable home. We are working with local authorities and social landlords to make sure that is the case. Any rise in complaints is concerning, and we are committed to tackling disrepair in housing where it does exist, and ensuring good maintenance is given a high priority.
"Social landlords must have a clear ­complaints process and if a tenant is dissatisfied with the response of their housing provider, they can take their complaint further by taking it up with the Scottish Public Services Ombudsman."
It also said an agreement had been reached with social landlords on below-inflation rent increases for the next financial year.
"This will keep rents affordable, while allowing social landlords to continue to invest in essential services such as home improvements and maintenance.
"The vast majority of social landlords' tenants are satisfied with the quality of their homes. However, there is much more to do which is why we plan to introduce a new Housing Standard for Scotland during this parliament."
---
'The kids were in A&E so often, we were on first name terms with staff'
The death of toddler Awaab Ishak was a tragedy that rekindled awful memories for Stacey Lamb, writes Marion Scott.
The two-year-old died in 2020, and last month a coroner ruled his deteriorating health was caused by mould and dampness in the social housing flat his family rented from Rochdale Boroughwide Housing.
Lamb, who spent five years fighting to be moved from her black mould-riddled home, remembers taking her three children to A&E with breathing difficulties caused by the fungus.
Stacey said: "It is shameful a two-year-old boy lost his life before authorities were held to account but the fact is that thousands of families right across Scotland have been living in similar conditions for decades and nobody was taking any notice.
"I spent five years battling to get my three children out of our mould-infested home, living in constant terror that one of them may lose their life before we could get a property that wasn't a danger to our health."
Stacey, 37, an emergency call handler for the ambulance service, finally had to resort to legal action to get moved from her Glasgow Housing Association home in Baillieston, Glasgow, last year, to another property.
She said: "I had doctor's reports which stated my children were suffering chronic breathing problems, asthma and bronchial issues as a result of the mould. But time and again the landlord would simply treat and paint over the mould to cover it up rather than eradicating it from the property.
"All that ever did was cover the issue up for a couple of months until the mould came back worse than ever. My kids were constantly ill and having to attend hospital.
"My nightmare was that one of them may develop a major asthma attack and die. As an emergency call handler for the ambulance service, I know only too well how dangerous asthma can be.
"My daughter Kayla's respiratory health deteriorated so badly, she had to be taken to hospital and placed on a nebuliser to allow her to breathe.
"We were on first name terms with A&E staff because we were in so often. It not only affected our physical health. It was a constant cause of stress. Our clothes stank of dampness and we felt embarrassed having anyone in our home with the walls covered in spores from floor to ceiling."
A year ago, the family got another house when, Lamb says, their health improved immediately, adding: "I had to withhold my rent for months and threaten legal action before the housing association agreed to move us.
"We had to throw away every single thing we owned before we moved into the new house because the mould infested everything, our clothes, shoes, furniture, even personal belongings. It cost me thousands to start again, but at least we got out."
An independent report into the Baillieston property found the house was not habitable because of mould, and the infestation was damaging to the health of occupants.
Stacey is now one of a growing number of families taking action against housing providers for failing to provide a habitable home.
Wheatley Homes are Scotland's biggest housing providers with 93,600 homes.
Tenant chair of Wheatley Homes Glasgow, Bernadette Hewitt, said: "Complaints about damp or mould are investigated within 48 hours and we aim to complete repairs within 15 days. This issue is a major priority for us and dealt with as a matter of urgency."
Hewitt said due to Covid restrictions, repairs to the Lamb family home were delayed.
She said: "A series of repairs was carried out in the flat over 2018-2019. However, due to Covid-19 government restrictions, we were unable, unfortunately, to enter the home and tackle the mould issue in 2020.
"As soon as the restrictions were lifted, all of the affected areas were treated."
---
Evacuate some families like refugees in a war. This war is against poverty
By Dr Ian Sinha
Damp, mouldy and poorly ventilated homes make it more difficult for children's eyes, lungs, brains and other vital organs to develop well. Youngsters in more affluent, healthier homes develop better vital organs.
Dust mites are more common in damp homes and are a driver for asthma. Around 85% of my asthma patients are from the poorest homes and that will be the case for many paediatrician colleagues.
The damaging effects of growing up in a damp house may well affect adult respiratory health and there is a real need for research to see if adult-onset asthma and other chronic obstructive pulmonary diseases are linked to childhood exposure to poorer housing.
Children in poorer housing are also more likely to die and develop chronic diseases as well as other health problems.
Mothers coping with the stress of poor housing can suffer depression, which itself has a negative impact on their children's health.
We often write letters to patients' landlords in direct and honest language saying that the children of their tenants risk dying if they do not eradicate the dampness. There is no point in saying otherwise when evidence overwhelmingly proves this.
Childhood is a window of opportunity for organs to develop optimally. Substandard housing slams that window shut – many children see the consequences in early life, and in others we see the results in adulthood, including early death.
The legal consequences to landlords who do not provide healthy housing are obvious and cannot be ignored when, as a paediatrician, you are the child's advocate.
I am also dismayed that babies are not seen as a priority for good housing when parents are looking for a place to live. Society should understand that investing in good housing for young children provides the best driver for healthy adults who are more likely to contribute to society.
I have seen parents who had to be rehoused because their toddler became ill after eating a slug in a damp home. They were placed in a hotel room like refugees fleeing war and in their case, the war is against poverty.
Dr Ian Sinha is a consultant respiratory paediatrician with an interest in the impact of poverty in child health at Alder Hey Children's Hospital, Liverpool.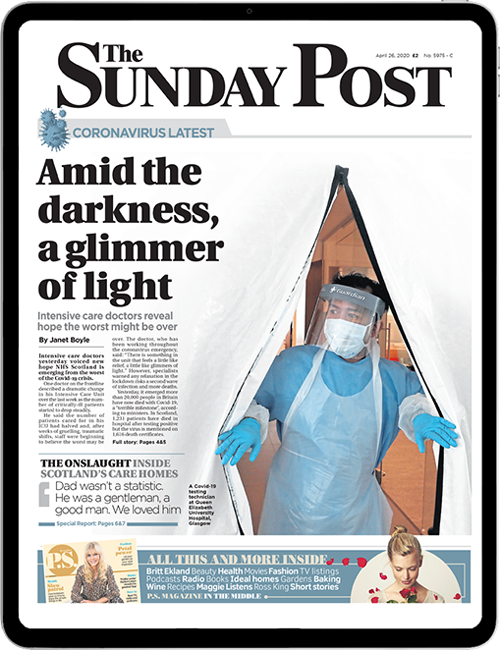 Enjoy the convenience of having The Sunday Post delivered as a digital ePaper straight to your smartphone, tablet or computer.
Subscribe for only £5.49 a month and enjoy all the benefits of the printed paper as a digital replica.
Subscribe