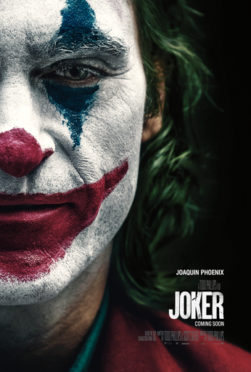 He's the clown prince of crime — an evil jester with a taste for chaos, murder, and a witty one-liner.
The Joker is known for being the arch-nemesis of Batman but now he's starring in his own critically-acclaimed movie, starring Joaquin Phoenix.
He plays Arthur Fleck, a failed stand-up comic, whose career as a joker is about to take a much darker turn.
One man who knows more about the origins of the Joker than even the Caped Crusader is Frank Quitely, one of the world's leading comic book artists.
Next month Frank – real name Vincent Deighan – and his friend, Glasgow University's professor Laurence Grove, will head to San Diego for an academic conference on the importance of the character of the Joker.
The unique appeal of the villain is explored by Frank, whose introduction to the character couldn't be further from the gritty and violent version in cinemas at the moment.
"Batman can be told in a number of ways, like the colourful Batman of the 1960s TV show, or as much the grim and gritty Batman of Christopher Nolan," said Frank.
"There are different ways of doing the character, and they're all equally relevant."
After seeing the movie on Friday, Frank praised its take on the iconic character, and tipped Phoenix for an Oscar nomination.
"Sometimes I was uncomfortable with Arthur Fleck, but sometimes I was rooting for him. I didn't expect that," he said.
"And I also didn't expect to be so physically tense while watching certain moments,
"Joaquin Phoenix puts in an excellent performance. Early on he's laughing and gagging at the same time and you're unsure what he finds funny.
"But after he commits his first crime, he starts dancing and becomes a more relaxed, fluid character.
"The film makes you sympathise with this murderous character, but you feel you shouldn't.
"Although he's playing an ugly character, he's also quite attractive.
"When it comes to drawing the Joker in future, this interpretation will go into the deck of cards I use. A deck of cards filled with jokers."
For both Frank and professor Grove, the anarchic clown's origins stretch further back than him beginning to terrorise the streets of Gotham.
His back-story can be traced back to ancient Greece via medieval Italy, as well as the pages of Detective Comics in the 1940s, they say.
"The current version of the Joker dates 80 years, but the notion of the character himself goes way beyond that," explained Laurence, professor of text and image at Glasgow University.
"From the ancient Greeks to the Grave Digger in Hamlet, we've always had the clown archetype.
"In a certain way he encapsulates life – we try to laugh when we're sad.
"The Joker is the antithesis of Batman. Batman is order, he's good, he is everything that makes sense. Whereas the Joker is encapsulated by disorder, evil, and things that don't make sense.
"When you explore their relationship, you can ask questions about what is good and what is evil.
"In the latest film one of the points is, there's a reason why he is nasty."
Before its release, Joker was criticised for its violence and for attracting an army of disaffected young men.
"It's almost similar to how the Guy Fawkes mask has caught on with the Occupy movement," Frank added.
"There are a lot of people in society, not just young men, who are struggling with different things. There's, a general feeling the things going on are outside the control of the average person on the street.
"With young men in particular over the past decade, the whole landscape of gender and politics has changed a great deal," said Frank.
"The ground keeps changing under their feet.
"It's almost not surprising to see people identify with powerful characters who seize control, whether they're Batman or the Joker.
"But it's a bugbear of mine that any time a problem can be linked with art, whether it's a comic or a movie or video game, people jump in to blame it rather than tackle what is actually wrong in society.
"Let's look at the other tonne of straws on the camel's back than blame a movie. You see it in Joker – these are the awful things that made him this way."
---
THE REVIEW 
Expect to see more scary clowns than usual this Halloween, writes Stevie Gallacher.
Joaquin Phoenix's unhinged jester is a greasepaint and nicotine-stained loser who, ironically, plenty will want to emulate.
With nervous ticks, wolfish glowering and mirthless laughter, his remarkable performance overshadows even Heath Ledger's Oscar-winning portrayal of the same character.
In the grubby 1980s setting there are uncomfortable parallels with our present troubled society.
Joaquin's character appeals to our darker side so much so that, when he does exact his maniacal revenge, a certain guilty part of you can't help but smile.