With all that was going on before and all that has been going on since, it feels like a lifetime since Johnny Depp sued The Sun.
But it was only July when the Hollywood actor appeared in court, claiming the paper had defamed his character with an article headlined "Gone Potty: How can JK Rowling be 'genuinely happy' casting wife beater Johnny Depp in the new Fantastic Beasts film?".
Last week, after what seemed like a million headlines, 16 days of detailed evidence and three months of deliberation, the most talked about trial of the year finally came to a conclusion – and the High Court ruled against the Pirates Of The Caribbean star.
The article in question was deemed "substantially true" and accurate, which should be an end to the matter, right? Wrong.
The 57-year-old star's lawyers have already vowed to appeal the ruling, calling it a "perverse and bewildering decision", and I have no doubt this sorry mess will rumble on for a long time to come.
When it comes to high-profile cases involving celebrities – including details of their lavish lifestyles, spending habits and wild, drug-fuelled parties – it can be easy to forget we aren't watching a Hollywood movie. Real people at the centre of the drama, namely Depp's ex-wife Amber Heard, have been hurt and must now rebuild their lives.
For a lot of women in cases like this, facing their abuser in court simply becomes too difficult, too high-profile and too emotionally draining, so we have to applaud her for her bravery and persistence.
While recounting memories I'm sure she would rather forget, to a room full of strangers no less, the 30-year-old faced not only the battle to be believed, but also Depp's unbelievably expensive lawyers and the court of public opinion, too.
It is still so difficult for women to speak up and be heard when it comes to domestic violence, so if one good thing comes out of this landmark case, I hope it's that more victims can get the justice they deserve. It's always so disappointing to discover someone in the public eye behaves so differently behind closed doors.
Johnny Depp has been a superstar for decades and discovering his dark side will be a huge let-down for his fans. But we simply can not move on, leave the ruling behind, and continue to watch him perform in blockbusters as we once did.
In the wake of the revelations about Harvey Weinstein, and the #MeToo movement as a whole, surely he can't just return to his glittering career?
Perhaps as a wealthy, powerful man, he thought he was invincible, and with enough money (reportedly £2 million in legal fees) he could make it all go away. Well, no, he can't.
With that kind of stain on his reputation, casting directors would only be looking for the wrong kind of publicity by working with him and, unsurprisingly, he has already been forced to quit JK's Fantastic Beasts franchise. I hope I'm right in saying we've seen the last of Johnny Depp as a Hollywood icon – but only time will tell.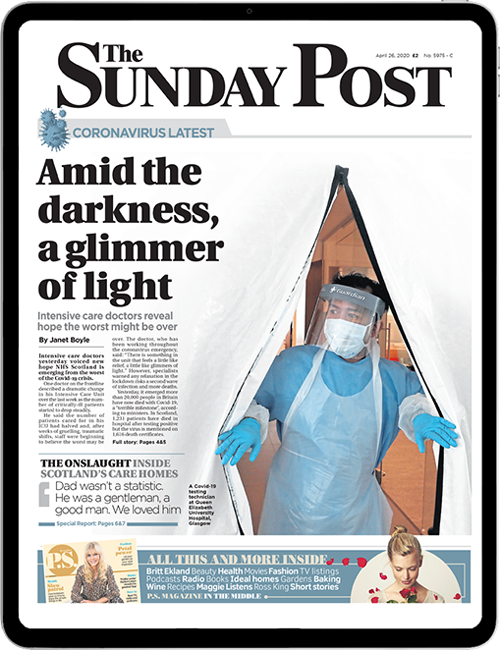 Enjoy the convenience of having The Sunday Post delivered as a digital ePaper straight to your smartphone, tablet or computer.
Subscribe for only £5.49 a month and enjoy all the benefits of the printed paper as a digital replica.
Subscribe