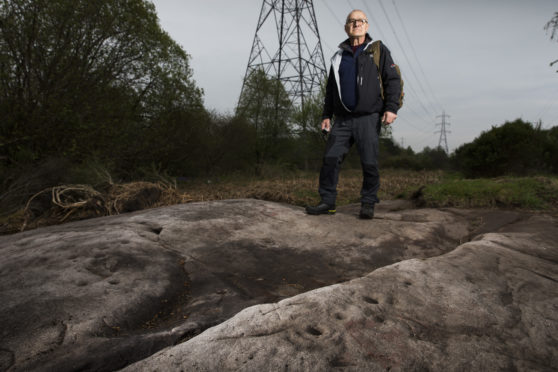 The patterns of circles, dots and swirls have mystified and intrigued the curious for generations but remain shrouded in mystery 5,000 years after being carved into unforgiving rock.
Perhaps, some have hypothesised, the complex patterns are messages to aliens or maybe they chart the movement of the stars or the passage of time.
But Gordon Morrison, who has studied them for decades, has a down-to-earth explanation – stone-age mums were trying to keep their kids occupied.
"My theory is that Neolithic mothers had to give their kids something to do, you know, something to occupy themselves," he said. "So they said right, knock me a picture into that rock, and that's how these things have come about.
"If you say that to an archaeologist they throw their arms up in horror and look at you as if you're an alien, but it's as good a theory as any other."
Gordon is one of dozens of volunteers from Faifley in Clydebank, West Dunbartonshire, and further afield who have helped out a project to map and list ancient rock art sites in and around Auchnacraig Park.
Central to them is the best-known, the Cochno stone, said to be one of the finest examples of cup-and-ring marked stones in Europe.
There are about 20 other stones across many acres with similar markings.
Knowes Housing Association is hoping to turn the carvings – one of the finest collections of its type in Europe – into a tourist attraction that will help breathe life into businesses and help boost the estate, which features in the index of Scotland's most deprived neighbourhoods.
There will be signs to explain what's known about the rock art, such as how the carvings were done in the first place. It is thought the softer stone of the hillsides was probably carved using hard pieces of quartz, some of which can still be found embedded in the rock.
Why it was done, and why it's always the same shallow cups, often with perfectly circular rings around them, is much harder to fathom.
As well as Gordon's, there are around 100 other theories as to how the Faifley rocks came to be inscribed with the curious markings, according to Dr Kenny Brophy from Glasgow University.
The archaeologist is leading the project to clean, map and photograph the stones, with 3D imagery used to record every detail of the Neolithic or early Bronze Age carvings.
Around 15 years ago he led the re-excavation of the Cochno stone, covered up during the 1970s due to vandalism, carefully cataloguing its carvings using modern techniques.
He says the other stones are, in many ways, just as interesting.
They are common across Europe, and the Faifley stones are among thousands in Scotland, but it can never be known for sure what the markings signified.
"There has been lots of ink spilled in trying to make sense of what these symbols mean but ultimately that's an impossible question to answer," he said.
"Even if we had someone here now from the Neolithic era, who was actually carving the symbols, I still think we'd be scratching our heads over it. That's because the cultural world people were living in, in prehistory, was so different from ours.
"If someone from the Neolithic was to turn up and see a car or a mobile phone, it'd blow their minds, and this is similar – we'd have our minds blown if we could go back in time and see what this is all about."
But the fact that he'll never know for sure doesn't mean Kenny can't use his imagination, just like Gordon.
"I sometimes wonder if you can see these sites as places that were believed to be portals to another world… or the underworld," he said.
"These were places where the real world met the supernatural, the wormholes between the two.
"The symbols might be to stop things coming into this world, to protect people as magical symbols.
"They might be related to this being a place that's mysterious or dangerous or powerful.
"These could have been exciting dangerous, magical places in prehistory and that's why they had to be marked like this."
It's intended to become the centre of rock-art studies in Scotland, putting Faifley, with its four-storey blocks and grey-harled homes perched high on the hill above the Clyde, on the map as a visitor destination.
Brophy says the archaeological richness of the site means that should be perfectly possible.
"Some people might laugh at the idea of Faifley as a tourist attraction," he said. "But the archaeology and the heritage here is spectacular so why not?"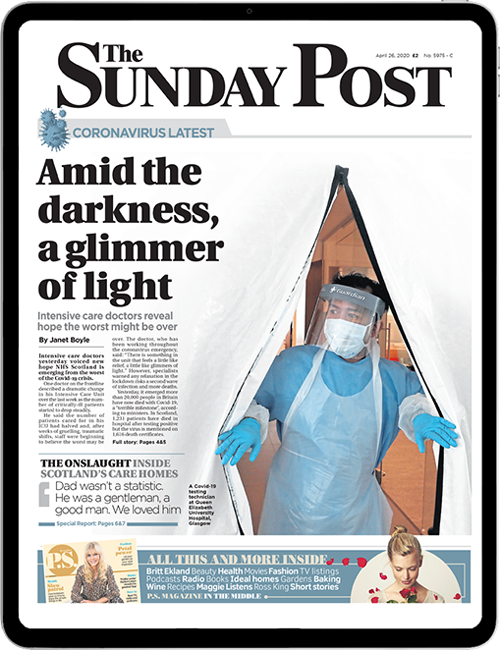 Enjoy the convenience of having The Sunday Post delivered as a digital ePaper straight to your smartphone, tablet or computer.
Subscribe for only £5.49 a month and enjoy all the benefits of the printed paper as a digital replica.
Subscribe