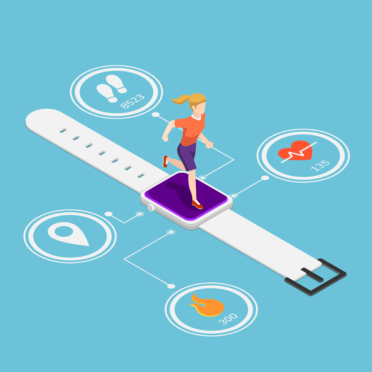 In the digital age, we can track just about everything. GPS helps us get from A to B, while apps help us keep tabs on parcels – and pizzas – out for delivery.
We can even keep an eye on our children at nursery, watch pet pooches at doggy daycare and see who is ringing our doorbell when we're not at home thanks to the latest webcam technology. And the same is true for keeping tabs on our health, too.
In a world increasingly interested in staying in shape, the fitness technology market is booming.
Whether you're a fun-runner, or a steps counter, it seems like everyone has a tracker on their arm or in their pocket, logging their every move.
According to market research firm Mintel, in 2017, around four million smartwatches were sold in the UK alone. One in five people said they now used wearable technology.
Smart watches and clip-on fitness trackers allow us to monitor everything from our daily steps to sleep quality, our heart rate to calories burned.
Sport and exercise psychologist Paul McCarthy said: "Smart devices allow you to understand where you are in a complex navigation system. We like to know what we have completed and it's a good indication of our efforts.
"Of course, they are helpful as they are typically related to goal setting and that's associated with managing time and effort."
And there's no greater motivator when it comes to achieving your exercise goals, according to Professor Ewan Gillon, a psychologist with First Psychology Scotland.
He explained: "Fitness trackers give us positive feedback and reinforcement.
"Seeing how many steps we have taken in a day makes us feel good about ourselves, as we feel like we have achieved something.
"The validation that provides is incredibly helpful for us psychologically.
"It provides a return for us. And we like having a device that actually gives us a tasks that are structured, such as breathing exercises.
"For a lot of people, fitness trackers can provide motivation, that little nudge you need to help you get out the door."
However, experts warn that, used incorrectly, these devices could instead have a negative impact.
"We do have to be careful as it's a question of whether you are driving the device, or the device is driving you," cautioned Dr McCarthy, who lectures at Glasgow Caledonian University.
"It's possible that they will encourage us to make choices in our lifestyles to fulfil goals that don't suit your lifestyle and fitness level.
"It's fine getting data, but it's how we interpret that data that could be a problem.
"So it's important to check in and make sure any goals are realistic for you."
Professor Gillon added: "You have to be sure it doesn't create a rod for your own back. If you remember the Blackberry being launched…we were all very excited about it but it ended up becoming a major problem for many people.
"They became tied to it and slightly obsessed. Fitness trackers could follow the same pattern.
"We need to be careful that we don't become obsessed and anxious that we are not doing enough."
Fitness has become a focus for thousands of people in the weeks since the coronavirus-enforced lockdown was implemented, largely because it's one of the few essential daily outings we're allowed under the Government's guidelines. Many people have rediscovered the jogging habit, are digging out and dusting down those old walking boots and investing in Fitbits, while lapsed cyclists are pulling discarded bikes out of the shed with renewed enthusiasm.
Of course, with limited time outdoors, there's a temptation to push ourselves to the limit. But experts say that if there was ever a time to not stress about our fitness, it's now, given the many other challenges of life in lockdown.
Dr McCarthy said: "At this time, we should probably be doing less, not more. If you've had to manage a busy workload at home and add childcare into the equation, you shouldn't put too much pressure on yourself when it comes to fitness.
"The key is paradoxical intervention, so if you go for, say, a 15-minute run, the next day you shouldn't try to do more, but instead commit to 10 minutes and then decide after 10 whether you want to finish or do more."
Remember, too, other important health considerations, such as getting a good night's sleep and maintaining a healthy diet. Most smartwatches can help you form better sleeping habits, and count your calories.
Dr McCarthy added: "Whatever you are doing, it's important to try and calm down a difficult and challenging time for the brain by lessening the load, both cognitively and emotionally.
"Remember, everybody is trying to make healthy changes in their lives – and the smaller and more manageable changes are actually the most effective.
"Even though we all know this intellectually, we tend not to practice it."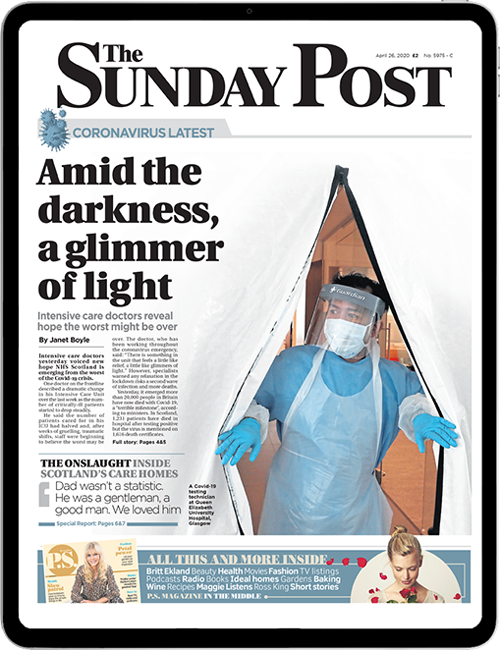 Enjoy the convenience of having The Sunday Post delivered as a digital ePaper straight to your smartphone, tablet or computer.
Subscribe for only £5.49 a month and enjoy all the benefits of the printed paper as a digital replica.
Subscribe