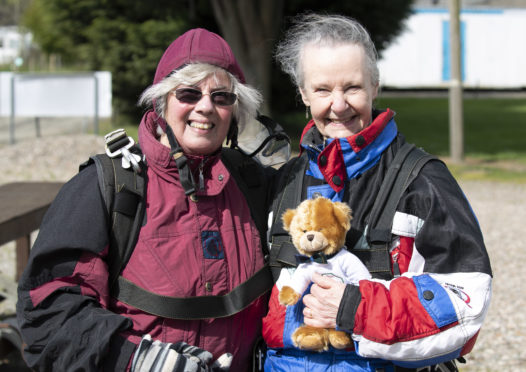 Two intrepid grannies proved they are still game by skydiving to celebrate their 80th birthdays.
Helen Woods and Anne Fiddes yesterday flew 10,000 feet above the Perthshire countryside before bailing out of a Cessna aircraft.
The duo reached speeds of 120-130mph before their parachutes deployed, landing them safely back at Errol airfield just four minutes later, to the delight of watching family and friends.
Former businesswoman Helen and ex-legal executive Anne are near neighbours at Strachur in Argyll. Helen will be 80 on Tuesday and Anne will reach her milestone on June 13.
After she came back down to earth, Helen said: "Wow. That was fantastic.
"We may be getting on a bit but we're still young at heart. I wasn't nervous at all."
Anne said: "As birthday treats go that was right up there. It was an amazing experience."
The daredevil duo also used the unusual birthday bash to raise money for their favourite charities.