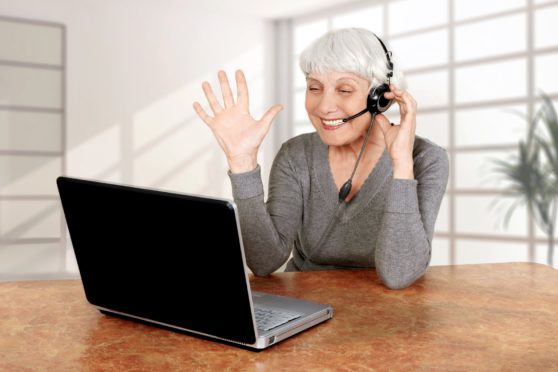 Over the last two weeks I've learned to put a smile on my face as I mutter under my breath: "They mean well, they really do." But I'm afraid it isn't possible to stay calm.
I'm tense, tetchy and terribly intolerant with my well-meaning family who have suddenly started treating me like a fragile female who, because she will never see 60 again, is liable any day now to be struck down by the coronavirus.
Our three sons and one daughter Kate phone regularly to check how we are coping. Are we feeling OK? Do we need shopping? Or help with the gardening?
The only one who accepts my firm and emphatic "NO, we are fine" is the eldest. He is a psychologist, which perhaps gives him more insight, or his understanding could be due to the fact he works in Saudi Arabia, which would make it a bit difficult to pop out for a fresh loaf and a pint of milk, were we in need.
The coronavirus is a horrible disease which has swiftly run rampage through an ageing population. But I am absolutely not ready to be pampered and patronised just yet. Nor is my husband, a practical person who delights in being the family handyman.
One thing I do miss is seeing our grandchildren. I love hearing about their day, catching up on their news and playing board games with them. But their parents are working from home so suddenly we're not needed. And, of course, strict social distancing rules mean we're not allowed to visit. I miss that contact.
Thank goodness for Skype. Our 10-year-old granddaughter Jamila lives in Saudi Arabia which is also in lockdown. We can talk face-to-face and catch up with her news. We've had long chats about the books she's reading and what she plans to do when she comes back to Scotland.
These past days have been a time of change for everyone. But despite the fear and anxiety there have been so many positives.
The kindness of neighbours who look out for the housebound and elderly. The sight of so many elderly couples out walking every day for an hour to get their exercise. And the many phone calls from friends and relatives who want to know you're well.
My family means well and I know I should be grateful for their concern but it has surprised me how much it irritates me when they fuss over me and fret about me "doing too much."
What's too much? Filling a trolley at the supermarket? Cleaning the house? Gardening? Washing a sink full of dishes? Tackling a heap of ironing? Please!
Women of my age started married life with a pile of dusters, an ironing board and a washing machine if you were lucky. I'm not alone in wanting to hold on to my independence for as long as possible. Our generation enjoys the company and stimulus of younger people but we don't want to be patronised.
So although we may drive you potty with our stubborn determination to do things the way we've always done them, forgive us.
One day you will be tiptoeing towards being a pensioner. You'll want to be a golden oldie who has fun, good times, enjoys company and having a laugh. You might get a little bit miffed if you suddenly get people fussing furiously if you do something "dangerous" like giving the house a spring clean.
As the days have passed, so much has subtly changed in our daily lives.
I can't say I enjoy standing in a queue to get into the supermarket, although it does get people – while keeping a safe distance – talking to one another about how they are coping.
Friends in my age group can't quite decide how they feel about being treated with such delicate respect because we happen to have lived so long. Yes, it's very thoughtful and kind but honestly we are thankfully still fit, active and capable of standing in a queue and doing our own shopping.
Coronavirus has changed our world very suddenly but it will not defeat us. Our warm humanity proves yet again that kindness, thoughtfulness and compassion will triumph. And for that we must all be thankful.