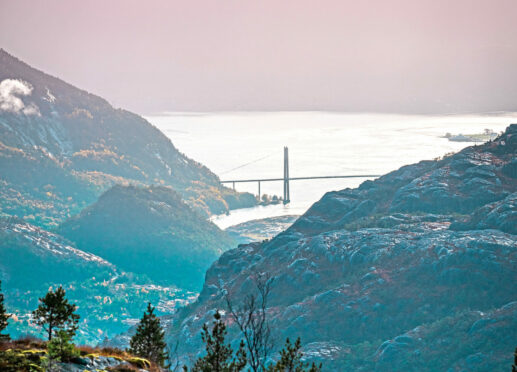 The slate-smooth road twists and turns ahead, running silently along still-water fjords and barrelling through tunnels bored deep into the mountainside. Fruit trees line the roadside and colossal cascading waterfalls appear around every bend.
This is Hardangerfjord in south-west Norway and we are on Discovery Route 13, a historic tourist trail that stretches from Stavanger to Bergen and takes in crystal-clear fjords, high mountain passes and stunning scenery.
Known as the fruit basket of Norway, Hardangerfjord is renowned throughout the country for their local produce including plums, pears and strawberries. But it is in the bountiful apple trees that a revolution is growing. Hardangerfjord, and its neighbouring regions Ryfylke and Suldal, are at the centre of a cider industry (like our own craft beer and artisan gin booms) that is taking the country by storm.
The unique microclimate of the narrow fjords is ideal for apple cultivation. From sweet rose ciders to dry and even dessert versions, the Norwegians drink it much more like fine wine than cider. But wine is also on the menu in this part of Norway, with Midtsommar at Hebnes in Suldal one of only a small handful of vineyards operating in this most unlikely of climates.
Owner Toyni Tobekk and her husband Arild Hebnes started the vineyard in 2020 after diversifying from pig farming. From light red wines to sparkling and even orange wine (a white variety that involves leaving the grape skins on), a wine tasting at Hebnes vineyard, which sits just 50 metres from the fjord, is a truly unique experience.
And, much like Scots, Norwegians love a drink. It is little wonder that the Norwegian saying for plain- talking, "Å snakke rett fra leveren", means to speak directly from the liver.
"Senke skuldrene og puste lettet ut," says Linda Tungland from Visit Ryfylke. It is another saying heard a number of times throughout the trip. "It translates as put your shoulders down and breathe and means now you can relax because everything went well," she explains.
Looking out from Preikestolen, a huge slab of rock jutting out with breathtaking views of Lysefjorden, it could not be more accurate. Our mountain guide on the trek to Preikestolen is Erlend Berne, along with his faithful collie Balder.
He uses the same phrase about putting your shoulders down – in between tales of Norwegian mythology about trolls, information on the local wildlife and even pitch-perfect impersonations of Billy Connolly.
At Preikestolen BaseCamp, where we stay for the evening, owner Eyvind Flood explains the sustainability ethos of the centre and the push to make it a year-round destination. "The views here in winter are unbelievable," he says and as the last of the "fairy clouds" disappear into the fjord below, we are in no doubt that he is right. Back on the winding Route 13, we arrive at a tiny ferry port to be transported the short distance across the fjord.
In Norway, the fjord was historically the main road and, to this day, crossing the waterway is a daily occurrence. The pristine, gleaming ferry rests on the still water and it is a number of minutes before we realise we are indeed moving as the ferry is run on electric power and devoid of the roaring diesel engine that we Scots associate with maritime travel.
Electricity and green energy is central at our next stop also, although from the outside, the Energihotellet in Suldal conjures images of a James Bond villain's lair with its brutalist concrete architecture and adjoining electric power station.
The hotel, designed by famed Norwegian architect Geir Grung in the 1960s, has been conserved in the minimalist era and stepping through its doors is to be transported back in time.
From the Scandi leather and wooden armchairs, original moulded lighting and the clear sightline layout, everything at Energihotellet has been designed to the smallest detail.
From the modern era to ancient history, we travel along the winding roads, passing baskets full to bursting with apples and on to Agatunet, a cluster of farm buildings dating back to 1220, although it is believed people have lived here for at least 3,700 years.
With such a backstory it is safe to say Agatunet has a deep and rich history, including the story of Sigurd Brynjulvsson, the wealthy leader of the community in the middle ages, who is said to have drowned in 1303. Although, since he was missing his head when he was found, historians aren't sure he was in a fit state for swimming at the time.
At Hardanger Folk Museum we are introduced to the traditional dress that Norwegians wear to this day – mainly for special occasions like weddings. The vivid red bodices and flowing white, black and green skirts are reminiscent of German lederhosen in style, while the intricately constructed headdress for married women is straight out of The Handmaid's Tale.
Master craftsman Peter Helland-Hansen at the Hardangerfjord Maritime Centre tells us about the ancient craft of boat building. "There is only one surviving boat builder who knows all the traditional methods … and he is 108," says Helland-Hansen as he looks out on the low mist that rolls across the fjord at Norheimsund. "He was still building boats until he was 100."
In the small harbour there are boats of every kind, from a tiny, half-submerged rowing boat to a large fishing boat that has itself been fished from the bottom of the fjord, where it lay for nine months before being brought here for restoration.
Here, as Helland-Hansen and his team work on everything from small rowing boats to massive icebreakers, you can feel the true sense of Norwegian spirit. People with deep history, stubborn, hard-working spirit and a strong sense of community striving (and winning) as they try to keep tradition alive.
---
Factfile
Loganair has a direct service from both Edinburgh and Newcastle to Bergen and Stavanger as well as flights from Aberdeen to Oslo.
Reservations can be made at www.loganair.co.uk or by calling 0344 800 2855. For more information on all the activities above, visit www.fjordnorway.com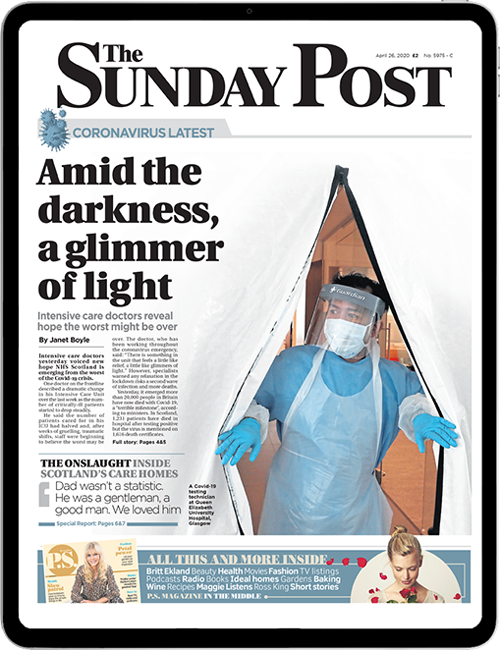 Enjoy the convenience of having The Sunday Post delivered as a digital ePaper straight to your smartphone, tablet or computer.
Subscribe for only £5.49 a month and enjoy all the benefits of the printed paper as a digital replica.
Subscribe