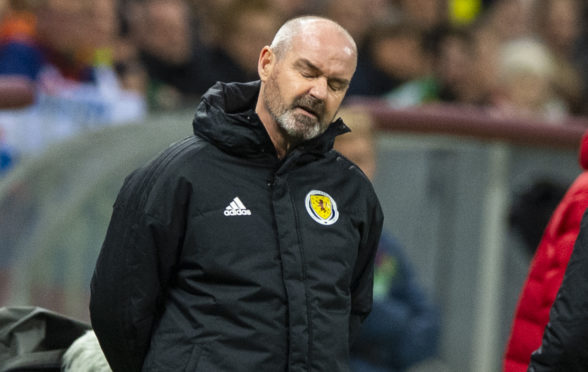 Like every Scotland supporter, I'm concerned about the results and performances from our national team over the past year.
Far too often, it's just not been good enough.
However, I will not allow myself to become depressed about it, and buy into the doom and gloom.
We have a chance this afternoon to put things back on the right road by beating San Marino at Hampden Park.
And we have to look to win that game by a number of goals to send out a positive message.
Remember, they lost 9-0 to Belgium on Thursday night, having lost by the same margin against Russia earlier in the qualifying campaign.
A campaign that sees them without a point and a goals-against column showing 37 in just seven games.
If we struggle today against such weak opposition, then we really do have problems – and they may well run deeper than we all think.
When Steve Clarke accepted the chance to become Scotland manager back in May, he faced an almighty task in three of his first five games.
I'm disappointed the difficult fixtures, home and away to Belgium and away to Russia, ended in some heavy defeats.
But I can't say I was overly surprised because of the quality in the ranks of the nations we were up against.
It would have been great to have had more to show during Steve's time in charge than a win against Cyprus. We should have competed better against Russia at Hampden.
But we didn't, we are currently second bottom of the qualifying group and that's the reality of the situation.
I, like every other Scot, would love for us to be going into the final three games of this Euro 2020 campaign with everything to play for, and a chance of pipping Russia to second place to secure automatic qualification.
But we are not.
So it's time to stop dwelling on the negatives. We must have a more positive outlook and, as a nation, get behind Steve and the players.
It all starts today at Hampden, and let's not forget we have so much to play for.
We are just 180 minutes away from being at the Euro Finals next summer.
After the bruising 4-0 defeat in Moscow on Thursday evening, Steve looked very down.
But, like he said, let's hope we are now as low as we can go, and that the only way is up.
Being at a major Finals in June and July next year may seem like a fantasy. But it's not. It's real. And it's there for the taking.
Steve is an excellent manager, and the work to be there and achieve something memorable starts today.
If he can find solutions to some of the things that need to be fixed, then we can qualify.
The basic and obvious stuff is that we need to defend better, especially at set-pieces because we are too easy to score against.
We also need to keep the ball better. We need to be more creative and confident in the final third.
I think improving on all of the aspects I've mentioned is not beyond the team. The damage and hurt of the results of the past year or so can be overturned.
Remember, we do have some very good players, and they are playing at a high level every week for their respective clubs.
Yes, we are short in some areas, but a country such as Scotland will never have an embarrassment of riches for every position.
However, I wholeheartedly believe that the likes of Andy Robertson, John McGinn, Scott McTominay and Ryan Christie, to name but a few, can rally everyone together and produce the goods on the park.
One positive from Thursday was the introduction of Lawrence Shankland.
I wrote last week that Steve had every right to introduce him to the squad, and it was heartening to see him make his debut.
He made intelligent runs, linked the play well and didn't appear to be fazed in any shape or form. It was just a pity he didn't have any clear-cut chances in front of goal.
However, I think he will be given an opportunity this afternoon at Hampden, and I'd fancy him to get on the scoresheet.
We should expect to create plenty of chances in this game, and Lawrence has the ability to convert opportunities to help Scotland win the game.
It is, of course, Steve's decision as to whether the Dundee United striker starts the game or comes off the bench. But I would have no qualms putting him in from the first whistle.
So my outlook is that the real stuff starts today. We can't undo what's been done in the past year, but we can create a positive future.
The next three games in this campaign are absolutely there to be won. Indeed, there should be a level of expectation to go and get the nine points up for grabs.
If we really believe we aren't capable of beating San Marino, Cyprus and Kazakhstan, then we do have a problem.
I'm not saying that we should win comfortably in Cyprus next month, but we should be able to beat all of them.
That would then set us all up for real optimism for the make-or-break fixtures in March.
On that front, the SFA must do their bit to make sure we have a sell-out crowd in the play-offs.
They need to find a way through their ticket pricing that is attractive to fans and will see Hampden being packed.
The Tartan Army are important and can help bring us success. Let's make sure we get them involved.
If we are to achieve success, it will only happen with a collective pull – on and off the park.