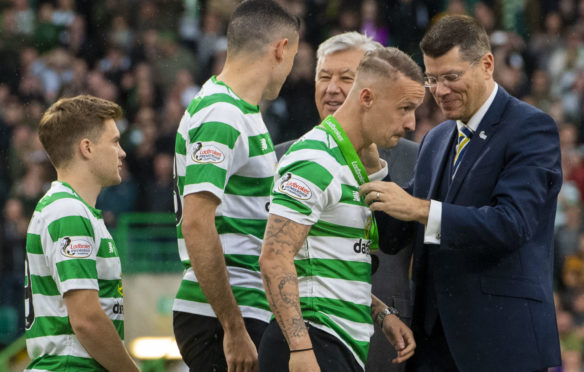 The talks between James Anderson and the SPFL hierarchy appear to have been productive.
The philanthropist wants to donate £2 million, to be split between the 42 member clubs.
It really is an unbelievable gesture from the Edinburgh-based businessman.
When you consider the governing body has been in a bit of disarray, for a variety of reasons, during lockdown, to get this "gift" is quite something.
They really have pulled one out of the hat on this occasion.
I'm not privy to the internal discussions, but it's been reported James wants nothing in return.
I'm sure he could have got a sponsorship package for the four SPFL divisions with his £2m, but that doesn't appear to be part of the agreement.
So it's up to Neil Doncaster and Murdoch MacLennan to make sure that James is properly recognised.
I'd suggest they invite James on to the podium to hand over the respective championship trophies to the four successful captains at the end of season 2020-21.
That may well be something that he'd appreciate. It's the kind of gesture that may well go a long way.
Indeed, if Hearts are in the Championship next season, he could well find himself presenting the trophy to the Tynecastle skipper in April or May of next year.
First, we need to get it rubber-stamped and over the line.
It's then up to the clubs to make sure they use their split of £2m wisely, and in the spirit the donation was intended.
When the Scottish Premiership clubs are getting ready to start back training this week, a cash injection is likely to be most welcome.
Whether it helps with Covid-19 testing kits, or whatever, then it will be gratefully received.
In the current climate, every penny will count.
That's why any season-ticket money from supporters will be brilliant for clubs just now.
Hearts have thanked their fans after more than 2,000 of them bought season tickets in advance, and the likes of Partick Thistle supporters have donated more than £150,000.
Other clubs will also have benefitted from fans' generosity, and it just goes to show the love that is out there, whether you get 50,000 or 500 inside your stadium every other week.
The will and effort from football fans to help their clubs never ceases to amaze me. They are truly brilliant.
It's in times of adversity when you really stand shoulder to shoulder, and football often leads the way.
Around 150 years ago, football was started for communities and it's great to see that spirit back again on a huge scale during lockdown.
Maybe we will see it back even more as the weeks and months go on.
The television companies have also been great in the past few weeks.
Sky Sports really support the game on both sides of the border, and they've been working tirelessly to make sure football fans don't miss out.
Yes, games might be behind closed doors for many weeks to come, but Sky has backed the virtual season-ticket initiative and that's a great gesture.
To be fair, everyone is pulling together to try to minimise the costs to the football punter while keeping the fan experience of the highest standard possible.
That will allow them to sit in their own homes and watch their team in action. Sure, nothing beats being inside the stadium, but that is not an option right now.
The fixture list for the English Premier League is now out and fans can pay in advance. Some games may be played at a neutral venue, but that has not yet been 100% confirmed.
Neutral or not, it will need to be played at a Premier League venue as no other stadiums have VAR.
With no supporters inside, you could say that 'home advantage' no longer exists.
It certainly appears to be the case in Germany if you look at the Bundesliga results from the first three weeks, and I can understand why.
With Liverpool so far in front, I don't think the destination of the Premier League trophy is in any doubt, but the issue of relegation is in the balance.
When you are being cheered on by your own fans to go for a victory, it can lead you to go all-out attack.
But you might find that a draw would be good enough. It could backfire and you get hit on the counter.
So it all needs to be measured, and that's where the influence of the manager really comes to the fore.
It all makes for interesting times, and I'm looking forward to the football getting back.
I've really missed it.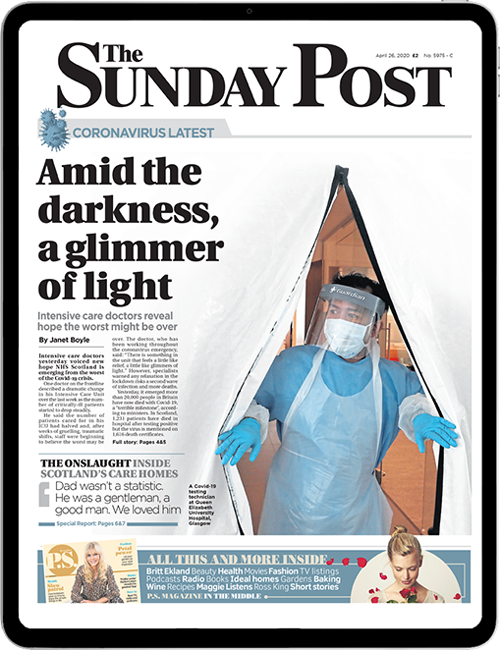 Enjoy the convenience of having The Sunday Post delivered as a digital ePaper straight to your smartphone, tablet or computer.
Subscribe for only £5.49 a month and enjoy all the benefits of the printed paper as a digital replica.
Subscribe