I'm fascinated with the whole situation at Hearts right now, and intrigued to see how the next two or three days unfold.
Ann Budge has set a March 31 deadline for players to accept the probability of their wages being cut, or run the risk of having their salaries suspended.
I'm not sure how the squad will respond to such an ultimatum.
There will be plenty of soul-searching and in-depth family discussions going on right now.
What's going to happen if, on a point of principle, the bulk of the players decide they'd prefer to cut their ties with Hearts and leave for free?
If the Premiership gets back up and running, and the team also has a Scottish Cup semi-final against Hibs to fulfil, it could be a disaster.
Surely Ann and the rest of the Hearts hierarchy are not banking on the league set-up being revamped to 14 teams, with no relegation from the top flight?
If they are, that's a highly-risky strategy.
I don't want to see the club descend into further chaos.
But if they do not have enough players to fulfil their fixtures, will they then be automatically relegated?
Indeed, some might call for them to be put down all the divisions, as happened to Rangers in 2012.
This situation could end up leaving the SPFL and SFA with an almighty mess to try and clean up.
So let's all hope that does not happen and a sensible resolution can be found inside Tynecastle in the next 48 hours.
Steven Naismith has made up his mind. His decision to accept his wages being halved is a terrific gesture.
Regardless of how much you earn per week, or how healthy your bank balance is, the skipper deserves credit.
That doesn't mean that I'm going to criticise any player who has decided not to take Ann up on her offer, as every person will have a different set of circumstances.
It's just an unfortunate situation for this football club to find itself in.
It doesn't seem that long ago that Ann was the Queen of Hearts, and held up as beacon for the Scottish game.
Her business acumen helped steer the club out of administration seven years ago and, along with the Foundation of Hearts, she tidied up the mess left by Vladimir Romanov.
A fantastic new main stand was built and there appeared to be a lot of positives. But things have taken a plunge in the past 12 months or so.
Indeed, you could trace the decline back to when Robbie Neilson parted company as boss to join MK Dons.
The coronavirus pandemic has left many football clubs on the verge.
Ann has stated the club only has enough money to cover a maximum of three months of normal trading operations.
If I were a Hearts supporter, or member of the Foundation of Hearts, I'd want more transparency on the reasons why the club is close to running out of cash.
I find it hard to accept it's purely down to coronavirus, and the fact that football faces an uncertain short-term future.
There must be more to it. There must be other reasons.
Was there a large overspend on the new stand? Were contract offers to players too generous? Have mistakes been made? Have lessons not been learned?
I'm not asking for boardroom secrets to be made public, but if there isn't more information forthcoming, then that allows people to draw their own conclusions and start rumours.
This is also a massive period coming up for Rangers, now that Dave King's departure as chairman is done and dusted.
It must have been a difficult decision for him. He might have left his position but the club will never leave him.
He inherited a huge mess when he took over, and he has moved the club forward.
He stood up for Rangers and took on some big battles off the park. He brought back confidence and belief to the supporters.
Dave and the Ibrox board backed Steven Gerrard as best they could and managed to do it in a responsible manner.
I'm sure he'd rather have parted with the club top of the league and still in the Scottish Cup, but it wasn't to be.
But he was there to see some great results and performances in Europe and the success on that front helped bring in significant finance.
Douglas Park is at he helm on a temporary basis, and it will be interesting to see who the next permanent chairman is going to be.
Dave has made a massive contribution in the past five years and left the club in a far better state than it was when he took over.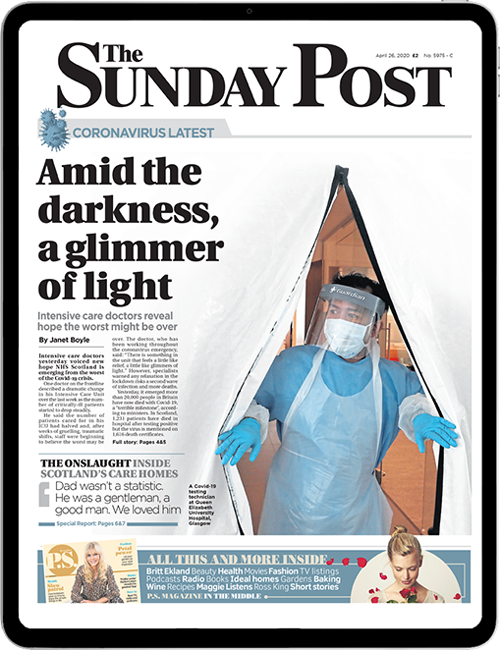 Enjoy the convenience of having The Sunday Post delivered as a digital ePaper straight to your smartphone, tablet or computer.
Subscribe for only £5.49 a month and enjoy all the benefits of the printed paper as a digital replica.
Subscribe