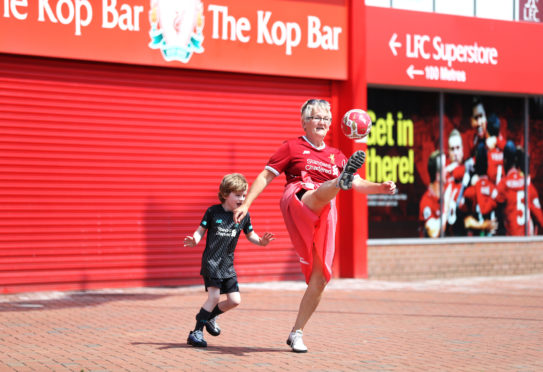 You may have thought that the tipple of choice in the Dalglish household to celebrate Liverpool's first title win in 30 years on Thursday night was champagne.
Nah. It was Irn-Bru!
Marina's sister, Catherine, gave us a limited edition bottle, containing the 1901 recipe, as a wee gift.
We decided to save it for a special occasion, and what could have been more special than becoming English champions for the first time in 30 years?
Yes, we might have moved on to something stronger, but first we made sure we had a taste of Scotland.
It was quite an emotional evening for all of us. When the full-time whistle blew after Manchester City had lost to Chelsea, there was that initial feeling of elation.
Then, for a few seconds, you think: "Has this really just happened?".
Now, a few days on, I'm still pinching myself.
Nobody can say that Liverpool are not worthy winners.
Anybody who has tried to argue against that has either been blindfolded for the past 12 months, or has a strong dislike for the club.
You can see by the reaction and comments from people such as Pep Guardiola, Sir Alex Ferguson, Frank Lampard – and many more – that the right team has finished in first place.
As any manager will tell you, to win a title takes an extraordinary effort from everyone at the football club, from medical staff, canteen staff, supporters, players and coaches.
I've been there, and was for the last time we won it, back in 1990.
I know what it's like to walk in the shoes of a manager, and that's why I have so much respect and admiration for Jurgen Klopp.
Thousands of decisions need to be made every week in order to win games, and move the club in the right direction.
It's not just about picking 11 players to start the game and giving them some tactical advice.
Just as important is how you handle the other players, making sure they feel a part of it, and are in the right frame of mind to be ready to come on and do a job for the team.
It's also about how you treat your staff, to have them with you every day.And the message also has to go out to the supporters, to keep them in the loop and to get them behind the team in every circumstance.
The relationship between the owners and the manager is vital, of course, and the Liverpool owners have been first-class, from the way they redeveloped the stadium and the training ground, to the funds they have made available to managers – past and present – to help build a successful squad.
It all makes for a collective feel-good factor that has translated on to the pitch.
The players have delivered quality football all season. They really have been a joy to watch.
Jurgen looks to get as close to perfection as possible in every game, and that is evident in the way Jordan Henderson and Co. go about their business.
I'm thrilled for Jurgen, and could see how emotional he was in his TV interviews on Thursday night.
What a signing he has been!
He has connected with the Liverpool supporters from day one, and that has been hugely important in what has been achieved in the past couple of years, from winning the Champions League, the World Club Championship and now the Premier League.
The fans have waited 30 years for this success to come along and, boy, have they enjoyed it.
A generation may well have missed out on seeing the league back at Anfield.
But now parents will be able to pass down stories to their children about the 2020 season, just as would have been the case for previous generations.
It's important to be able to share stories and pass them down the family line.
But for everyone with Liverpool at heart, it's important to enjoy success and make the most of the moment. It's great to build wee memories, moments in time that never leave you.
We obviously don't know for sure when supporters will be allowed to follow the team again and get back into Anfield, but they have been patient and will continue to be so.
There are still league games to play, and there will be a desire in the Liverpool dressing room to win as many of them as possible.
The taste of title success is back, and now they will strive to keep it going year in, year out.
Of course, you won't always be successful. But with Jurgen leading the way, this Liverpool team will give everything they've got every week to make it happen.
That's why they get out of their bed every morning and go to their work. They want to win.
There is no point in being a footballer if you don't want to win every single game you play in.
They've done that this season, and credit to absolutely everyone involved.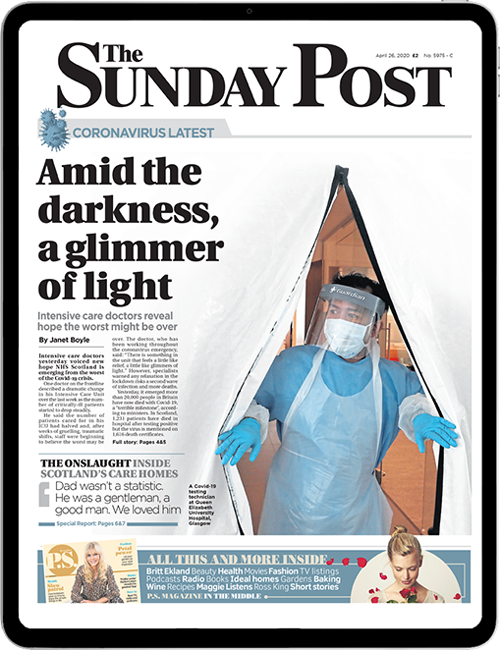 Enjoy the convenience of having The Sunday Post delivered as a digital ePaper straight to your smartphone, tablet or computer.
Subscribe for only £5.49 a month and enjoy all the benefits of the printed paper as a digital replica.
Subscribe