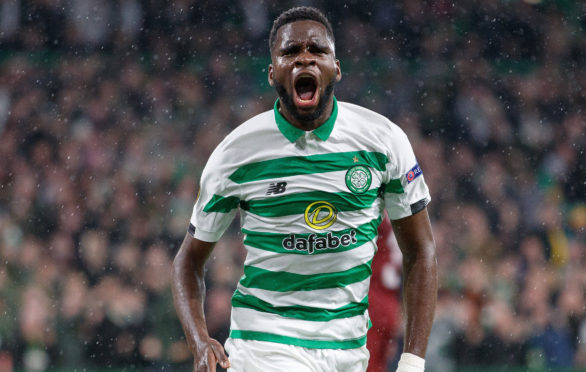 Neil Lennon has said Celtic may well receive bids for Odsonne Edouard in the January transfer window, but that he does not want to lose his star man midway through the season.
I'd urge him not to lose any sleep over the situation.
There will be scouts monitoring the former PSG striker. That's only to be expected.
Edouard has been in good form for Celtic in the past 18 months, and has really burst into life in the past year for the France Under-21 side, scoring some impressive goals.
Clubs from bigger leagues would not be doing their jobs properly if Edouard was not on their radar.
But that doesn't mean to say the current interest will lead to concrete bids.
Every time a player does well, there's talk about such-and-such a club wanting him.
Until someone steps forward with a definite bid, however, there is no decision to be made.
And, right now, there is nothing to consider.
That's why Neil and the supporters should be relaxed. Nothing, if anything, can happen until at least January.
Also, while I don't know the lad Edouard, he doesn't strike me as being the type to rock the boat to try to get away in this forthcoming window.
The young Frenchman seems level-headed and focused on helping bring success to Parkhead in this current campaign.
He does his talking on the pitch. That has to be a positive.
But it's likely the time will come when he does go. If his form keeps improving, clubs will want him.
I suppose Celtic would prefer that to be in the summer of 2020, or even the following summer.
The fact is there are only two or three clubs in the country that know if their players are doing really well, they will keep them.
Celtic are not one of them.
When that is the case, it's down to the hierarchy to get as much as they can for their asset.
And, in that respect, Celtic have been exceptional in the past few years.
Their last deal was to sell Kieran Tierney for £25 million to Arsenal, and that was a super fee to get in.
In an ideal world, you would keep Tierney and you would keep the likes of Moussa Dembele.
But that's not a realistic scenario for clubs such as Celtic, playing in Scottish football.
However, when you do play for Celtic, it should be regarded as an absolute privilege.
For me, just being back at Celtic Park on Thursday night, was a great experience.
It was great to see Gordon Strachan there and also Liz McNeill, big Billy's wife. It's always special to catch up with lovely people.
On the park, I enjoyed the game against Lazio.
European nights under the floodlights are brilliant. Whether it's Parkhead, Anfield, Ibrox or Hampden, it brings a warm and happy feeling.
Of course, to get three points just adds to the occasion.
When you get big results in Europe – as both Celtic and Rangers managed to do on Thursday evening – it attracts attention.
That leads to people talking about your players, and doing their homework on them.
Indeed, Alfredo Morelos' goal in Porto will have made other clubs sit up and take notice.
Back in Glasgow, Celtic had really good performers all over the park.
From Fraser Forster in goal, to the substitutes, they all made a major contribution.
For big Christopher Jullien to pop up and get the winner was just brilliant. Ryan Christie's equaliser was also a sweet finish.
Parkhead erupted when the winner went in, and I love that sort of atmosphere.
There will be plenty of noise again this afternoon when Celtic travel to play Aberdeen.
With the title race being so tight at the top, this is a fixture Neil and his players will know the importance of winning.
The last twice they have been on the road – at Hibs and Livingston – they have taken just one point, so they will want to avoid dropping any more today.
Edouard will be the man they will look to, both to lead the line and get them a goal.
He is a calm and composed finisher and bursts to life at the most appropriate moments, usually when defenders are least expecting it.