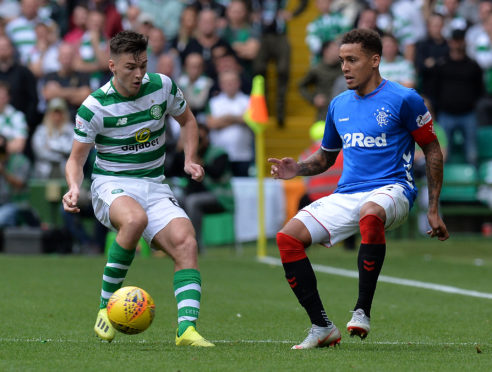 Kieran Tierney's transfer situation looks as though it could rumble on for a wee bit yet.
The Celtic left-back has been linked with a move away, and there have been regular news stories about Arsenal and Napoli being interested in the 22-year-old.
The other piece of the jigsaw is that the Parkhead hierarchy are holding out for a straight £25-million fee for their player.
Of course, the identities of the clubs that may or may not be chasing him – and the amount of money it would take to land him – have never been officially confirmed as nobody has gone on the record to put everyone fully in the picture.
But we know how these things work.
There will be guidance given to the media behind the scenes as it all unfolds, and everyone will be jockeying for position to get the very best out of the deal, whether you are the player, agent, buying club or selling club.
Kieran hasn't gone public on the situation. But it would fair to say that perhaps he feels the time is right to try something different, and there is a curiosity as to what might be out there for him.
There is nothing wrong with that.
He is perfectly entitled to explore any options that may come his way.
Whatever happens, to date he has given four years of outstanding service to Celtic, and that should never be forgotten or tarnished.
But he is also powerless in many ways as he can't officially get involved until his club have agreed a fee and given him permission to talk about the length of contract and salary with a particular club.
So, unless the valuation is met, there is a stalemate.
The Hoops have every right to play hardball, and get what they believe to be a proper valuation.
That could mean that the lad ends up staying at Celtic.
If that ends up the case, I don't think he is the type to cause a scene and stamp his feet in disapproval.
However, if he and his representatives have told the Hoops hierarchy that their preferred option is to move away, then that would need to be taken into consideration.
If he stays at Celtic, of course, Neil Lennon will be thrilled, as will the Celtic supporters.
There is no doubt that they stand a better chance of being successful with Kieran in the team.
He is a first-class player, and he has the ability to play in a much more demanding league, such as the English Premiership or Serie A.
Along with Andy Robertson, he is one of the two best players we have at international level. It's just a pity both of them play at left-back!
If people are mentioning him in the same breath as Andy, then he must be doing something right because Andy has been brilliant for Liverpool, domestically and at Champions League level, for two years.
He is a fantastic example to young footballers that, even if you have been rejected at a club, you should never give up.
Keep believing and persevering and another chance will come along.
So we will see where this transfer situation goes over the next few weeks before the transfer windows close in England and Italy.
Any clubs who are interested may be joined by others if the player, who has been recovering from surgery, plays in the next week or two.
During the 2018-19 season, Kieran had problems with a hip injury, and is on the record as saying he was in constant pain. That led to a double hernia operation a few weeks ago.
That is likely to be a concern to some clubs as they would possibly be reluctant to spend a serious amount of money on a player who has only played 10 competitive games or so in this calendar year.
Only time will tell.
Whatever happens, Celtic have acted and brought in another left-back in Boli Mbombo for a fee in the region of £3m.
He played last midweek in the 2-1 home victory against FC Sarajevo, and was criticised by some for his role in the opposition's goal.
Kieran's will be massive boots to fill should he leave. But any replacement must be given time to establish himself and show his qualities.
Any success achieved at a football club will always be down to a collective effort, not to an individual.
That's what will be required this midweek for the first leg of the Champions League qualifier against Nomme Kalju.
The Estonian champions are far from a household name, but they will present their own dangers to Celtic.
Neil and his players will look to take a lead over there for the next leg and should be more than capable of doing so.
It's all about getting the job done to see them to the halfway stage of a gruelling qualification programme.