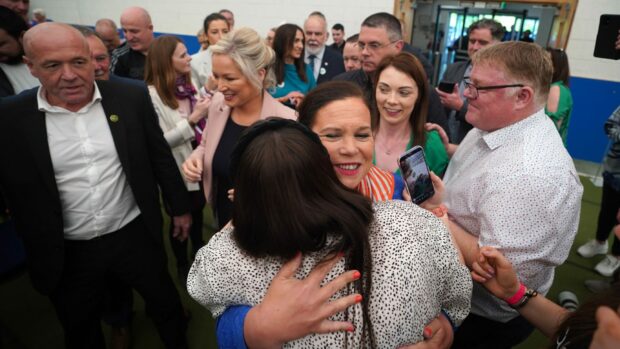 Sinn Fein's vice president Michelle O'Neill said the party's history-making victory in Northern Ireland's Assembly elections would "usher in a new era" yesterday.
The republican party overtook the DUP to become the largest party at Stormont, meaning she is likely to become the first Sinn Fein first minister when the assembly, currently suspended, begins work again.
Counting was continuing on two remaining seats last night but Sinn Fein's lead over the DUP was unassailable, winning 27 of the 90 Assembly seats, with the unionist party on 24.
The Alliance Party has also enjoyed a successful election and will emerge as the third biggest party at Stormont, while the UUP and SDLP have had disappointing results.
In her declaration speech in Magherafelt after topping the poll in Mid Ulster, O'Neill said: "Today ushers in a new era which I believe presents us all with an opportunity to reimagine relationships in this society on the basis of fairness, on the basis of equality and the basis of social justice. Irrespective of religious, political or social backgrounds, my commitment is to make politics work."
The DUP collapsed Northern Ireland's power-sharing executive earlier this year as part of its protest against the Northern Ireland Protocol, the demand that lorries delivering goods from the mainland must be checked post-Brexit.
It has vowed not to re-enter government until their concerns are met but Sinn Fein president Mary Lou McDonald said the Stormont power-sharing executive needed to be re-established. She added: "We look forward to an executive being established, I look forward to Michelle O'Neill being nominated as first minister and to have politics that delivers for people."
Brian Girvin, who is honorary professor of contemporary politics at Glasgow University, said Sinn Fein's victory would be a new chapter in British politics. He said it was the first time a political party who wanted a united Ireland had won the elections for the Northern Ireland executive.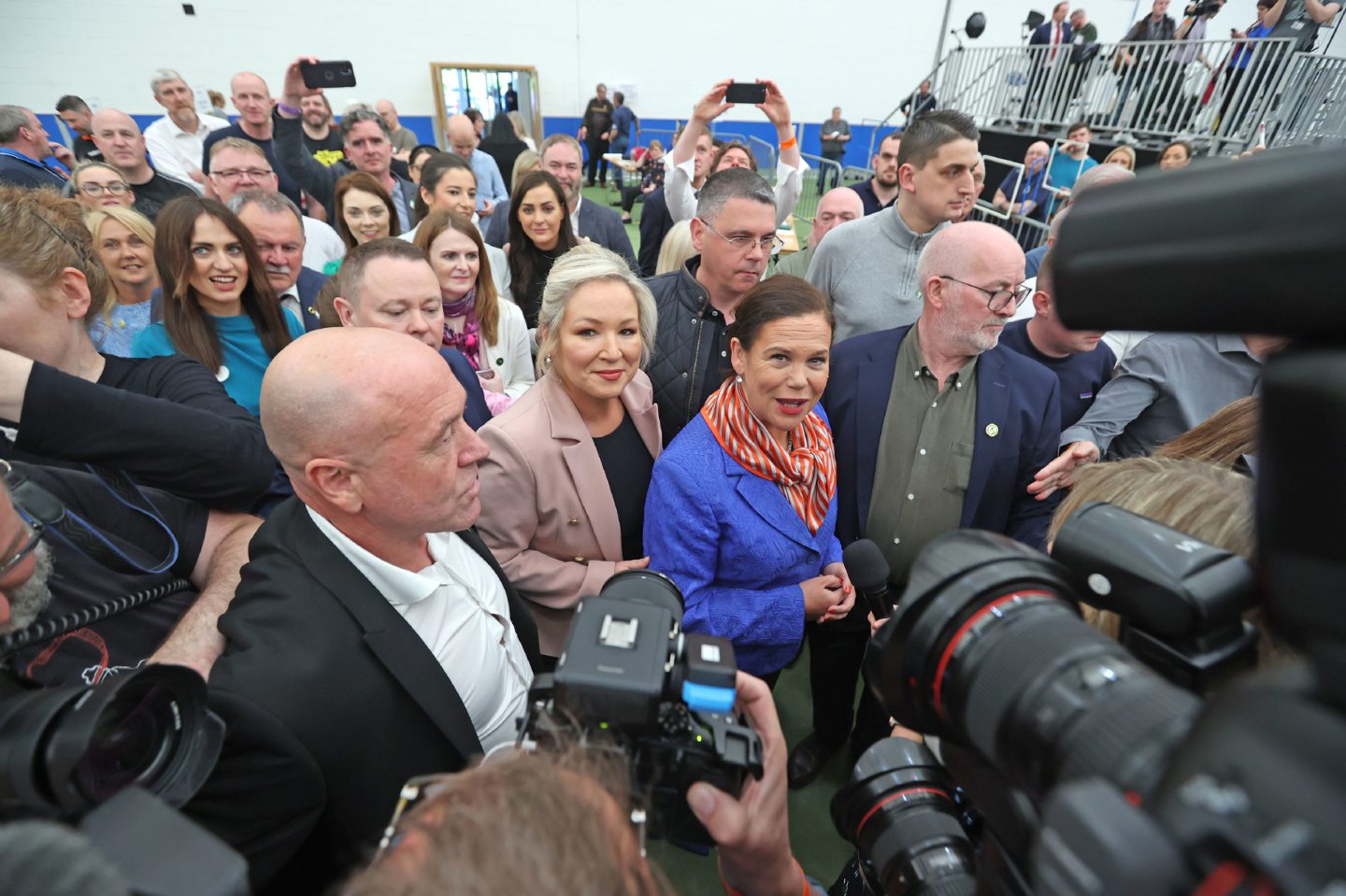 He said: "For 100 years a unionist party has been the largest party in Northern Ireland. For the first time we have a nationalist party that has come out ahead.
"It is partly about redistribution within nationalist voting. It looks like some of the SDLP voters have voted Sinn Fein to give them that advantage as they were ahead anyway. Even more importantly, it is not just any nationalist party. Sinn Fein are a nationalist party that wants the destruction of Northern Ireland. Sinn Fein won't even use the term Northern Ireland to describe the region. They are deeply committed to actually bringing down Northern Ireland as a political entity."
The DUP, led by Sir Jeffrey Donaldson, will comfortably retain its position as the largest unionist party despite a drop in its overall share of the vote.
Speaking at the count at the Titanic Exhibition Centre, Sir Jeffrey said unionism "has held its ground".
However, the result reveals a profound recalibration of the politics of Northern Ireland and its importance cannot be underestimated, according to Dr Michael Toomey, politics lecturer at Glasgow University, who also pointed to the progress made by the Alliance party, who are neither unionist or republican.
"The Alliance party has had a major breakthrough and looks likely to be the third biggest party. The traditional way of understanding Northern Irish politics is Irish and British, Catholic and Protestant but that's not the case any more. Catholics can no longer be assumed to be nationalists and committed to Irish unity.
"Protestants can no longer be assumed to be unionists. The fact that there has been a relatively stable peace for 24 years has contributed to the emergence of a kind of demographic that would describe themselves as being Northern Irish rather than just specifically British or Irish."
However, he said the results in these elections could mean further turbulence for politics in the region. He said: "Stormont might break down. Some form of direct rule or suspension of the Assembly might occur.
"I don't think there will be a return to violence but there may be more tension."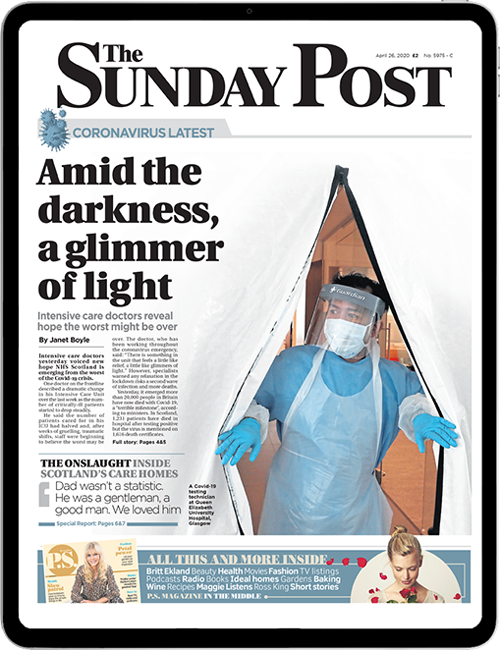 Enjoy the convenience of having The Sunday Post delivered as a digital ePaper straight to your smartphone, tablet or computer.
Subscribe for only £5.49 a month and enjoy all the benefits of the printed paper as a digital replica.
Subscribe