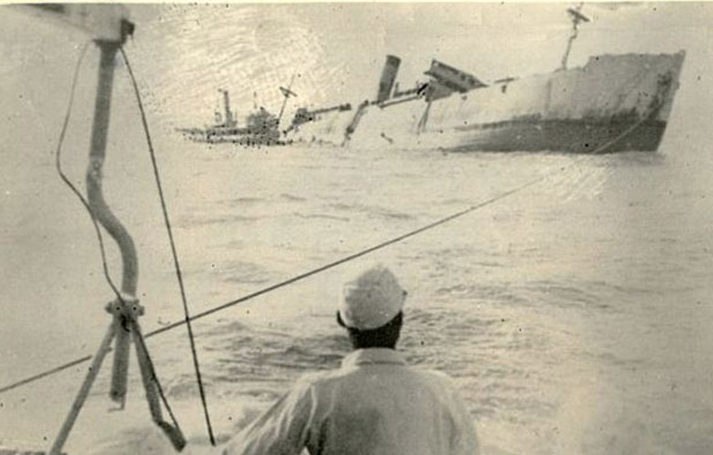 IT was an unimaginable horror, a terrible war crime on the East China Sea.
Hundreds of British and Canadian POWs were locked in the hold of a Japanese cargo ship when it was torpedoed by a US submarine. Locked in the hold when the ship, the Lisbon Maru, began sinking, many of those that made it to the listing deck were shot by their captors.
Others took their chances in the shark-infested waters. Nearly half of the 1,800 prisoners on board did not survive the sinking in 1942.
Now a Chinese documentary-maker is to remember the atrocity and salute the lost men, including soldiers from the Royal Scots regiment. Among them was young Scots soldier, James Gow, from Dundee.
He had lied about his age to join the army at the age of 16, four years before war broke out.
He was one of only 748 ever to make it back home.
James's son Iain will appear in the new documentary talking about his dad's war and the impact on his family.
Iain, a university lecturer from Edinburgh, said: "Dad escaped overboard but couldn't swim and survived by clinging to a piece of driftwood. He had hoped to be rescued by nearby Chinese fishermen. They were fishing POWs out of the sea.
"Instead, he was spotted by a Japanese navy ship and taken to Japan. The rest of his war was spent working as slave labour in the Japanese docks, trying to survive the brutal regime.
"I remember him telling me that he was beaten within an inch of his life for having a small bottle of olive oil hidden in his clothes. Anything stolen from the army supplies was deemed as theft from the Japanese emperor, Hirohito, and punishment was severe. He was lucky not to have been executed."
The impact on young men like James was to last a lifetime.
James had gone from being a working lad in a jute mill into the Army. He was desperate to see the world. The school leaving age back then was 14. As a teenage soldier he could barely have guessed what lay head. The world was on the threshold of the Second World War.
Iain said: "Christmas was always low-key in our house. On reflection it may have been because it brought back such painful memories for dad.
"It marked the date he was captured in Hong Kong. My mum, Effie, did her best to make it special for my me, my brother and sister, though.
"However, in many ways dad never truly escaped his Japanese captors. He suffered nightmares for the rest of his life. In them he was being chased for his life by the Japanese guards.
"Although he never spoke about them to us, mum did.
"Dad stayed on in the Army after the war and left to work at Chapelcross nuclear power station near Annan.
"Sadly, he died at 65 from heart problems."
Though they were not directly caused by the treatment meted out by his Japanese captors, the impact on his life was considerable, says Iain.
The Lisbon Maru never truly left him. James's drawings and poetry of the sinking have become the treasured part of Iain's family history.
Iain said: "I am happy that now a film is being made to recognise the soldiers who were on board the Lisbon Maru.
"It was cruelty beyond belief, to baton down the hatches and leave them to die. I am grateful that my dad survived. Some went down with the ship because they never managed to escape from the bottom hold.
"Many on board were sick and injured and unable to flee."
Records show the guards on the ship were eventually shamed into opening the hatches, allowing the prisoners to escape when they realised that the Chinese fishermen would be witnesses to their cruelty.
Director, Fang Li, of Laurel Films, is looking to speak to the families of the British POWs. It will be an English language film for international release. Fang Li also wants to repatriate the remains still on board the sunken ship after 77 years in the East China Sea.
Iain has mixed thoughts on that. "There are two ways of looking at this," he said. "Some families want to see it remain as a war grave and others, will want their loved ones to come home, even after all these years."
Major Brian Finch, who served with one of the Lisbon Maru's survivors, is military adviser and UK liaison to the film. Brian also recently published an English translation of a Chinese book, entitled A Faithful Record of the Lisbon Maru.
He said: "The purpose of the documentary film is not only to tell the story, but also to pay tribute to those who suffered on the ship."
Brian is keen to contact more POWs' relatives. Email bfinch@tiscali.co.uk or call 0136383078 or 07740844666.