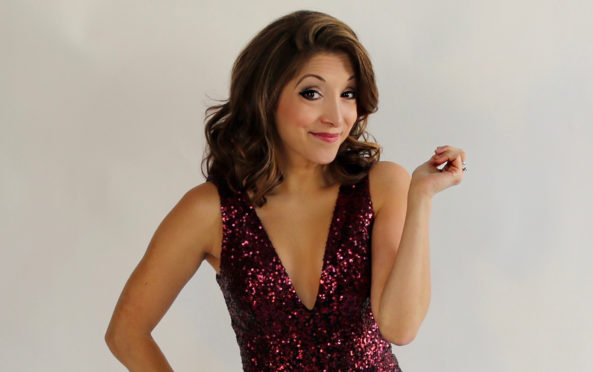 Christina Bianco is currently performing her show First Impressions at the Assembley Checkpoint as part of the Edinburgh Fringe.
Here, she answers our Fringe Q&A…
---
What do you make of the Fringe?
This is my third time, but it's the first doing the full run of dates. The first time I came, I had that feeling of wanting to do and see everything. I ended up with the Fringe flu, so I'm determined to stay healthy and make sure I pace myself. I've done eight shows a week my entire career, but this is different – it's like being shot out of a cannon.
How do you ensure you stay healthy?
I have a very detailed, colour-coded schedule I'm sticking to, which includes nap time. I've never been much of a napper, but I'm forcing myself. It's mostly the social atmosphere you have to be aware of – you want to cheat and go out and see friends, but it's the late-night environment that can vocally fatigue you. My voice has to be so flexible and the show is very demanding, so I might be quite boring throughout the Fringe.
When did you realise you could do impressions?
I wasn't aware until I was in junior high school, when my friends said I was always mimicking voices. I would just repeat what my friends said in their voices without realising I was doing it or that people were tickled by it. The first time I was aware I could get a response was at a party when I was 12 or 13, and Celine Dion's That's The Way It Is came on. I started singing along and before I knew it, the entire room was watching me do this impression.
Have you been the centre of attention at parties ever since?
That first performance was the most attention I've ever had at that point in my life. I'm actually quite a wallflower in social situations. Within the platform of performance, I have no fear, but if I'm at a party and someone asks me to do a song, I freeze up. I can only do it when the time is right. I like to compartmentalise and have that off switch. I'm not as theatrical as people assume I will be.
How difficult is it to learn a voice?
It depends on the person's voice. Some are innately easy to do. With Celine Dion, although she has different mannerisms and pronunciations, her voice is similar to my own. I have a clear voice, so it's more difficult to do someone with a raspier voice like Tina Turner, who I rarely do, or Joan Rivers, who I just can't do. I'm a firm believer in quality over quantity.
---
Christina Bianco: First Impressions, Assembley Checkpoint, until August 25