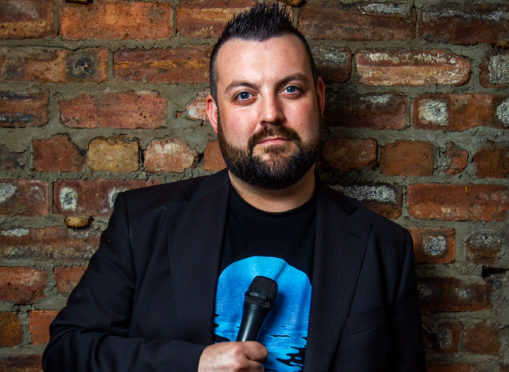 For twenty years, Colin Higgins struggled with the horrific legacy inflicted upon him by Charles O'Neill and William Lauchlan, paedophiles described by judges as "evil and despicable".
They had so terrorised and traumatised him that their threats haunted his dreams and flashbacks to their vile abuse paralysed him by day.
Colin said: "It was so overwhelming, I tried to take my life five times. I spent years undergoing treatment and counselling. Nothing seemed to work.
"I was lucky to finally get referred to an amazing psychiatrist and a counsellor who together got me back on my feet thanks to the use of the same therapy used to treat war veterans with the most severe form of PTSD.
"Once I was able to think clearly, I realised those monsters had robbed me of my dream – of doing comedy.
"They'd threatened to kill me if I 'told', and what they did to me had me trying to take my own life.
"I decided if I was going to die, I might as well die laughing and follow my dream of doing stand-up."
Colin believes his "black" sense of humour pulled him through his darkest times.
But he had no idea how to go about becoming a professional comedian.
He said: "When you are looking into the abyss, if you can find a shred of comedy in your experience, it's much preferable than having to deal with a tortured mind.
"Simply put, I discovered that laughing was the best possible medicine I could have.
"And if I could make others laugh too, surely that had to be better than taking handfuls of pills for the rest of my life."
Colin's breakthrough came when he answered an appeal for someone to hand out flyers for the Edinburgh Fringe in 2017.
He said: "I was incredibly lucky to be offered a lifeline by the wonderful comedian Janey Godley, who has been through abuse herself and has had an incredibly successful career.
"I will forever be grateful to her for the support and encouragement she gave me.
"I ended up being part of her team through two Edinburgh Fringe tours and at several strand-up venues.
"Janey gave me the confidence to get out there and give stand-up a proper go. Through Janey I also got the chance to meet some of my comedy heroes, Dawn French, Jimmy Carr, Mickey Flanagan, Robert Webb and John Bishop. It was just the tonic I needed.
"I told myself, if I had managed to face two monsters in court, I could stand up and make people laugh."
Colin started doing open mic sessions to gain experience and hone his act, then Janey Godley got him on at Glasgow's Wild Cabaret, and before he knew it, he had gigs around Scotland.
He said: "It's the loneliest place in the world, standing there with a mic in your hand in front of a room full of strangers, willing them to laugh.
"But when they do, it's the most incredible feeling in the world, better than champagne, sex or chocolate.
"I talk about my life and my crazy take on things, and people seem to love it.
"Nothing is off bounds.
"Although I've never talked about what happened to me, one day I will.
"If you can find some humour in the darkest things, somehow it makes them less scary. It's a device which has helped me overcome so much.
"I'm no longer that scared, traumatised wee boy trapped in a nightmare."
Colin has already made his mark and has just been given the role of MC in a new comedy club opening on Thursday night, Jesters at Jimmy's Park Bar on Paisley Road West in Glasgow, offering a curry and a laugh.
Club owner Donnie McIntyre, who has worked alongside Jonny Vegas, Ross Noble and Craig Charles, said: "Colin is incredibly funny and reminds me very much of Billy Connolly in his younger years because they both have the same wry way of looking at life.
"He's funny, charismatic, and bold. Exactly what is needed to MC a Glasgow comedy club. I've no doubt he'll bring in the crowds.
"After everything he's gone through in his life, his resilience is incredible. He's quite simply an inspiration."
Colin says he now looks forward to a future filled with laughter instead of tears.
He said: "I think often of the other boys who were abused by Lauchlan and O'Neill, and poor Allison's family and I hope they have had some comfort seeing those vile men behind bars.
"I hope they find the strength and peace to follow their dreams and not let those monsters claim their lives forever.
"If my story gives hope to others who've been down a similar terrible road, I'll be happy."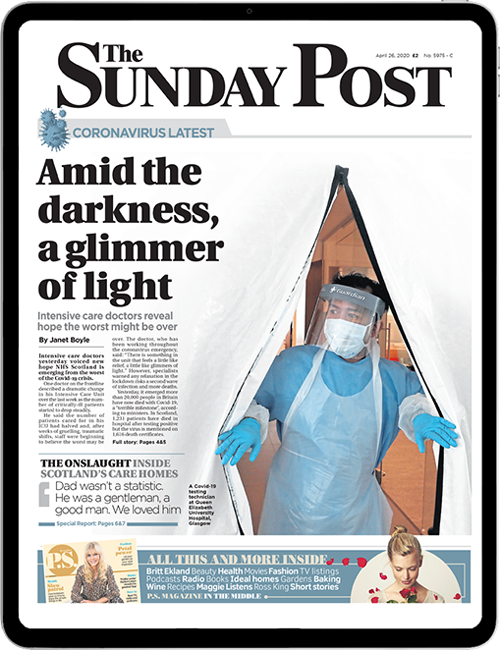 Enjoy the convenience of having The Sunday Post delivered as a digital ePaper straight to your smartphone, tablet or computer.
Subscribe for only £5.49 a month and enjoy all the benefits of the printed paper as a digital replica.
Subscribe