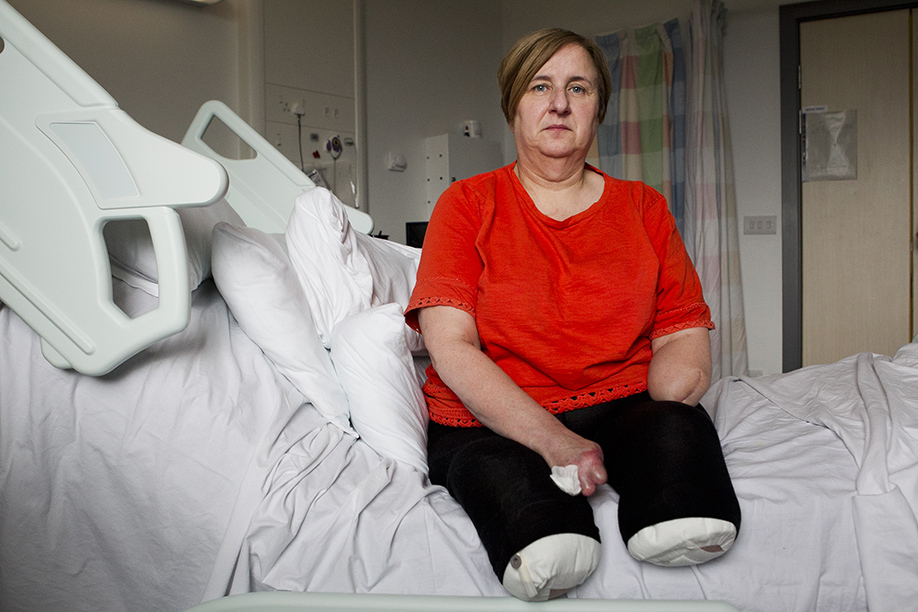 A GRANDMOTHER has told of her grief and disbelief after a simple paper cut led to sepsis and the amputation of her hands and legs.
Marguerite Henderson, 55, speaking about her ordeal for the first time, said thoughts of her family pulled her through after the tiny cut on her hand left her fighting for her life.
Her daughters were told twice that she wouldn't pull through as doctors fought to save her.
After a week in a coma, Marguerite awoke to be told her hands and feet had to be amputated as a result of the infection. She said: "My nail varnish was still on as I always had my nails done once a month.
"But my hands and feet were dying on me. It was awful, horrific.
"I had a full-time job, I was out all the time. Now everything has gone.
"You take everything for granted and then one day it is not there."
Marguerite went through surgery to remove her hands at the beginning of April, and her legs were amputated two weeks ago.
Speaking from her hospital bed for the first time, Marguerite, 55, from Crosshill, Fife, said: "When I woke up after having my legs amputated and with the effect of the anaesthetic, all I could move was my head. I just thought what is the point in me being here?
"But then I thought of my grandchildren and family. You want to be there for them."
Sepsis death toll climbs in Scotland to over 4,000 in last three years
Marguerite, a family support worker who has two granddaughters, first noticed a small paper cut – around one centimetre – on her hand on Sunday, February 25.
A tiny blister developed on it and she went to the pharmacist, who advised her to make an appointment with the doctor.
"I wasn't worried, I didn't feel unwell or anything at this stage," she said.
"But I woke up on the Tuesday morning and felt really unwell. I had to rearrange my doctor's appointment as I just couldn't get out my bed – I felt achy all over and lousy."
The next day, she didn't feel any better. To make matters worse, Scotland was experiencing a red weather alert and snow chaos as the "Beast from the East" swept across the country.
Her doctor called to say all appointments had been cancelled, but advised her to contact NHS 24 at 6pm if she still felt unwell.
Around 4pm she contacted her eldest daughter Kim Donnachie, 27, who went straight round to see her mum with husband Sean.
"As soon as Sean saw me, he put me into the car to take me to hospital," Marguerite said. "He kept saying to me: 'don't go to sleep' and I was thinking to myself why is he saying that?
"He had to stop the car on the way down as I was violently sick and I remember there were blizzards.
"When we got to the hospital, I said I can't wait in a queue as I feel so unwell – but there was nobody there.
"I don't remember much after that."
Doctors later told Marguerite if she had waited until 6pm to seek help, she would have died.
Sepsis, also known as blood poisoning or septicaemia, occurs when the body becomes overwhelmed by infection, and can start from a simple cut or bite.
It can interfere with blood supply and cause damage to the organs and tissue and can happen when the immune system is weakened.
Symptoms in adults can include extreme shivering, muscle pain, severe breathlessness and feeling very ill.
Marguerite, who was recovering from flu before she developed sepsis, was treated with high-strength antibiotics and placed in an induced coma for a week.
"They told me when I came out of the coma that I was going to lose my limbs. I just couldn't believe it," she said.
"The first few weeks were really scary. My limbs were dying, they were going black.
The first operation to remove her hands was carried out on Tuesday April 3.
She was rushed to Ninewells Hospital, in Dundee, two weeks later for surgery, to amputate her legs after her health deteriorated.
At first, Marguerite said she was "like a baby" after the operations and could not do anything.
She is slowly relearning everyday tasks, such as feeding herself.
Surgeons managed to save some ability to grasp in her right hand.
Each day, she undergoes physiotherapy sessions, to strengthen her core muscles and improve her ability to move. Already she can manoeuvre herself into a wheelchair.
She said the support of her family – including Kim and younger daughter Emma Henderson, 18, had been crucial in keeping her positive.
Kim has two children – six-year-old Erin and Gracie, who is 18 months old.
Marguerite praised the care from the staff at the Victoria Hospital, in Kirkcaldy, where she is expected to remain until summer.
The dozens of get-well cards in Marguerite's hospital room are testament to her popularity after a lifetime of caring for other people – she was also previously a nursery teacher.
Now she is adjusting to having to depend on others. "That has been the biggest thing for me, trying to adapt to that," she said.
"I have moments when I have a good cry, but I try to be proactive in moving forwards and making the best of what I have got.
"Being a single parent, I have always made sure I've kept a positive attitude, so the kids grow up the best they can.
"If I become negative, I don't know where I would be. I'm taking every day as it comes and just trying my best."
Marguerite said most of the hospital staff had not dealt with someone who had all four limbs amputated before. One of the surgeons told her she was only the third such case in around two decades that she had encountered.
She turned 55 just over a week ago and celebrated with nurses arranging a cake and for Stevie Wonder's Happy Birthday to be played for her.
Another step in her road to recovery in the past few days has been managing to brush her own teeth for the first time.
She said: "My pain has been reducing, so health-wise I am almost back to normal. Now it's about getting me back."
Marguerite had heard of sepsis before, but would have gone to the doctor much quicker if she had known more about the potential consequences.
Now she is determined that her own story helps to raise awareness of the condition.
"It highlights how severe it can be – and as a result of something so simple as a paper cut," she said.
A fundraising campaign has been launched by her family to help Marguerite adapt to everyday life when she finally leaves hospital, for items such as an electric wheelchair and even a bionic hand.
"It would be nice if I could live independently, but having no arms and legs, that is a big ask," she said. "It is 'way down the line."
Daughters launch appeal for mum
The news that Marguerite would have to lose all four limbs was "devastating" for her family, her daughter Kim said.
Now, they are trying to look to the future, with plans being drawn up to extend Kim's house so Marguerite can initially stay there once she is released from hospital.
Marguerite would love to return to her own home one day, but it will need major adaptations to enable her to live on her own.
Her daughters have launched a crowdfunding campaign trying to raise £80,000, to buy items such as the latest prosthetic limbs and an electric wheelchair.
So far, the family have raised an incredible £32,000. Kim said: "Everybody has been so supportive. Everyone has really rallied round.
"We want to help my mum live the most normal life she possibly can."
Experts fear not enough Scots know about risks
Experts yesterday said Scots need to be more aware of potentially-fatal sepsis.
People who are already ill are often most at risk from the infection carried by blood.
When trying to fight an infection, the body can have an overwhelming reaction and reduce blood supply to vital organs, causing tissue damage, organ failure and death, if it is not treated quickly.
Ron Daniels, the chief executive of the UK Sepsis Trust, said: "Sepsis claims an almost unbelievable six million lives each year worldwide.
"It claims more lives than breast, bowel and prostate cancer, but until recently, few had heard of it."
Melissa Mead, national projector co-ordinator at the UK Sepsis Trust, said there was still "much work to be done on raising awareness" of the condition.
She said: "Not knowing the signs and symptoms could mean the difference between life and death."
Sepsis can be developed by anyone fighting an infection, but those who have undergone surgery or have cuts and wounds can be more at risk.
Any cut, scrape or break in the skin can allow bacteria to enter the body, which can lead to sepsis, which is why all cuts and grazes should be thoroughly cleaned and hands should be washed.
The public should look out for symptoms including shivering, being in extreme pain and having pale or blue-ish skin.
People with sepsis may be difficult to wake up, sleepy or confused, may say, "I feel like I might die", and might breathe quickly or be short of breath.
Children may have fits or convulsions, while babies may lose interest in feeding for more than eight hours, and the soft spot on their head may be bulging.
If a person has a combination of symptoms, experts advise they go to a hospital or phone 999.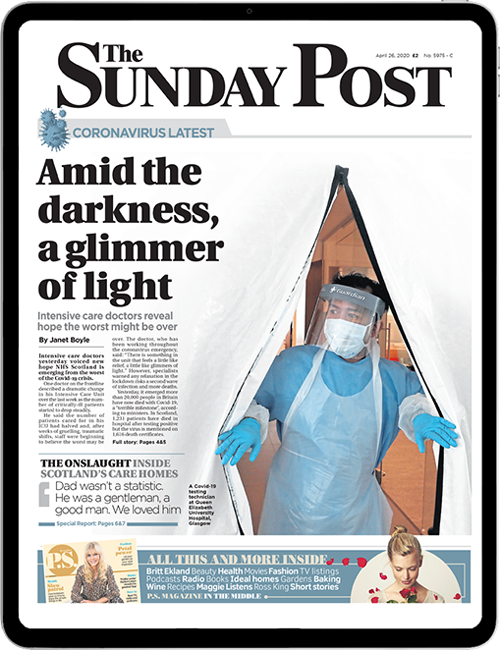 Enjoy the convenience of having The Sunday Post delivered as a digital ePaper straight to your smartphone, tablet or computer.
Subscribe for only £5.49 a month and enjoy all the benefits of the printed paper as a digital replica.
Subscribe