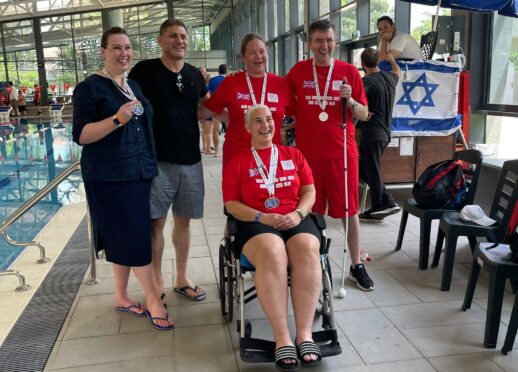 After a bad fall at home, army veteran Tony Mulheron found himself lying in a hospital bed fighting for his life. For six weeks he was unable to see and he experienced 'black blindness' caused by a head injury. Then, part of his sight returned. Read how sight loss support changed his life.
Some Sunday Post online content is funded by outside parties. The revenue from this helps to sustain our independent news gathering. You will always know if you are reading paid-for material as it will be clearly labelled as "Partnership" on the site and on social media channels,

This can take two different forms.

"Presented by"

This means the content has been paid for and produced by the named advertiser.

"In partnership with"

This means the content has been paid for and approved by the named advertiser but written and edited by our own commercial content team.

---
"My brain was partially starved of oxygen after my fall. It caused a head injury that made me 'black blind'. I was close to dying and even got my Last Rites. 'What is that priest doing here?' I remember thinking, but it inspired me to go on. From that moment, I wanted to prove the priest wrong. I had no intension of dying.
"When part of my sight returned, very thankfully, it was magical. I just woke up one morning and it was as though this period of blindness was a dream.
"It was like going to bed with the lights off and waking up in the morning with the lights back on again. It was an amazing moment."
Although his sight partially returned, ex-serviceman Tony, who served for five years in the Royal Army Ordnance Corps, is now registered blind. He has, as he describes, a "level of vision". This has meant he had to give up his driving licence, which also meant his career. Tony was an HGV driver.
"My life changed from that point onwards. I couldn't drive and that is one thing that people with sight loss really miss. I was an HGV driver, that was my livelihood, that was my life. Having to give up my licence was like getting my legs cut off."
Ever since then, the 55-year-old from Glasgow has not let his sight loss stand in his way. Although he is now unemployed, he has thrown himself into volunteering and travels by taxis, buses and on foot.
"I've adapted to it. In some ways, my life has been better for it. I have been able to do things I never would have done before sight loss, like indoor rock climbing at Ratho in Edinburgh. My rock climbing instructor is blind and he's a real inspiration."
Competing in the Veteran Games
Since his sight loss, Tony has also competed in the Veteran Games in Israel! Keen swimmer Tony entered the competition's 50m freestyle and 100m backstroke events last year — and was pleasantly surprised.
He added: "It was quite a serious competition, but I wasn't there for a medal. I just wanted to finish the race and compete, but I ended up coming away with a medal for first in class and second in the group!
"In all honesty, I just went for the jolly, for the holiday to Israel," he laughed.
"It was amazing – I visited the religious sites and did a tour around the Holy City, Jerusalem, and the Dead Sea. I certainly enjoyed the experience."
Sight loss support
But many of these opportunities would not have been possible if it wasn't for the support Tony has received from sight loss charity, Sight Scotland Veterans. He was put in touch with the cause, that helps those who have served in the Armed Forces — at any time and for any length of service — and lost their eyesight.
"I wasn't aware of Sight Scotland Veterans until someone told me about them.
"The charity has put me in touch with someone who taught me computer literacy — that brought me into the 21st century!
"I also got long canes from Sight Scotland Veterans, as well as a specially-adapted phone with software on it that reads out my incoming or outgoing text messages and emails. It's amazing.
"They have given me special cooking pots, adapted cutlery and stickers for the cooker and microwave — all things to help me live as independently as possible."
Visits to Sight Scotland Veterans centre
Tony has also expanded his social circle by going on outings and attending Sight Scotland Veterans' Hawkhead Centre in Paisley once a week. There he enjoys mixing with like-minded people, exercising in the gym and having lunch. There is also an art studio, music room, skills kitchen and IT suite on site.
"We chat about whatever the veterans want to chat about. There is no pressure to try anything, you can sit in a quiet corner if you want," he added.
"Since joining Sight Scotland Veterans, I have been meeting up regularly with a group of guys, we either go fishing or to the pictures by bus – a lad's day out, basically. They all have varying degrees of visual impairment.
"It is reassuring to know that people are going through the same, or a similar, experience that I am going through. Being ex-Military, we have a gallows sense of humour. Even in the darkest times we can find something humorous."
Advice for veterans
Now, given his sight loss experience and help he has received, Tony has some advice for others who might feel they have nowhere to turn:
"Sight Scotland Veterans has kept me on the right side of sanity in the last 10 years. When I am in despair, they have been there. When you go to the centre, you realise you are not alone. It is somewhere to go with like-minded individuals who understand, and it is so beneficial spending time with these people.
"I feel like we are the lucky ones. Because we have served the country, we have access to this charity. I might be registered blind, but I am lucky."
If you, or someone you know, served in the Armed Forces and has partial or full sight loss and could benefit from Sight Scotland Veterans visit: sightscotland.org.uk/veterans
---
How to get sight loss support from Sight Scotland Veterans
Sight Scotland Veterans, which was called Scottish War Blinded until it changed its name in 2020was set up in 1915 to help people who lost their sight, or sustained a visual impairment, during National Service.
Today, it is there for anyone who has served in the Armed Forces and has lost all, or part of, their sight – whatever the reason.
Centre officer Abbie Hocking has been working with Tony Mulheron at Sight Scotland Veteran's centre in Hawkhead, Paisley. Tony has in fact been attending the centre since it first opened.
Like her colleagues, and everyone Tony meets there, Abbie is passionate about what she does and helping people.
Read more about how the sight loss charity provides vital help for veterans.
Feedback is amazing
She said: "We thoroughly enjoy what we do here at Hawkhead Centre and the feedback we receive from veterans is amazing. What we do is so uplifting."
Now Abbie is hoping that more people will be aware of the good work that Sight Scotland Veterans is doing.
She added: "Sight loss can be lonely isolating and often people are hesitant about asking for help, especially proud veterans. However, it's all about getting the right support and reaching out.
"We have veterans who never thought they would be able to do certain things again, like shooting or going to the gym, and now they can.
"Once you come to the centre, you will realise that you not alone because everyone you meet will have had some sort of sight loss and will have served in the Armed Forces."
As well as emotional and practical support at the centre, Sight Scotland Veterans can also arrange for various adaptations to be carried out in the home. "All you need to do is ask your named worker," added Abbie.
"The centre is so great because not only do the staff provide support, but the veterans also support each other."
---
If you, or someone you know, could benefit from Sight Scotland Veterans' help, visit: sightscotland.org.uk/veterans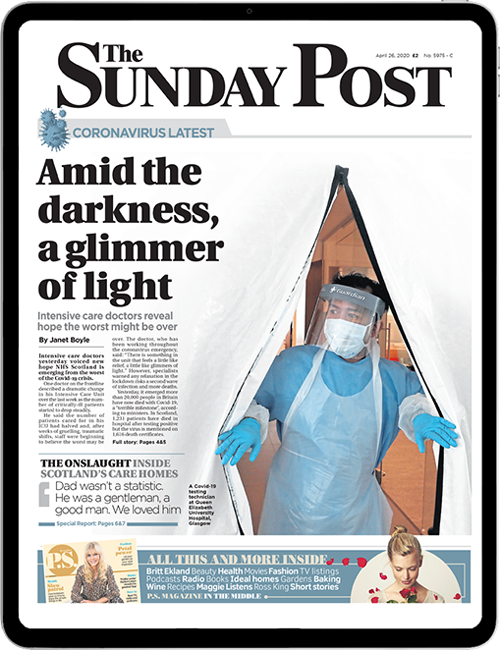 Enjoy the convenience of having The Sunday Post delivered as a digital ePaper straight to your smartphone, tablet or computer.
Subscribe for only £5.49 a month and enjoy all the benefits of the printed paper as a digital replica.
Subscribe