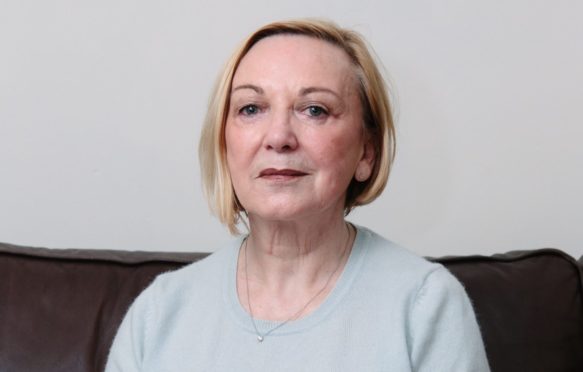 A short, sharp and urgent inquiry into how Covid was allowed to sweep through Scotland's care homes must be launched immediately, according to Scotland's leading charity for the elderly.
Age Scotland has joined bereaved families, care workers and human rights organisations to demand a swift investigation into why 2,000 residents died in the first wave of the virus. They urged First Minister Nicola Sturgeon to order a review to report within weeks in an attempt to learn lessons as a second wave looms.
They spoke out after ­publication of a report into the discharge of dozens of Covid-positive patients from hospital into homes after health boards were ordered to clear NHS beds in the weeks before and after lockdown in March.
On Wednesday MSPs will be asked to vote on whether to launch an investigation as the Scottish Conservatives call for a judge-led inquiry.
Public Health Scotland (PHS) published a delayed report last week, ordered by ministers in response to a Sunday Post investigation that found dozens of patients with Covid were sent into care homes.
The PHS report confirmed 113 patients with Covid were moved, with 52 transferred within a week of a positive diagnosis, 38 within eight to 14 days. The report also said 3,061 untested patients were transferred between March 1 and May 31, with some moved to care homes after a policy change that required two ­negative tests before discharge.
More than 2,000 deaths in care homes have been linked to coronavirus with many relatives and staff insisting the virus was brought in by patients moved in their thousands in a government-led bid to clear beds over fears hospitals would be overwhelmed.
Ms Sturgeon insisted ­hospital transfers were not statistically significant but PHS later said it was "likely hospital discharges are the source of introduction of infection in a small number of cases". That statement was not in the report.
Age Scotland chief ­executive Brian Sloan said a public inquiry previously promised by Ms Sturgeon should start now. He said: "Producing an interim report as quickly as possible would help shed more light on the situation and identify steps which must be taken through the winter, and beyond."
Campaign group Covid-19 Bereaved Families for Justice spokesman Dr Alan Wightman, whose mother Helen died of the virus in a Fife care home, said: "We want an immediate rapid phase to begin now and report within four weeks. That way lessons can be learned now which will save lives this winter."
Chairwoman of the Scottish Human Rights Commission Judith Robertson said: "Human rights law requires that any such investigation must be completed promptly and within a reasonable time. Lessons from the first wave must be learned quickly."
---
---
GMB Scotland Organiser Rhea Wolfson also backed the call for an investigations. "The events of the last few days reinforce the need for an urgent full and independent public inquiry," he said.
Dr Donald Macaskill of Scottish Care, the membership organisation for private care homes, said the Scottish Government must commission more research into the tragedy. He said: "I have been told by individual staff and organisations it is their very heartfelt belief there was a causal link between hospital patient transfers and the virus getting into a care home. They need to be heard."
Scottish and UK Government adviser professor Stephen Reicher, of St Andrews University, also called for another study. He said: "I can understand the argument we need to get on with the pandemic response but we need information in order that mistakes are not repeated."
MSPs will be asked to vote for a Scottish Conservative motion calling for an inquiry to be launched. Scottish Conservative Holyrood leader Ruth Davidson said: "This week the Scottish Conservatives will ask the parliament to back an immediate, judge-led public inquiry with the power to investigate every element of how this scandal unfolded."
Scottish Lib Dem leader Willie Rennie backed the call. "Learning quick lessons remains incredibly important, especially when it comes to caring for the most vulnerable people in our society," he said.
The Scottish Government said: "We are in the grip of a second wave of Covid-19 and the necessary full public inquiry will take place when the time for that is right – once we have got the country through the next stage of the pandemic. In the meantime, as the First Minister made clear in parliament this week, we will continue to learn and to apply lessons in care homes so that we continue to take all possible steps to keep those in our care homes safe."
---
She was not statistically insignificant, First Minister. She was my mum and I think about how she died every day
A woman who lost her mum after a resident with suspected coronavirus was moved into her care home from hospital has branded the handling of the crisis a national disgrace.
Sandra O'Neill says she is haunted by the fact mum Mary Martin spent her final hours without oxygen or a transfer to hospital which could have saved her. Mary, 88, died in April just over a fortnight after a fellow resident returned to the Almond Court care home, in Drumchapel, from hospital with suspected Covid symptoms.
A Public Health Scotland report last week stated there was no "statistical evidence" for a link between such patient discharges into homes and subsequent Covid-related deaths.
In response, the First Minister, while regretting the deaths in care homes, said the discharge of positive NHS patients into homes was not statistically significant in the spread of the virus. She said: "Hospital discharges were not found to have contributed to a significantly higher risk of an outbreak".
Sandra, 67, of Bearsden, condemned NHS and government officials, stating: "That the report says it doesn't find statistical evidence for such a link is an insult to the intelligence and for the First Minister to reiterate the point is a kick in the teeth. It's such obvious rubbish. A whitewash. My mum was not statistically insignificant. She was my mum and I think about her all day, every day. She was a person who died in extremely distressing circumstances.
"When a GP went in to see her on the morning she passed away she was struggling to breathe and was experiencing a sense like drowning.
"It must have been terrible and it absolutely haunts me. She was left with no oxygen to help her and no pain relief until a couple of hours before she died. I know she was very distressed and spent her last night on her own. I think about it last thing at night and first thing in the morning. It's just awful.
"It's not the fault of the care home but the NHS and politicians. We'd opened the NHS Louisa Jordan Hospital and it hasn't been used. Why not? Why weren't elderly patients isolated there together? Why wasn't my mum taken into hospital and why wasn't she given the proper care?
"I know in my heart that's how the virus got into the home and it's a kick in the teeth for the report not to acknowledge it. My mum was there for three years and they really cared for her. It's a national disgrace that blame is being allowed to shift from highly paid politicians and officials to care workers who are not paid very much.
"I would like clarity and I would like to meet with Nicola Sturgeon and speak to her about what has happened. Only a public inquiry will deliver answers on the SNP Government's role in sending contagious patients back to mingle with the most vulnerable people in our society."
A Public Health Scotland report covering March 1 to May 31 showed 113 patients who'd tested positive for Covid-19 were discharged to care homes without a subsequent negative test. Of those, 52 were transferred within a week of their positive diagnosis, 38 within eight to 14 days and 23 more than 14 days later.
A further 3,061 were sent from hospital to care homes despite not being tested prior to discharge. Of those, 112 were shifted after April 21, the day SNP ministers brought in a mandatory policy to test patients before they moved to care facilities.
A spokesman for Almond Court, now the subject of a joint police and Care Inspectorate investigation into alleged mistreatment of residents, said the home had been "free of Covid-19 since the end of May".
They said they "have never knowingly admitted any resident with confirmed or suspected coronavirus", adding policy now was "that any new admissions from hospital must have had a negative Covid-19 test and all new admissions are cared for in isolation for the recommended period as a precaution".
They added: "Like many other care providers, we have sadly had first-hand experience in dealing with coronavirus and some residents have sadly passed away with the virus. Our thoughts remain with their loved ones and they are greatly missed by staff and residents alike."
---
We owe it to those who lost loved ones, they need answers
By Brian Sloan, chief executive of Age Scotland
The publication of the hospital to care home discharge data from the early months of this pandemic has come, in large part, because of the investigations undertaken by The Sunday Post.
The report's purpose was to uncover the number of confirmed coronavirus cases in patients discharged to care homes and the direct impact this may have had.
It will be grim reading for the families of those who lost their lives or have been seriously ill as a result of this cruel virus.
Mistakes were made in the early stages of the pandemic, and knowingly discharging patients into care homes following positive tests will not have helped control the spread of the virus.
We have repeatedly stressed that the only way to ensure mistakes are never repeated is to investigate and learn from them. Now, as we face a second wave with winter just around the corner, the sooner this process can begin the better.
As such, a further inquiry is important and should begin as soon as possible. It should also look into the experiences of care home residents, their families and staff throughout the pandemic.
Now that there has been time to digest the findings from this week's report and consider what they mean in a wider context, a broader inquiry should also investigate whether enough was done to protect and uphold the human rights of care home residents. The virus continues to take a heavy toll on residents, their families and staff, and this impact must be at the heart of any future inquiry.
It is important this investigation does not get in the way of the day-to-day running of care homes or the effective delivery of health and social care.
However, producing an interim report as quickly as possible would help shed more light on the situation and identify the necessary steps which must be taken through the winter, and beyond.
There are also a number of questions left unanswered. We need to know whether care homes received enough support at the beginning of this crisis in terms of PPE availability, testing and maintaining appropriate staffing levels, not to mention how decisions were reached that resulted in patients being discharged into care homes without being tested.
We also need to know if care home residents were given enough access to medical treatment if they fell ill.
We recently recommended that the Scottish Government draw up a new action plan, setting out how they will support older people to live well and safely throughout winter, part of which focuses on delivering what is required to strengthen and protect social care.
The priority at all times – and basis of decision-making – should have been the safety and best interests of older people.
We owe it to the loved ones of those who sadly lost their lives to coronavirus, and those receiving care, to secure answers and stop this happening again.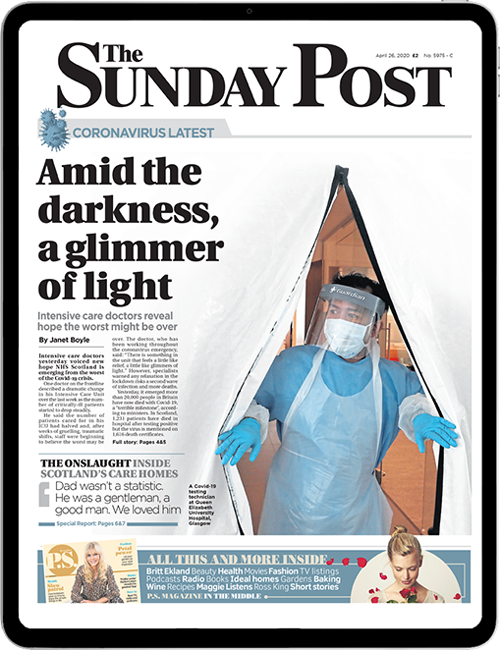 Enjoy the convenience of having The Sunday Post delivered as a digital ePaper straight to your smartphone, tablet or computer.
Subscribe for only £5.49 a month and enjoy all the benefits of the printed paper as a digital replica.
Subscribe