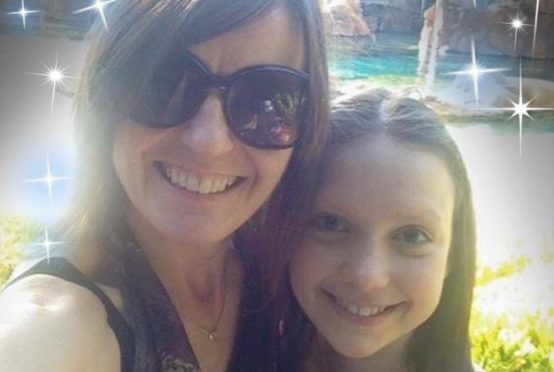 Christmas can be the hardest time for families grieving lost loved-ones.
For Tammy and Russell Main, whose daughter Abbie died on Christmas Day two years ago, it would be tempting to lock ­themselves away until the  festive season is over.
But they have found new ­reasons to celebrate, thanks to the legacy left by their daughter.
Abbie's final wish before ­losing her life to a rare cancer was to set up a respite charity to help other children and their families going through treatment.
And, in the past two years, her parents and big brother Cameron, 20, from Elgin, have set up the Sparkle Foundation, named after Abbie's love of all things glittery.
Two weeks ago, on what would have been Abbie's 17th birthday, they celebrated the opening of the first Sparkle Lodge at Dalraddy Holiday Park in the Cairngorm National Park.
Tammy, 51, said: "Abbie's ­foundation has been a gift, ­giving us a focus. Abbie's legacy has raised more than £200,000 and helped 218 children and families so far with a sparkle to brighten their day."
Abbie was 10 when she was diagnosed with sarcoma in July 2013, after she developed a cancerous cyst on her shoulder. Tammy, a nurse, was devastated, knowing the gruelling treatment that lay ahead for her daughter.
She said: "It's torture ­watching your child go through medical investigations, blood tests, scans, drug treatments, radiotherapy, side effects and operations.
"I gave up work to be with her through the difficult times. I knew she'd need all the support we could give her."
Abbie had three weeks of chemotherapy in the Royal Aberdeen Children's Hospital then eight weeks of radiotherapy in the Beatson in Glasgow.
For the next four years she ­battled the cancer, enduring numerous operations.
Keeping life as normal as ­possible was important to Abbie. She enjoyed outings with friends, holidays and even took up cheerleading.
Tammy said: "Abbie found cheerleading a couple of years after her diagnosis and she was brilliant at it. She made new friends, loved the glamour, sparkly uniforms, and winning with her cheerleading family.
"She never stopped smiling throughout.
"Her medics called her an incredible and truly inspirational young woman."
In February 2017, her ­parents faced the awful reality that the illness was going to take their precious daughter from them.
Tammy said: "I protected her from the difficult conversations with medics. There were no more treatments that could help Abbie.
"I told Abbie myself, and we were both numb with shock. But even when she was told the worst she thought about helping others. That weekend she and I stayed at her best friend Emma's and the two girls wrote down Abbie's wishes, detailing how she wanted to create her own Sparkle Foundation to help raise 'money towards hospitals and stuff'.
"She also detailed her funeral wishes or celebration as she liked to call it. She wanted her cheerleading group to perform and us all to say what we liked about her.
"She fought till the end. She wasn't in pain and, although her strength slipped away, her spirit remained."
Towards the end Abbie was cared for at home.
Losing someone on Christmas Day sounds unbearable but Tammy takes comfort from the fact her daughter died on her favourite day of the year.
Tammy says: "On Christmas Eve we all wore our elf pyjamas she had picked for us.
"She adored Christmas and, even though she wasn't feeling great, she made sure all the gifts she had carefully chosen were perfectly wrapped with ribbons and bows, like she always did.
"The next day she slipped away with us all by her side.
"We feel Abbie chose the sparkliest day of the year to go.
"We held her goodbye ­celebration on January 4 at Elgin Town Hall. Her cheerleading team danced beautifully.
"Cameron read out over 100 lovely words to describe his sister – courageous, dignified, classy, funny, beautiful, bright, loving, spirited …"
With the help of the local community, family and friend's the Sparkle Foundation has provided gifts and grants to bring some joy to the lives of children living with cancer.
Tammy said: "We're proud to share Abbie's story, to raise awareness of her amazing legacy, sarcoma and childhood cancer. We're overwhelmed at what she's achieved in the last two years."
She said: "You don't get over losing a daughter. You just try to do something good with the life you have left, always sparkling for Abbie."