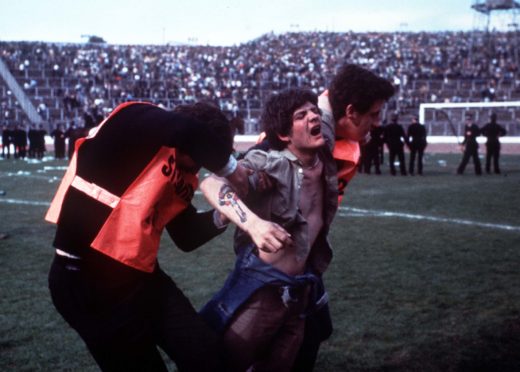 I'm onside with the legendary commentator and sporting voice of reason Archie McPherson, who last week ruminated on our nation's violent footballing past, in particular the riot between Old Firm fans at the end of the 1980 Scottish Cup Final.
"There's no doubt the game is, sickeningly, going back in time," he said.
That pitched battle at Hampden Park 39 years ago was a defining moment that resulted in the overdue banning of booze from the terraces. A ban that is still in place today.
And he is 100% correct in saying that our beautiful game, forever stained by the carnage that took place that day, has not moved on.
In fact I would go further and say it is firmly rooted in a centuries-old past.
Indeed, unless serious attempts are made to eradicate the bigoted bile that once again has raised its ugly, evil head on the terraces, until the footballing authorities, the clubs, police and Government stop scratching their heads and start knocking a few heads together, then the game will always be an embarrassing bogey.
And I have no doubt that the time has now come for robust action, action which speaks louder than insipid words of condemnation.
The blame game that currently exits and bounces between our two biggest clubs and their fans must now stop. Permanently.
They must be made aware that if they fail to do so it won't be a case of if someone could get seriously hurt or killed at a game, but when. But what can be done?
Archie reckons a larger police presence at contentious fixtures would be a deterrent, saying extra officers who are prepared to wade into groups of fans suspected of inciting religious hatred or acting in a violent manner would make a difference.
I'm not sure. Police Scotland's numbers and resources are already vastly over-stretched.
Also, many smaller clubs would struggle to pay for police officers. We don't want bevvied-up fans in the grounds in the first place.
Scottish Government ministers, prompted by James Dornan MSP, are now seriously considering introducing Uefa's strict liability penalties. These include heavy fines, closed grounds and the docking of points as a punishment for football clubs whose fans take part in sectarian chanting, throw missiles or act violently.
Not surprisingly, the clubs aren't keen on this. Other measures, such as tannoy announcements warning fans that their sectarian bile won't be tolerated, that they are breaking the law, that they are being captured on CCTV, that their details will be passed on to police and that they could face arrest and bans from future games if they don't behave, might also work.
It does for ScotRail. Every time I light up a fag on the platform I'm caught and told off.
Maybe clubs should also look at employing fans' mums to act as stewards during a game.
Seriously, it's what Brazilian side, Recife, did in 2015 when they played bitter city rivals Nautico, a derby that had always been marred by trouble.
They trained 30 mothers and, wearing high-viz vests bearing the name "seguranca mae" – security mums – positioned them in and around the stadium with instructions that they wag their fingers and berate any fans caught misbehaving.
Incredibly, the fans behaved like little angels. Fearful, no doubt, of being embarrassed in front of their mates by an angry mum.
It might just work here, you never know. But something now has to be done before it's too late and the baw is burst.