John McDonnell yesterday insisted Jeremy Corbyn would be cycling into Downing Street on Friday morning despite the polls pointing to a Tory majority.
The Shadow Chancellor said the Labour leader could still win the keys to No.10 this week if the gap between the two parties in the polls continues to narrow.
The Conservatives are on track to win with a majority of 20, according to a poll of polls by the Electoral Calculus.
But Mr McDonnell, ­campaigning in Glasgow last night, said: "What's going to happen on Friday is Jeremy Corbyn is going to turn up at Downing Street on his bicycle, he will take off his cycle clips, he will walk up to No.10 and we'll start forming a Labour government.
"That Labour government will start transforming our country."
Mr McDonnell said policies like pledging £58 billion to women who lost up to six years of their state pension – so-called Waspi women – was helping to win over voters.
Conservative minister Nicky Morgan said "there isn't the money available" to compensate the Waspi women.
But McDonnell argued: "It is a lot of money but this government has given away £100bn over the last 10 years to corporations and the rich in tax cuts.
"There is a sense of this injustice being righted and I don't care what the Tories and others throw at me. This is going to happen."
McDonnell insisted the Labour will not make deals if it fails to win a majority.
"If it is a minority government, we will implement our manifesto and expect other parties who support some ­elements of our manifesto to vote for it," he said.
"There will be no deals, coalitions or anything like that. If in implementing that manifesto there are policies that some of the other parties don't want to vote for, then let's see.
"Are they going to vote against a real Living Wage of £10 an hour? I doubt it. Are they going to vote against our policies that end austerity? I doubt it. Are they going to vote against saving the NHS from Donald Trump? I doubt it. But if they do, we'll go back to the people and they will be exposed for what they are."
The Lib Dems said yesterday they would not support any Labour leader in a coalition because the party is now "hard left".
Lib Dem business spokesman Sam Gyimah said: "The choice before the country is between a hard-Brexit Government or a hard-left Labour Party. Both of them are not in our national interest."
Meanwhile, SNP economic spokeswoman Kirsty Blackman said her party could "temper" a future Labour government in office.
She said: "We can tone down those Labour Party policies and we can put in a huge amount of pressure on them if we're in that situation of some kind of progressive alliance."
Nicola Sturgeon, campaigning in Aberdeen, urged voters to back the SNP to "put Scotland's future in Scotland's hands".
The First Minister said: "Boris Johnson's claim that Brexit will effectively be wrapped up by Christmas is the biggest con since the one painted on the side of the Vote Leave bus and demonstrates why people are right not to trust him.
"Scotland cannot afford to live under more Westminster chaos for years and potentially decades – and we ­ certainly cannot afford five years of Boris Johnson."
Scottish Lib Dem leader Willie Rennie urged voters to back his party to block a second referendum on independence.
He said: "You don't have to love every single Liberal Democrat policy, you just have to be among the majority of Scots who look at the prospect of another referendum next year and say no thanks."
Scottish Conservative leader Jackson Carlaw said: "Two years ago, three-­quarters of a million Scots gave their vote to the Scottish Conservatives to stop the SNP's divisive second independence referendum.
"This week, we need those 750,000 people to come together.
"This time we can put that ­ ­referendum in the cold storage for good."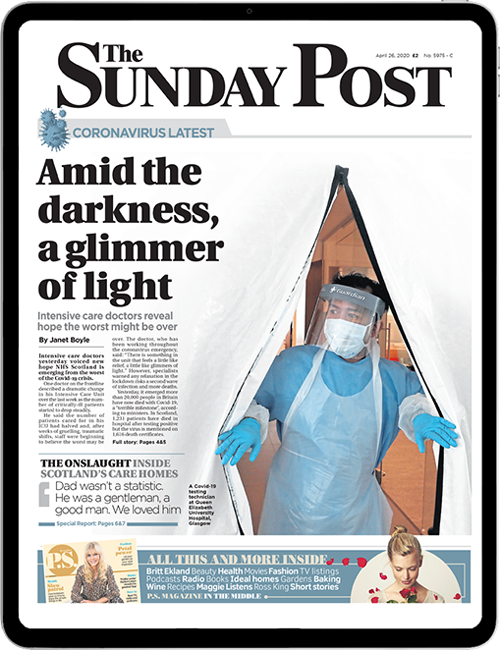 Enjoy the convenience of having The Sunday Post delivered as a digital ePaper straight to your smartphone, tablet or computer.
Subscribe for only £5.49 a month and enjoy all the benefits of the printed paper as a digital replica.
Subscribe