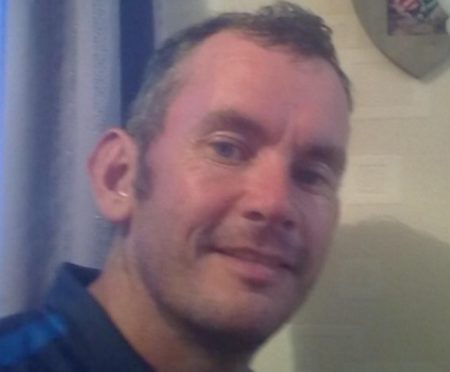 A serial sex offender who fathered a baby with one of his victims is to have his child support arrears written off – because being in prison means he cannot pay.
Steven Mays, 42, owed more than £6,500 in unpaid child maintenance for his son before he was jailed for nearly nine years in 2016.
The boy's mum struggled to raise him on her own after breaking free of the abusive relationship with Mays, who repeatedly raped and beat her.
She is currently working two jobs to make ends meet and provide for her son and her two younger children.
But she has been left feeling angry and betrayed after the Child Support Agency wrote to her saying Mays' arrears are to be permanently written off.
The mum, from Ayrshire, said: "I think it's absolutely disgusting.
"I'm the victim in all of this, and I'm being treated as if I'm worthless.
"It's been a nightmare, there's been no end to it.
"It's not about the money, it's about the principle, but I've faced enough heartache and pressure.
"I've brought my son up with the help of my mum and dad.
"Why should Steven keep shunning my son and keep turning his back on him?
"Why should he always get away with not doing right by my son?
"Even if it took him 60 years to pay it back, I don't see why he should get away with not paying it.
"If the CSA had done their job properly in the first place he wouldn't have had these arrears.
"He'll be free to claim benefits when he comes out and will owe nothing. He'll be able to carry on with his life.
"Where is the justice? I find the system barbaric.
"I have put in an official complaint to the Child Support Agency because my fight is with them now.
"They're writing off all that money and they think people should just take it lying down."
The woman, now 41, met Mays when she was a teenager and at first found him charming and funny but he soon turned violent.
He subjected her to repeated rapes and would punch, kick and even bite her.
When she was pregnant with his child he attacked her so violently that she feared her baby would be born brain damaged.
He continued to harass her after the relationship ended, and she once turned on her phone to find 483 missed calls from him.
The woman received only intermittent child support payments from Mays as she brought up her son.
She survived financially because of the support from her parents.
But Mays, of Irvine, Ayrshire, would ignore the CSA's attempts to get him to pay what he owed or would lie to them.
He had also gone on to rape and attack a second woman and sexually assault a third. He also bombarded the three victims and another five women with messages and calls, many of a sexual nature.
Mays was eventually arrested and charged in 2015, and the women gave evidence at his trial at the High Court in Glasgow.
Judge Lord Matthews branded him a "serial offender" when he was jailed for eight years and eight months after being convicted of 14 charges against eight women.
Mays will be eligible for parole in late spring but will be subject to a four-year extension which could see him recalled to prison if he breaches the terms of his release.
But in the same week that his first victim received notification of his parole hearing, she was also told that his CSA arrears were being wiped.
Last year the Sunday Post revealed that deadbeat dads were due to have £3 billion of arrears written off because there was little chance of recouping it.
Mays owed a total of £6,513.41 for his son, who is now 22.
The letter stated: "The Government is reviewing the historic debt in some Child Support Agency cases.
"Much of this debt can't be recovered and will be permanently written off.
"This includes money Steven Mays owed to you from your Child Support Agency case.
"We plan to write off the full amount outstanding from this case, which according to our records is £6,513.41."
It added that the woman can request the case be looked at again to see if there is any prospect of recovering the money but there is no guarantee that it will succeed.
The woman added: "I'm so angry. Why should I have to keep on fighting?
"I had been doing quite well and the transformation in me had been amazing then those two letters came in and boom, I'm back to square one.
"I'm serving a life sentence.
"How do they justify writing off arrears but not giving any compensation? The CSA has got to be held responsible for this because it's their system that hasn't worked. It's not my fault it didn't work."
A DWP spokesperson said: "If the parent notifies us they want the department to try to collect the arrears, we will attempt recovery.
"The letter issued notified these historic arrears owed are under consideration, not that they are being cancelled."