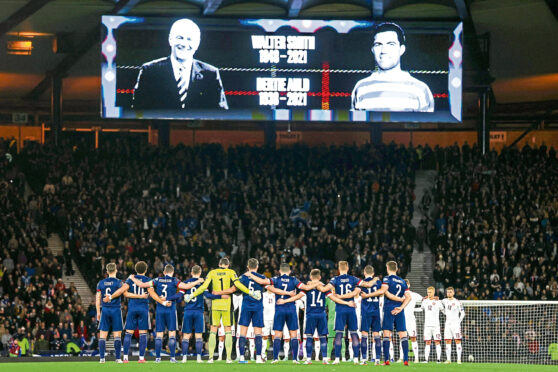 Sometime early this evening Hampden Park will take a deep breath and start to decompress from its tumultuous week.
The famous old Glasgow stadium has its critics, that much is certain.
Difficulty of access for supporters is a perennial issue with insufficient road and rail links leading to traffic snarl-ups before and after big games.
The facilities inside are not perfect either. The track around the pitch means line of sight is not great in places.
However, the hosting of an historic Scotland victory followed by two cup semi-finals within the space of seven days is a timely reminder of what the venue offers the country.
Every bit as memorable as the euphoric celebrations from the national team and the Tartan Army during – and after – the win against Denmark was what came before.
The sight of Walter Smith and Bertie Auld together against a tartan backdrop on the giant screens suspended underneath the roof at either end of the stadium will linger long in the memory.
Smith, suited and booted for a big occasion, with a smile stretching wide across face.
Auld, the renowned joker rarely seen without a grin on his features, looking young, solemn and proud in the hoops of Celtic.
And below those two late greats of the Scottish game, the national team standing, arms linked, paying silent tribute to their memory.
The enormity of sporting achievements can often be tough to process by those who have just recorded them.
An example was Shaun Rooney last season on joining his hero Henrik Larsson in the handful of men who had scored in both domestic Cup Finals.
With his goals having contributed to St Johnstone completing a stunning double, it was all a bit much to take in.
As he looked around the then ghostly national stadium – this was at a time when closed-doors was still the norm – he was honest in admitting his desire to better review his triumphs on a warm beach with the aid of a few chilled liquid refreshments. Quite a few, even, if that is what it took.
Last Monday night was a little bit like that for the Scotland side.
Billy Gilmour could only agree with gentle media suggestions that the fact the six months since his Scotland debut has included appearances at the Euros and a run to the brink of World Cup qualification almost beggared belief.
Like Che Adams, whose goal to seal the win was a throwback to the great Scotland strikers of old, the little midfielder could not have timed his run better.
Whether they realised it or not, the minute's silence was not only a fine tribute but also a reminder of how fortunate the current group are.
Auld was a Lisbon Lion, a key part of the Celtic side that won the European Cup in 1967.
It was not his first appearance in a European showpiece either, he turned out for Birmingham City in the Fairs Cup Final of 1961 that they lost 4-2 on aggregate to Roma over two legs.
Domestically he was involved in a dozen domestic trophy wins with Celtic yet only claimed a total of three caps with the likes of Billy Bremner and Jim Baxter preferred ahead of him.
A trawl through Rangers' history produces similar stories. Barcelona Bears star Dave Smith got just two!
It is important to give a bit of context here.
The advent of the Nations League, coupled with longer qualifying campaigns for the World Cup and Euros, means today's players are offered far more opportunities to amass big appearance totals.
Likewise, there is no question that caps are harder to win now under Steve Clarke then they were in days of Bertie Vogts, the German notoriously giving 40 players their debuts between 2002 and 2004.
The central point remains, though, if today's group can win through to Qatar next year they will follow in very illustrious footprints and, who knows, perhaps even boldly stride beyond them.
Collectively and individually, Clarke and his players are writing their own scripts with John Souttar's scoring return against the Danes just the latest plot twist in what has become a gripping narrative.
With the backing of 50,000 in the Hampden stands and the fighting spirit of Walter Smith and Bertie Auld living on in their young countrymen, it would be a brave man who would bet against them in the play-offs.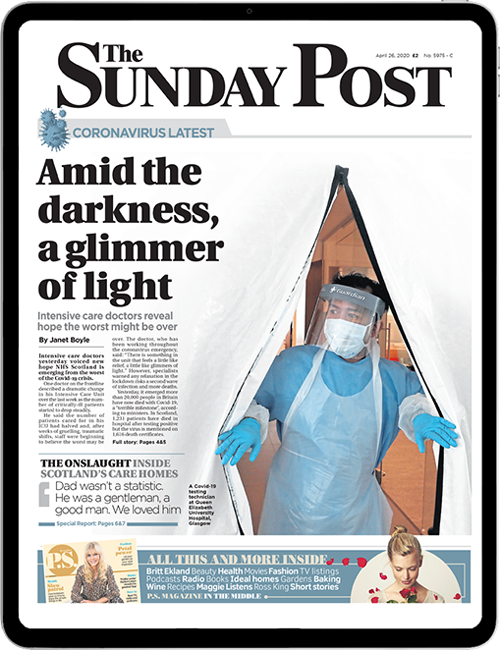 Enjoy the convenience of having The Sunday Post delivered as a digital ePaper straight to your smartphone, tablet or computer.
Subscribe for only £5.49 a month and enjoy all the benefits of the printed paper as a digital replica.
Subscribe