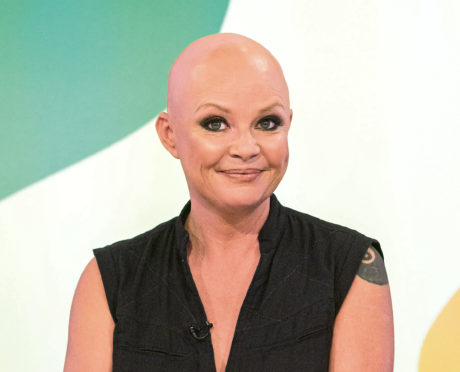 Gail Porter is very chatty, very bubbly and very, very honest.
The broadcaster hasn't had her troubles to seek over the years, from losing her hair and battling mental health issues, to sleeping rough and even declaring bankruptcy.
She will talk about it all, not because she likes to dredge up painful memories, but because she's learned it's good to talk, not just to help herself, but to help others who might be going through something similar.
This has been another tough year for the 49-year-old Edinburgh TV presenter, not just because of the loss of earnings thanks to lockdown, but due to the sudden passing of her dad, Craig, in February.
"It's not been the easiest year of my life, it's been hard and I've had the odd wobbly day," she said with a smile. "I don't know why I'm laughing, it's probably in disbelief that I'm still here.
"I don't understand how I'm still here, but I'm very happy I am."
Gail was one of the most in-demand presenters of the '90s, appearing on The Big Breakfast, Top Of The Pops, Fully Booked and Live & Kicking, but she was secretly dealing with a number of personal issues such as an eating disorder and self-harming. The infamous incident in 1999, when men's magazine FHM projected a nude picture of her on to the Houses of Parliament without her knowledge, left her distraught.
Earlier this year, a critically acclaimed documentary, Being Gail Porter, examined her struggles in her own words.
"It was really tough. We spent five or six months on it, going over things," she said. "I didn't watch it when it first came out, but I'm glad I did it. It got great feedback and I think it did some good. Sometimes people put on a front and say things are fine, but sometimes they are not fine.
"It's not an easy time just now. Some people are lonely, depressed, skint, so they are reaching out. I do have some days when I feel rubbishy, but I've learned from my mistakes and I've learned to pick up the phone and people will be there.
"Before, I was embarrassed and wouldn't tell anyone. The message I want to get out to everyone is if you feel rubbish, there is someone out there. Even if you feel there isn't, there is.
"The Samaritans did me a bunch of favours. I phoned and hung up numerous times, then phoned back, realising that I don't know them and they don't know me, they can't see me, so I'll tell them everything because it's an ear that is always there."
In the documentary, Gail was seen working on a book about her life, which she has completed during lockdown.
"I never thought the book would be finished," she admitted. "You can't just write about life if you're not feeling up to it or if it triggers bad memories. You know, if I'm in a good mood today, then I don't want to talk about living on a park bench. I'll do it tomorrow instead.
"I can't say too much about it because I don't want to jinx it, but there is something very exciting in the pipeline with the book, and possibly something else I might have written. There are lots of talks going on right now. I remember my dad saying to me about a month before he died, 'You've been at that book for about two and a half years', and I said, 'Well, you try to do one, and do voiceovers, and be a mum!'"
Gail's daughter, Honey, whom she had with ex-husband Dan Hipgrave, recently turned 18.
"It was so weird when we went out for dinner and she asked for an Aperol spritz," Gail laughed. "I thought, 'Oh my gosh, make this stop, you can't be 18! This is terrible.'
"But she's very clever, very grown-up and I'm so proud of her. She's a very good human being.
"The thought of university and boyfriends, well, she's out of my grasp now.
"I think she's far better behaved than I was at 18. I think I was well-behaved until I hit 16 or 17, and then it all went a bit '90s. I wasn't the best behaved person in the '90s.
"I was trying to talk her into going to Edinburgh University, but she said I would only follow her. Of course I would, I'd go back to Edinburgh in a second."
Gail describes returning home as "bittersweet sometimes", now that her parents and grandparents have passed away, but she does try to come back as often as possible and says she would like to move back permanently one day.
Her most recent trip was to celebrate Honey's 18th and they visited Edinburgh Zoo. Gail narrates Inside The Zoo, a behind-the-scenes documentary about the tourist attraction and its sister site, Highland Wildlife Park, that is currently being screened on BBC.
"We were very good at feeding the penguins, apparently," Gail smiled. "We also went to see the pandas and tigers. We were only in Edinburgh for two days, so we were trying to do as much as possible for her birthday.
"When I go home I get overexcited and want to do everything. It wasn't the best weather, it was rainy, but I was saying it was fine and she replied, 'What's wrong with you Scottish people!' It was her first time at Edinburgh Zoo and she really enjoyed it, and she was looked after so well."
Alongside voiceover work and writing, Gail is also in-demand as a speaker.
"I do talks for companies, maybe workers suffering from anxiety. I can be speaking to 500 or 600 people through Zoom, and we'll do a Q&A afterwards. Anything I can do to help. I like to keep busy."
When she was sectioned in 2011, Gail had to prove herself all over again. It took a while, and financial troubles in the interim period eventually led to her sleeping rough on a park bench and declaring bankruptcy. Getting her career back on track and picking up steady work again has been one of Gail's priorities over the past decade.
"I thought I could either feel sorry for myself or battle through it, so I decided to battle," she continued. "It was 50/50 whether I would ever work again.
"I applied for all sorts of jobs, even in bookstores and places like that, and they would say to me, 'You can't work in a bookshop, you're Gail Porter off the telly', and I would say,' Please, I'll work anywhere, I just like working'. But people didn't seem to take me seriously.
"I just wanted to work, that's what I like doing, but they just said I would be fine."
And she is fine. It's been a long and complicated road to get to this point, but Gail feels positive about the future and will keep working hard at her professional and personal life.
"You haven't heard the last of me, that's for sure," Gail smiled. "You can't get rid of me that quickly – I'm a proper Scottish ninja."
---
Inside The Zoo, Mondays, 8pm, BBC Scotland and BBC iPlayer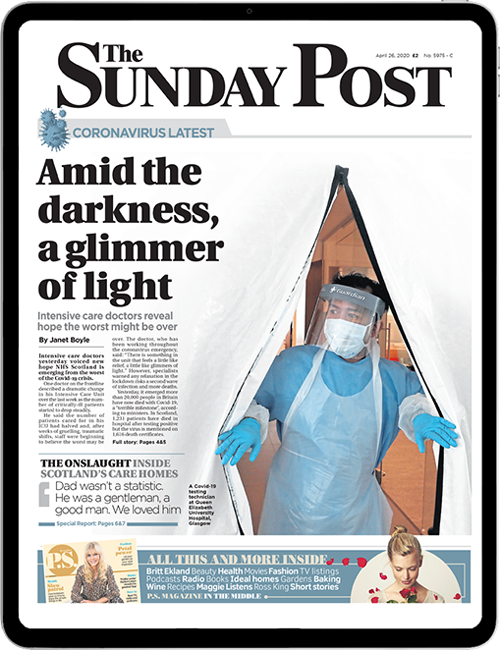 Enjoy the convenience of having The Sunday Post delivered as a digital ePaper straight to your smartphone, tablet or computer.
Subscribe for only £5.49 a month and enjoy all the benefits of the printed paper as a digital replica.
Subscribe