CRUCIAL checks on sex offenders were cut back – despite police chiefs warning the move would put children in danger, we can reveal today.
New Scottish Government guidance means officials are now making fewer checks on where offenders are living and if their neighbours are potentially at risk.
Environmental Risk Assessments (ERAs) identify vulnerable people – including families and children – who may be living close to a registered sex offender (RSO).
If there is a perceived risk, the authorities can step in to move the offender to another location.
Earlier this year, The Sunday Post told how the Government had exempted some types of registered sex offenders from the checks. But, we can reveal, the move went ahead despite Police Scotland warning reducing the visits could risk the safety of children and their families.
Senior officers insisted high-risk sex offenders and those whose crimes involved youngsters must still have their locations checked annually, without exception.
Documents show that, instead, the Scottish Government backed social workers who lobbied for cuts to their workload, claiming most offenders caught downloading child abuse images were of little danger and that there should be an opt-out for more serious offenders, too.
But, in a memo sent to the Scottish Government last spring, senior officers warned agreeing to "any reduction in the number of ERAs would expose children and others to unnecessary, avoidable risk."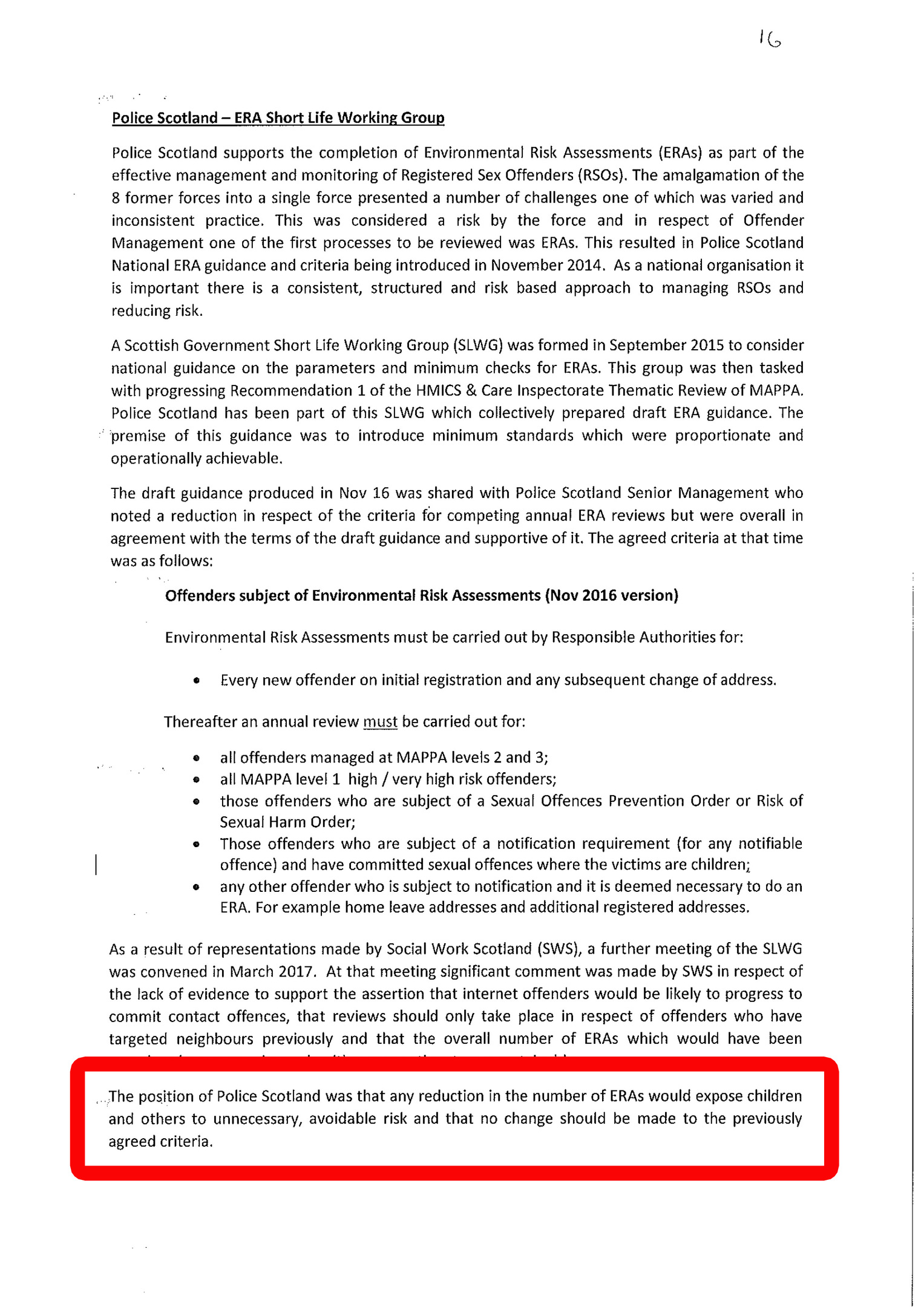 The document, released under Freedom of Information laws, adds: "It is the opinion of Police Scotland the changes have the potential to reduce the number of annual reviews completed to such a level as to make the process indefensible, all of which potentially increase avoidable risk.
"Data indicated over 600 individuals were reported for offences relating to indecent images of children last year. If accepting…that 3% of these offenders later commit contact offences, this would result in 18 victims where intervention by means of completing an ERA may have prevented further victimisation."
It concludes: "All agencies involved in public protection are working within financial constraints, however this should not be a driving or deciding factor when managing risk and considering decisions in the management of offenders."
Under pressure to reach a compromise, all parties signed off a final version that was then published last November, but without Police Scotland's concerns being addressed.
Margaret-Ann Cummings, whose eight-year-old son Mark was murdered by convicted paedophile Stuart Leggate in 2004, claimed the weakened guidance was a "fudge".
She said: "Checking who lives next to a sex offender saves lives and it's such an easy thing to do I can't believe there's even an argument over this.
"If social workers aren't prepared to carry out their duties then shame on them; if they don't have the cash to do them then shame on the Scottish Government."
There are currently 4066 RSOs being monitored in the community by police and social workers with the ERA workload split between them.
Frontline staff are coming under greater pressure, partly due to a sharp rise in the numbers of people being convicted of internet-related offences. Social workers say the workload is untenable.
Under the Government's new ERA guidance, all sex offenders will undergo address checks before they are returned to the community and when they move house.
But, from now on, only those deemed to be a raised risk – just over 500 RSOs – plus the minority found guilty of "contact" crimes against children and vulnerable adults will have their addresses continually assessed. Even then, social workers can choose not to carry out a review if they think an offender's risk levels have reduced.
Another 2000 are now automatically exempt from follow-up checks – including those convicted of cyber-crimes, flashing, voyeurism and opportunistic sex assaults against women where they have convinced officials they are low-risk.
Yesterday, the Scottish Government and Police Scotland both insisted the checks in place on RSOs were robust and effective.
However, neither would comment on the police memo obtained by the Post warning reductions in checks would risk children's safety or why the concerns of senior officers went unheeded and their advice rejected.
A spokesman for the Scottish Government said: "The monitoring of convicted sex offenders in Scotland is more robust than it has ever been and is kept under constant review as protection of the public is paramount.
"This guidance was approved by the multi-agency MAPPA National Steering Group."
Detective Superintendent Gail Johnston, of the National Offender Management Unit, said: "Police Scotland works in partnership with a number of agencies through MAPPA to ensure all Registered Sex Offenders (RSOs) are robustly managed within the community.
"Environmental Risk Assessment is one of many tools used to collectively assess and manage the risks posed by RSOs. This ensures each RSO is appropriately managed, with the focus being on those posing the greatest risk of harm to our communities.
"The Guidance for conducting ERAs provides minimum standards for all agencies, ensuring a consistent national approach."
Neither would comment on the memo.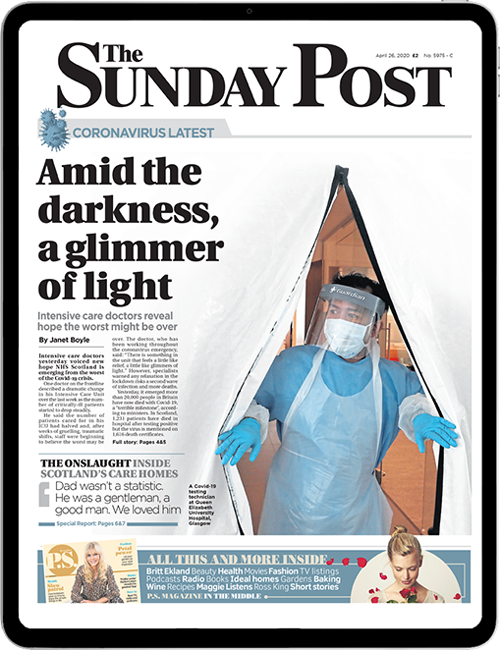 Enjoy the convenience of having The Sunday Post delivered as a digital ePaper straight to your smartphone, tablet or computer.
Subscribe for only £5.49 a month and enjoy all the benefits of the printed paper as a digital replica.
Subscribe