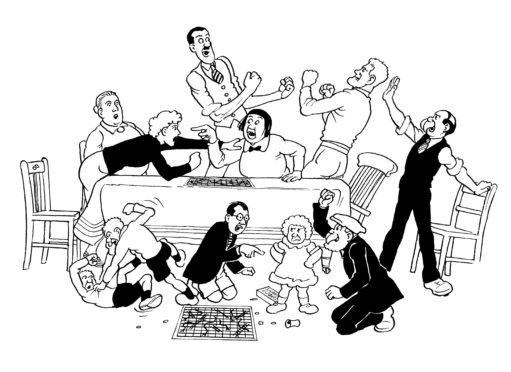 We can all be forgiven for feeling a bit Brooned off as we go into a second national lockdown but, experts say, despite it feeling just as bad second time around, we are better prepared.
At the beginning of the first lockdown we asked a panel of specialists for advice on how families, from grandparents to toddlers, just like Glebe Street's famous clan, could get through weeks of being cooped up at home.
Back then it was ­unprecedented but after nine months on the Covid rollercoaster, edging in and out of restrictions, what lessons have we learned?
How can we use these new-found coping mechanisms to see us through the next few weeks of isolation during the darkest days of winter?
Here, we revisit our trusty panel to discover their lessons of lockdown.
---
The children
Facing another term of home-schooling could be hard on children, like The Bairn or The Twins.
Consultant child and adolescent psychiatrist Dr Elaine Lockhart believes the key is to relieve any pressure and focus on one day at a time. Plus, unlike during the last lockdown, parents can take advantage of under-12s being allowed to participate in organised outdoor activities.
"We have seen the mental health of children has taken a big hit since March," said Dr Lockhart, of the Royal College of Psychiatrists in Scotland. "We know children have been struggling generally with anxiety, and feeling fed up because they've been knocked off their routine. Fortunately, since the first lockdown, we have learned what can help. For young kids, being able to play with friends is important, so get them outside to run around and have a little fun.
"Most people have found home-schooling really hard, especially when parents are trying to work from home.
"So, we need to just try to pull back on expectations. Set aside a certain amount of time every day for the kids to concentrate on lessons, then allow yourself to get your own work done while the kids play or do something fun.
"For parents and kids, self-care and taking pressure off are two things we've learned are really important."
The parents
Couples, like Maw and Paw, trying to work from home while looking after youngsters will find lockdown hard, admits psychotherapist Lesley Shearer.
"You can't teach and work at the same time – it's impossible," she said. "So, many parents will be quite low right now.
"Trying to adopt a positive mindset can improve your mood. I would recommend pausing to ask yourself, 'Is it the current crisis that's making me feel low or is it my self-talk?' We may not have control over the pandemic, but we do have control over what we think and what we focus on."
Glasgow-based Lesley, a Counselling Directory member, added: "Seasonal Affective Disorder is kicking in for people, so we need to return to a positive mindset. One of the tasks I find helps my patients is a 'fighting low mood scorecard', which helps keep track of how you're feeling. Things like making sure we talk with someone for at least 15 minutes every day. Small things like that really can help."
The young adults
According to clinical psychologist Michaela Thomas, many people in their 20s and early-30s have experienced a sense of being "stuck" over the past 10 months.
And, with cancelled weddings, furlough and uncertainty over the future, young adults – including Hen, Daphne, Joe and Maggie – could also be struggling with stress and anxiety with little relief.
She said: "Many people will feel like life hasn't progressed, creating a sense of claustrophobia and stuckness. They haven't been able to move abroad, make big career decisions, they may be stuck in a job they dislike simply for security, or have lost their position entirely. This all adds to a feeling of missed opportunity
"It's important to remember it's always darkest before the dawn. So we need to find a way to tell ourselves, 'this will end' because we know this is the last hurdle.
"Having a routine is important, so set your alarm every day and try to get out of the house before you start work in the morning. And focus on the mantra to 'do what you can'. Flexible, kind ambitions are key. It may be the New Year but this is not the time to reinvent yourself – save that for when lockdown has ended.
"Planning something to look forward to can help, too. But it should be more of a 'hope' than a concrete plan. Things might still be uncertain for a while to come, but a flexible hope can lift our spirits a little bit."
The teenagers
The stress of exam uncertainty and missing early milestones, like starting university, will have impacted many teenagers, who are now facing another year of cancelled classes.
Dr Lockhart said: "For teenagers who had their exams cancelled, this might be the second year in a row they won't get to sit their tests, which will be very hard for them. Plus, when you are young, the current situation feels like it's a big proportion of your life, whereas if you're a bit older, it's easier to think, 'OK, it's going to be a bad few months, but I know we'll get back to some kind of normality soon'.
"Again, it's about not creating really high expectations. If you can get through the day, take a bit of a break, look after yourself and get a good night's sleep, that's still great. Fresh air and exercise, winding down your brain and switching off the screens before you're heading to bed will all help you to get a better night's sleep."
The elderly
Being isolated from friends and family is not uncommon for older people, and Brian Sloan, chief executive of Age Scotland, believes the timing of the current lockdown could make it even harder for the elderly population.
He said: "This lockdown is in January, which makes the prospect of restricted contact with family or friends even more difficult. It will certainly add to the isolation and loneliness felt by many older people."
However, simple things like exercise and picking up the phone to reach out for help can be lifeline.
Brian continued: "Laptops, tablets and training to use them has helped some older people stay active at home, join arts and music sessions, or have a blether with friends. Keeping active and staying connected will be key to getting through this.
"Family, friends and neighbours can also look out for older people to check they have access to essential groceries, medication and other supplies. But just as importantly, pick up the phone, drop round for a physically-distanced doorstep chat or write a letter to help older people feel valued and connected.
"There is also the Age Scotland Friendship Line, established during the last lockdown to offer support and friendship to older people. Call us free on 0800 12 44 222 for a friendly chat."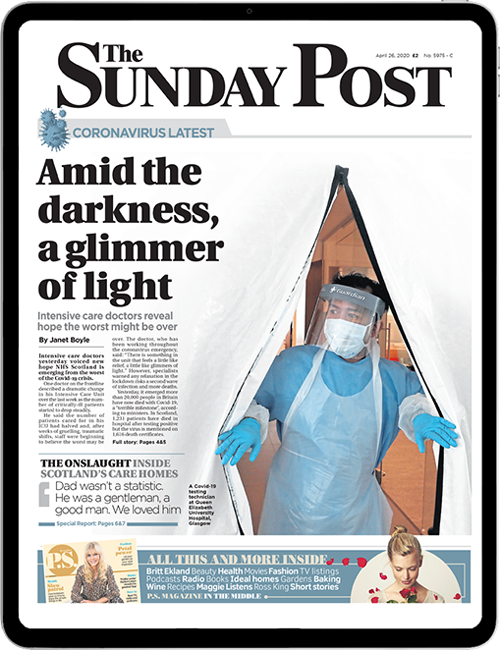 Enjoy the convenience of having The Sunday Post delivered as a digital ePaper straight to your smartphone, tablet or computer.
Subscribe for only £5.49 a month and enjoy all the benefits of the printed paper as a digital replica.
Subscribe