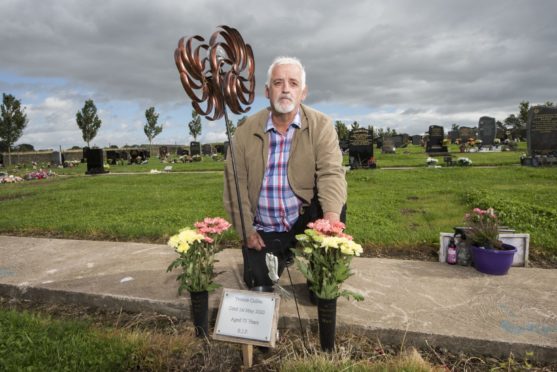 A second family are prepared to take legal action against ministers over Scottish Government care home policies after the death of their elderly mother from Covid-19.
The family of Dundee pensioner Yvonne Cullen, 75, believe government policy to test no more than five care home residents at a time for Covid-19 and a refusal to move infected residents into hospital meant she was not admitted to hospital for 12 days after showing symptoms.
Her daughter Liz, 56, a nurse, who works in care homes in England, said: "Mum began exhibiting symptoms of Covid-19 on April 8, but wasn't send to hospital for 12 days.
"The GP practice say because there was an official policy of not testing more than five people in a care home, mum was not tested. By the time she was sent to hospital, we suspect she was too ill to have any chance of treatment or recovery."
On admission to Ninewells Hospital in Dundee from South Grange Nursing Home in Monifieth, which is run by Barchester Healthcare, great grandmother Yvonne had pneumonia, she was dehydrated and needed oxygen and antibiotics.
The former taxi driver died on May 1 and the cause of death was listed as Covid -19. She also had vascular dementia and type 2 diabetes.
Liz said: "If I'd been nursing my mum in England, I would not have delayed. I would have been sending for an emergency ambulance.
"We're not in interested in the politics of what happened, we want the truth and justice for my mum and for every other family who lost loved ones because of the policies brought in during Covid-19.
"We believe the First Minister and Health Secretary must answer some difficult questions about those policies and how these decisions impacted on the elderly and vulnerable across Scotland."
Liz's brother Larry said: "Because she was 75 and had diabetes, once she got to the hospital, they refused to put mum on a ventilator. She wasn't even given a chance, and we cannot accept that."
Bruce Shields of Thompsons Solicitors, who is in charge of a specialist team investigating Covid-19 deaths across Scotland, in care homes, hospitals and the loss of healthcare staff infected at work, said the case was "deeply disturbing".
He said: "We are currently examining every aspect of Yvonne's care leading to her tragic death, and that also includes how government policies and guidance affected how she was looked after both in the care home and in hospital.
"We have a dedicated team specialising in Covid deaths across Scotland and we will not hesitate to take action against all who should be held responsible.
"Although the Covid-19 virus is new, and our response to it has been unprecedented, the  fact of the matter is that deadly infections have been around for a very long time and there is ample knowledge about infection control and legislation which has been in place for many decades which should have prevented the many hundreds of preventable deaths we have sadly seen in our care homes and hospitals.
"This is an easily transmissible virus but we have had to deal with easily transmissible viruses before, so they should have known, and they have a duty of care to have known how to keep people safe."
In their reply to the family's concerns, the Monifieth Medical Practice said: "In early April testing beyond the first five people in the South Grange Nursing Home displaying symptoms was not recommended by public health and therefore your mother was not tested in line with applicable guidance."
The GP practice insisted they did not have a policy which would "prevent a patient being admitted to hospital." A spokesman said the practice was unable to comment on individual cases but added: "All clinicians in the practice have followed appropriate guidance in the management of Covid-19 cases."
NHS Tayside also said they could not comment on "individual cases" while Barchester Healthcare which runs South Grange Nursing Home said the company did not "operate a blanket policy against hospital admissions but rather continued to manage every resident's clinical care needs in line with their care plan and under the direction and guidance of each resident's GP".
Last week we revealed the family of Rodger Laing, 80, who died in May, three weeks after being moved from Midlothian Community Hospital into an Edinburgh care home where, unbeknown to his family, residents had already died of Covid, were launching legal action intended to force government ministers, not doctors, explain official policy around care homes in the weeks before and after lockdown.
Their lawyer Patrick McGuire, senior partner at Thompsons Solicitors  said: "As emergency measures were bought in during the pandemic, the Scottish government and its ministers took control from health authorities, and could become respondents in any legal action.
"The First Minister, the Health Secretary and their advisors will need to answer questions about the decisions they took and the orders they gave during the time 1,300 patient were moved from hospitals into care homes where many died from Covid-19."
The Scottish Government admitted that limited testing had been in place when Yvonne developed Covid, but insisted they are not responsible for admitting patients to hospital and an inquiry is being held into all deaths.
She said: "Initially the testing of residents in care homes for COVID-19 followed the same principles developed during pandemic flu outbreaks in care homes, where a limited amount of people with similar symptoms are tested to establish the cause of an outbreak of illness.
"On April 15, the First Minister announced testing arrangements would be amended to move to test all symptomatic care home residents.
"From May 25, we introduced testing of all care home staff on a weekly basis, regardless of whether they have symptoms or if there is an ongoing outbreak in their care home."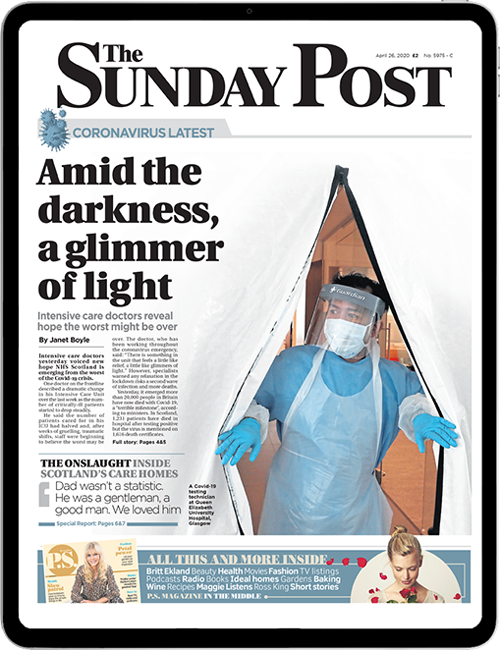 Enjoy the convenience of having The Sunday Post delivered as a digital ePaper straight to your smartphone, tablet or computer.
Subscribe for only £5.49 a month and enjoy all the benefits of the printed paper as a digital replica.
Subscribe