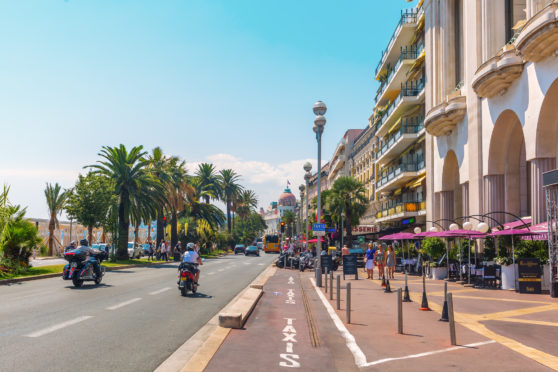 Scotland's team hotel in Nice sits just off the seafront.
The main drag down this way is known as the Promenade des Anglais, or "Walkway of the English".
Strolling along the section between Boulevard Gambetta and Rue Honoré Sauvin, near the Scots' hotel, it's hard not to wish it rechristened, at least for the next few days, as the Promenade des Écossais.
From here, the cool blue water of the Mediterranean Sea seems to beckon locals and visitors alike down to the busy public beach.
It's like this almost every day in this part of town.
Almost…
In just over a month, it will be the third anniversary of the day a deranged Islamic extremist drove a 19-tonne truck into crowds celebrating Bastille Day on the Promenade.
Standing here now, watching the people go by, the horror seems suddenly palpable, as though the simple act of being here has somehow reversed time.
Yet the locals' faces betray no sign of the terror visited upon them on July 14, 2016.
I'm not going to dignify the perpetrator with a name because his actions that night stripped him of any claim to dignity.
Suffice to say, 86 people who did nothing other than take to the streets of Nice died at his hands, while 458 others were injured.
For some of them, the beach beckoned that night.
But rather than the promise of a spot to sit in the sun, or a revitalising dive into the rolling waters, it was desperation that drew them down.
The choice that faced them was stark…
Run – and leave themselves wide open to the whims of the lunatic behind the wheel of the onrushing truck – or jump several metres down to the shingle below.
Those that were close enough went for the latter, and some were injured in doing so.
And yet onward went the truck, relentlessly, for a full five minutes, before police shot its twisted driver dead.
The victims came from across the world.
Exactly half of the dead were French.
The other half came from 18 different countries.
The diversity of those who paid the ultimate price for one man's hateful mindset that night offers an illustration of just how multicultural and cosmopolitan those Bastille Day celebrations were in Nice.
It remains just as vibrant today.
You can bet the people of this city haven't forgotten the events of three years ago.
But they have refused to let their lives be defined by them.
There's no great memorial to their collective grief. There's no solemnity.
People here just get on with it.
They were welcoming the world then and they are still welcoming the world today.
The Scotland and England fans, who are now starting to arrive, will quickly find that out for themselves.