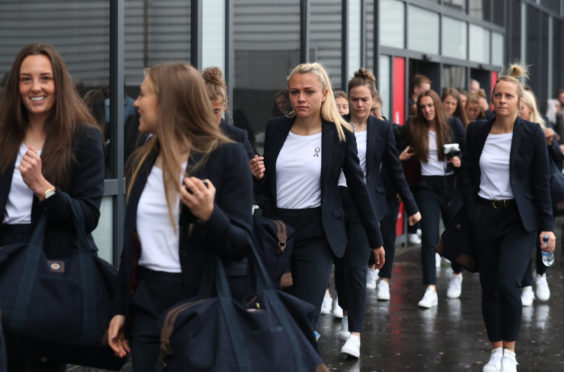 They say it's the waiting that kills you.
For Scotland, the long wait is over – and our major tournament hopes are alive and kicking
Shelley Kerr's stars caught their flight to the Women's World Cup in France this morning after an overnight stay at the fancy Norton House Hotel, tucked away near Edinburgh Airport.
Most – if not all of them – must have pinched themselves as they waited, suited and booted, to board their charter flight to Nice.
That's where they will make their Women's World Cup bow on Sunday – the picture postcard, sun-kissed French Riviera.
And with England as their first opponents, the stakes could scarcely be higher.
I must admit, I pinched myself too as I waited to board my own flight at 6.05am.
The truth is, I'd been doing it since my alarm buzzed obnoxiously at 3am to drag me from my slumber.
At the start, my sleep-deprived brain needed the stimulus.
But as I drove in the relentless rain towards Edinburgh, the reality of the situation hit.
Some football fans still sneer at the women's game.
In fact, many do.
But having spoken to a number of players over the build-up, it dawned on me just how egregiously wrong those who talk women's football down are.
It's not just that they do the game itself a disservice.
They do Scotland's female players a disservice too.
Perched at Brussels Airport earlier today, waiting for my connecting flight to Nice, I busied myself – not to mention distracted myself from the fine Belgian beers that seemed to be on sale all around me – by transcribing an interview I'd done on Tuesday with Leanne Crichton.
The Glasgow City star made her Scotland debut 13 years ago.
She used to play in front of crowds you could only charitably call sparse.
The truth is, Leanne and her teammates were lucky if a couple of hundred turned up.
Now they're heading for the bright lights and the big stage of the World Cup – and they're doing it having been waved off by 18,500 fans.
That was the crowd at Hampden for last week's warm-up victory over Jamaica.
Most of Scotland's players never dreamed of playing in front of such a crowd in their own country.
But it happened. And how they deserve it.
Nice, still days away from kick-off, is still quiet as things stand.
The Tartan Army have not yet descended on this beautiful corner of the world.
For that matter, the English are also notable by their absence.
But they will come.
Maybe not in the numbers a game between the respective men's teams would attract.
Maybe – and thankfully – not in as aggressive a form either.
But there will be plenty of punters trickling into the south of France over the next few days, and when they get here, they will see something no Scottish football fan has seen since 1998.
They'll see their team at a World Cup.
Those that would turn their nose up at that are entitled to their opinion.
But they're wrong.
And Nice, with the early summer sun beating down, is waiting to welcome those who see Scotland's women's achievement for the magnificent thing it really is.