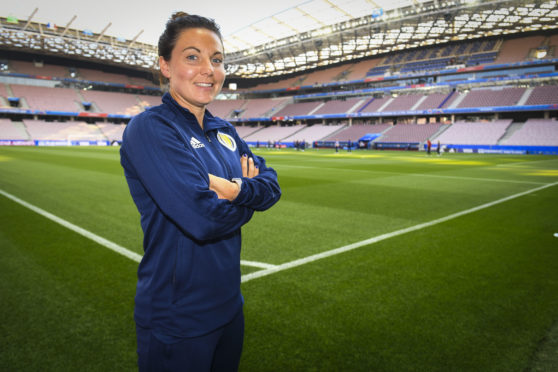 Nice's Allianz Riviera stadium is on lockdown.
Outside, a knot of sun-stroked journalists is growing irritable.
The security man forgot his accreditation-scanning machine. Nobody is getting in. "Another 10 minutes," is the cry.
But hey… there are worse places in the world to wait than this.
Around the corner from the assorted hacks, photographers and TV types, fans of OGC Nice are queueing too.
Their club shop has season tickets on sale for next season and the trade is brisk.
But they have grumbles too.
They don't take kindly to being denied access to their club's stunning home.
FIFA are in charge here now. Their rules apply. For the next few weeks, Nice, bossed by the legendary Patrick Vieira, are merely tenants.
Tomorrow, Scotland and England will be shepherded around the bowels of the stadium to their respective dressing rooms, before taking the field to do battle.
But today, it's match day minus one, when each side's manager and captain goes before the media to issue rallying cries for the campaign ahead.
Shelley Kerr, Scotland's inspirational gaffer, was no shrinking violet as a player.
Just last week, SFA coaching guru Jim Fleeting described her to me as a "gorilla" of a player; a centre-half from the take-no-prisoners mould.
As a head coach, she is an inspirational character; full of energy, driven, determined, attentive to detail.
She is beloved by her players too.
Her message for the media wasn't aimed at her players.
She has spoken to them behind closed doors. She will do so again tomorrow before she sends them out to do battle.
You can bet they will listen.
Phil Neville is a different sort.
He's got Shelley's drive – there's no argument there.
The attention to detail is there. And there's real poise too.
But his mode of communication is more studied, more practiced, more guarded.
That's what comes from playing for clubs like Manchester United, where the scrutiny is constant and the judgement severe.
While the journalists mingled, hot and bothered, before being granted entry to the stadium, an English correspondent, who shall remain nameless, suggested the jury remains out on Neville as England boss.
That's not something Shelley Kerr has to worry about.
Even the Queen is a fan. The MBE handed over to the Scotland boss through her birthday honours list stands as proof.
With the cameras of the world's media pointed at her, she spoke of the level of "trust, belief and confidence" within her squad.
Whether that will be enough against the slick, well-funded English tomorrow is uncertain.
But there's no doubt whatsoever that it will be behind every move Scotland make.
As Nice swelters, Scotland, with tartan-clad fans now thronging the bars of Old Nice, hopes for glory.
At least for tonight, It feels as though there's every chance.