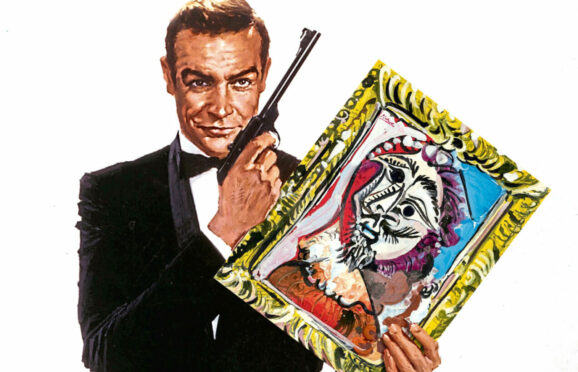 As a young body-builder, his first involvement in the art world was as a life model, not a collector.
However, it has emerged Sir Sean Connery built a sizeable and valuable collection as his family place a Picasso painting worth an estimated $19 million up for auction.
The painting, Buste D'homme Dans Un Cadre – Bust Of A Man In A Frame – will be sold at Christie's in Hong Kong next month and, speaking to The Sunday Post, the actor's stepson, Stephane Connery, who is an art adviser, described the 1969 painting as "unbelievably colourful and extremely powerful" adding: "It is about the best late Picasso I have ever seen."
This painting was not the only masterpiece in the James Bond star's collection, which he began in the 1980s by purchasing Irish painter John Lavery's work.
Stephane said: "There were several paintings that he liked. All of the artworks he collected he was very invested in both emotionally and financially. There was nothing that he owned that he didn't admire.
"He had a Matisse and numerous Picassos, one of which he sold in the early 2000s."
The late actor's family say that the money made from the sale will help support Scottish organisations working in areas he cared about, including sport and ocean preservation.
Stephane said: "We – his family – are now working to create a fund that will offer support to organisations that reflect Sean's interests and passions, and serve to keep his legacy of integrity, opportunity and effectiveness alive.
"These efforts will be focused in Scotland, where Sean was born, and the Bahamas, where he lived for more than 30 years and adored like his homeland."
Stephane said his father bought the painting a few years ago after frequently visiting museums. He said: "He truly enjoyed visiting museums which sharpened his discerning eye. Our last visits included the Philadelphia Museum of Art, The Barnes Collection, and the National Gallery of Art in Washington DC, shortly before he decided to purchase Buste D'homme Dans un Cadre."
The actor, who died in 2020, married Micheline Roquebrune, an internationally exhibited painter, in 1975, and the marriage "honed his extraordinary art sense," added Stephane.
Patrick Elliott, chief curator of modern art at Scottish National Galleries said it is unusual that Sean Connery's estate made his name known for the auction but this could benefit the sale of the painting and subsequent proceeds to charity.
Elliot said: "A lot of Picasso's paintings belong to private collections and you would not know who they were at auction. Estates usually like to keep the name a secret unless it was likely to raise the price."
He said this could add as much as 10% to the price.
The sale of the painting would also benefit from being sold in Hong Kong due to a strengthening art auction market. Elliot said: "It is not all that unusual to see late works of this level appear at auction in New York and London, but the Hong Kong market is very strong. It's a canny idea to offer it there.
"It looks as if the Connery collection will give it an extra life in Hong Kong, where the art auction market is very strong at the moment and Connery, plus Picasso will, Christie's must have calculated, work more magic. It looks as if it will earn a dividend there."
The painting is a representation of Picasso's iconic musketeer motif which heavily inspired a lot of his other works.
The painting is a part of Picasso's late works, with Christie's describing it as "one of the finest and most striking of the artist's paintings from the last decade of his life".
Connery said his father "could see that Picasso spent time on it and its raw power" even though the actor was "not at all into his late works, he thought the artist was phoning it in, and became sloppy".
According to Christie's, the painting draws inspiration from van Gogh and Rembrandt through brush techniques and the style of portrait. Adrien Meyer, co-chairman of impressionist and modern art at Christie's said: "It is no wonder that a titan of the film industry was drawn to this tour de force by the greatest modern art titan of all.
"Appearing at auction for the first time, this is simply one of the best works by the artist of his late period to ever come to market."
Elaine Holt, international director at Christie's Asia Pacific describes the sale as uniting two artistic legends.
She said: "This painting is without a doubt one of Picasso's best 'musketeers'. Enhancing its importance is its incomparable provenance, which bound together the two icons of the 20th Century – the great Picasso, and Sir Sean Connery – a giant of the silver screen and art connoisseur extraordinaire."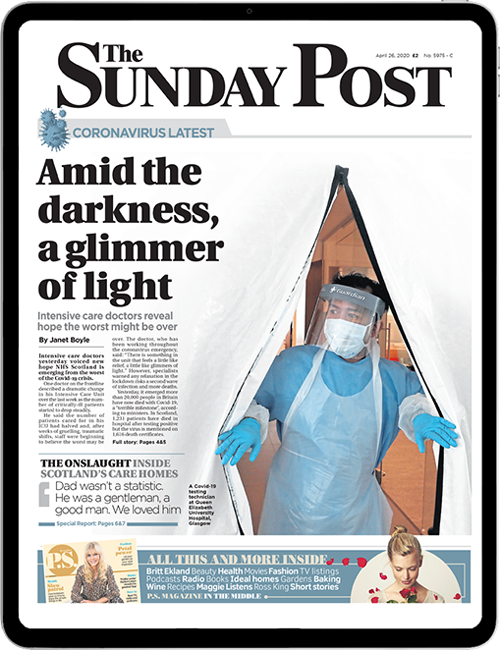 Enjoy the convenience of having The Sunday Post delivered as a digital ePaper straight to your smartphone, tablet or computer.
Subscribe for only £5.49 a month and enjoy all the benefits of the printed paper as a digital replica.
Subscribe