Young people have found a passion for traditional music during the pandemic as, according to experts, they seek out the old because the new is so uncertain.
The ability of old tunes to offer a foothold in the shifting sands of a pandemic has been reflected in the soundtracks of lockdown, according to Dr Tom McKean.
The lecturer in ethnology and folklore at Aberdeen University says the worldwide surge of interest in sea shanties is just one example of how traditional music encourages community spirit in adversity.
The traditional' songs entered the mainstream thanks to a rendition of Wellerman, posted to TikTok by singer-songwriter Nathan Evans. The song became a global phenomenon for the 26-year-old from Airdrie.
McKean believes part of the reason was the sense of collective endeavour as the world faced up to Covid.
He said: "Being connected to other people when alone in a room, not allowed to go out, was one reason. The TikTok mechanism of being able to add something to other people's work was another, building something in a group without collectively being in a group.
"There's an ease of participation with sea shanties. They're designed to be participatory, so that easiness of involvement is important and the tunes are catchy. We all have Drunken Sailor ingrained in us from an early age, so we know how to take part in these things."
Scotland's traditional music scene is also thriving and Iona Fyfe, one of the new generation of Scots singers to break through in recent years, believes social media is winning new audiences for traditional songs, like the bothy ballads of the north-east.
"Bothy ballads are really male dominated songs, so for young women to learn them and to go to the Conservatoire and study Scots song and to tour them and to introduce them to others is great," Fyfe said.
"I just got back from Denmark on tour and there was no language barrier. Actually, there are more words in common in the bothy songs between Denmark and the north-east than there is to English. We have the same words, like bairn, kirk, masel, the language is so similar it's amazing.
"These are songs that were sung by my great-grandfather, who was a farm grieve. He was working with two Clydesdale horses by the North Sea, and he would have sung some of them. They're great. It's just a shame we're not talking about a bothy songs renaissance.
"We're changing the way we consume folk music," she said.
"Previously, to see folk music, you would go to a colloquial setting like Sandy Bell's in Edinburgh or a sing-around or folk festival.
"Now, it's in theatres, world stages like Celtic Connections. The reason it's inhabiting areas it didn't previously is because it's becoming more popularised thanks to social media."
Fyfe, director with the Traditional Music and Song Association of Scotland, believes folk music as a whole is reaching a younger demographic.
"We're using short form information now – Instagram, TikTok, Twitter," she said.
"People don't have time to go on to YouTube and listen to a full song. Now, we just click through and if it takes our fancy, look into it. Folk music is inhabiting areas it never has before.
"It's good to have a place where I can build a following, especially during Covid when we couldn't gig.
"It gave me time to write, record, translate Taylor Swift songs into Scots, work on social media – things I didn't have time to do when I was constantly touring.
"Before, I was playing relatively small venues, but now more people are coming and it's not just the same audience, it's a younger audience."
McKean says traditional music is valuable both in providing a window to the past and an insight into where we are today.
"Not only are the songs documents of specific events, but we also look at them as reflections of people's sense of self at the time. That's my interest – why did they sing them, what is the social significance not just of the text but of passing the songs on.
"They are a snapshot of where we were but also, since we're singing these songs today, where we are now. Why are we singing this old song now?
"Singing a song about social strife or old history or an old romance, what appeals to us today about that? So it's valuable in the content of the songs and what they can tell us about today."
But with lockdown over, will the popularity of old tunes slip under the surface once more? McKean doesn't think so.
"With any fad that takes off and is universal for a while and then fades back, there will always be a smaller sub-group that retains an interest, and there will also be new recruits.
"The bigger thing to take away from this is people want to be part of something. That's what will remain – people interested in the idea they can take part, be creative, and that it's good for the soul, good for mood and good for mental health to be part of things."
McKean's comments come as former postman Evans releases a book, The Book Of Sea Shanties, a collection of shanties and the stories behind them. In the book, Evans says he believes the spirit of optimism sea shanties foster is what turned them into a lockdown phenomenon.
"The sense of togetherness they create is something truly valuable, and I hope the shanty will stay with us beyond the pandemic. In less troubled times, they will keep reminding us how lucky we are to be all together again."
---
Inside a song
In an extract from the book, TikTok sea shanty star Nathan Evans explains the origins of enigmatic tune Blood Red Roses
Oh me boots and clothes are all in pawn

Go down, you blood red roses, go down

And it's bloody draughty 'round Cape Horn

Go down, you blood red roses, go down

But it's 'round Cape Horn we all must go

Go down, you blood red roses, go down

For that is where the whale-fish blow

Go down, you blood red roses, go down

My dear old mother wrote to me

Go down, you blood red roses, go down

Ah son, won't you come home from sea

Go down, you blood red roses, go down

It's 'round the Cape that we must go

Go down, you blood red roses, go down

Though we be beaten with rain and snow

Go down, you blood red roses, go down

It's growl you may, but go you must

Go down, you blood red roses, go down

You growl too loud, your head they'll bust

Go down, you blood red roses, go down

Just one more pull and that will do

Go down, you blood red roses, go down

For we're the boys to pull her through

Go down, you blood red roses, go down
There are many different theories about the lyrics to this enigmatic shanty. It's unclear who or what "red roses" are a reference to, but what we do know is that this was a halyard shanty sung aboard whaling boats – and the shantyman has to be in good voice to sing it, bellowing out the last word of each line on a sustained note at the top of his range.
The red roses might represent the women back home, waiting for months on end for their sailors to return. Alternatively, they might be a reference to British naval officers in their red coats. The most poetic (and the grisliest) theory, though, is that the chorus is about a long and bloody whale hunt.
Sailors didn't necessarily enjoy their work, and hunting whales was a particularly arduous task. Even when sailors hit the target with the harpoon, these big beasts could keep swimming for hours – towing the boat for miles on end – before the wound actually killed them.
The theory goes that if a whale was hit in the lungs by a sailor's harpoon, it would emit a red rose-shaped mist from its blowhole when it came to the surface to breathe. So the line "Go down, you blood red roses" could be an expression of grim awe at the sight, and of angst at having to witness the whale in its death throes. In this scenario, "go down" presumably means "hurry up and die". It would have been gruelling to watch and to tow the creature back in once it was dead.
---
The Book Of Sea Shanties: Wellerman And Other Songs From The Seven Seas by Nathan Evans, is published by Welbeck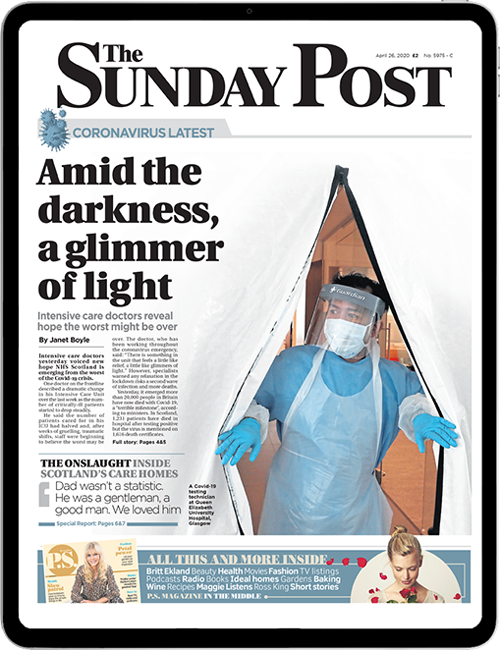 Enjoy the convenience of having The Sunday Post delivered as a digital ePaper straight to your smartphone, tablet or computer.
Subscribe for only £5.49 a month and enjoy all the benefits of the printed paper as a digital replica.
Subscribe