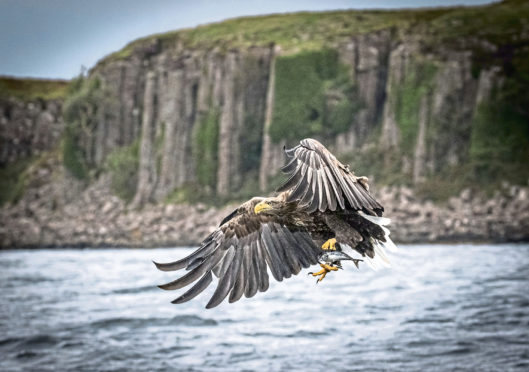 White-tailed sea eagles were once widespread across the country but were persecuted to extinction in the early 20th Century. Here, the RSPB's David Sexton tells Sally McDonald the Honest Truth about the miraculous revival of our largest bird of prey.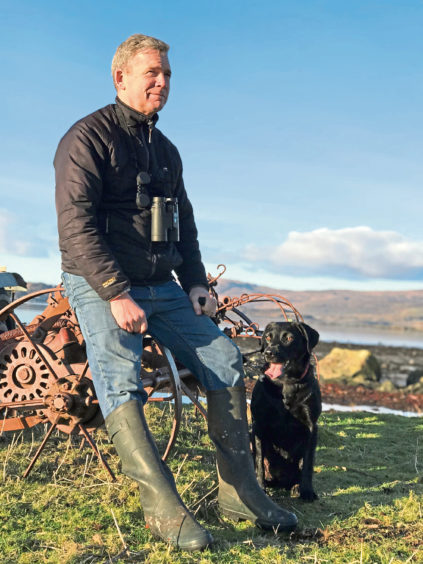 What is a sea eagle?
Our native white-tailed sea eagles are part of a global family of eight species including bald eagles in North America and the African fish eagle. Sea eagles are the UK's largest bird of prey, the fourth largest eagle in the world. Females are bigger than males with a wingspan of 2.5 metres.
Young bird's feathers are mottled brown but as adults, aged five, they have white tails, pale heads, yellow beaks and pale eyes. They soar on flat, plank-like wings and have a loud, echoing call.
Why did they become extinct?
After centuries of habitat loss and persecution, their last refuge was the remote north-west Highlands and the Northern Isles.
But even there they weren't safe. In Victorian Scotland anything with a hooked beak was classed as vermin and ruthlessly destroyed. The rarer they became the more egg collectors pursued them.
In 1916 the last pair nested on Skye and in 1918 the last known Scottish sea eagle was killed in Shetland.
How did you bring them back?
Pioneering conservationists did a trial release of four young eagles on Fair Isle in 1968. This evolved into a three-phase reintroduction starting on Rum in 1975 and ending in Fife in 2012.
Chicks from nests in Norway were taken to Scottish release sites and set free when they could fly. The first chick fledged on Mull in 1985 and we now have about 140 pairs across Scotland. It's a long process, but we're getting there.
What impact are they having on wildlife?
Some misconceptions about sea eagles persist and they are blamed for committing various "crimes".
As a top predator, they prey on other wildlife but that's the way nature works. They're not guilty of wiping out hares, puffins or skylarks as I've heard claimed.
In fact they can play a role in preventing non-native mink from dispersing to vulnerable seabird islands as they catch them swimming in open water.
They also prey on geese and rabbits which impact on crops and they're an efficient clean up service of dead animals.
Do they kill lambs?
There have been studies which looked at reported impacts of sea eagle on sheep and to understand if they were killed or scavenged.
Eagle predation can be a factor in some lamb losses, so Scottish Natural Heritage runs a scheme which assists farmers and crofters with advice and financial help for those who may be affected.
Where can I see one?
The Isle of Mull, where I am the RSPB's officer monitoring 22 pairs of sea eagles, is one of the best places to see them. Mull Eagle Watch runs guided tours. Similar projects run on Skye, the Western Isles and Hoy, Orkney. If you'd like to watch a sea eagle online, the Latvia Fund For Nature's YouTube channel live-broadcasts a nest.
What does the future hold?
Their future is looking brighter. Some old threats remain and we've lost eagles to illegal persecution but the population is increasing and they're spreading into former haunts.
A new project began last year when we were able to donate some Scottish chicks to reintroduce them to England.
What do sea eagles mean to you?
Sea eagles have shaped my personal and professional life.
I saw my first sea eagle on Mull in 1980 with a good friend. He's since passed away but the eagles are my link to him.
Now my family lives here, our daughters have grown up in eagle country and my job is to track the resident pairs.
There's something about their spirit, independence, their majesty and their characters that I love. They symbolise freedom and survival in this harsh, rugged environment.
The best part is watching that year's chicks take to the wing and explore their island home.
I'm just lucky to be able to share it with them.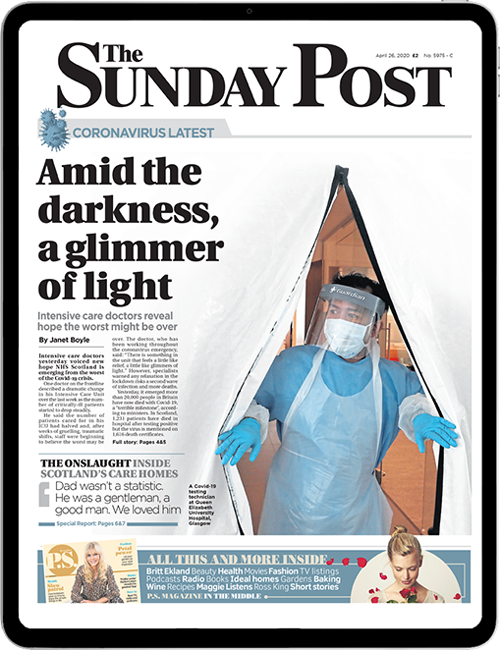 Enjoy the convenience of having The Sunday Post delivered as a digital ePaper straight to your smartphone, tablet or computer.
Subscribe for only £5.49 a month and enjoy all the benefits of the printed paper as a digital replica.
Subscribe