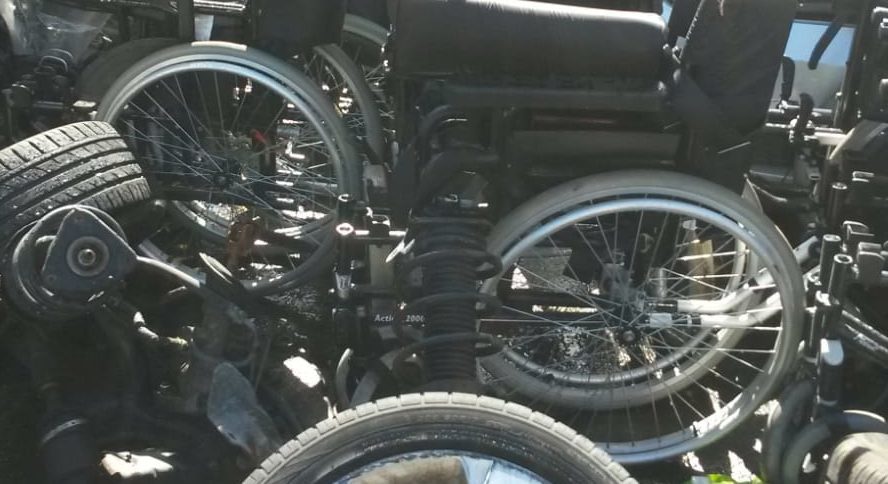 EXPENSIVE electric wheelchairs just a few years old are being sold for scrap by NHS bosses, we can reveal.
Chairs that cost thousands of pounds are being binned by bosses at Scotland's biggest NHS repair centre – as sources claim many could be easily repaired and reused.
Patients who have been turned down for one said the NHS should be doing all it can with its stretched resources, while politicians called for an urgent probe into our findings.
NHS WestMARC in Yoker, near Glasgow, is the UK's biggest wheelchair servicing centre and is where the majority of broken chairs – both powered and manual – are meant to be fixed and returned to patients.
However, sources say fixable wheelchairs are routinely taken to a nearby scrapyard because the only person who fixed them left the NHS two years ago.
The NHS confirmed wheelchairs are scrapped but only when they are beyond economical repair.
Our pictures show the discarded wheelchairs include electric models – costing up to £3,500 each – that are just two years old. The images, taken from inside the scrapyard, show row upon row of the dumped aids.
We visited the NHS WestMARC site last week and witnessed seemingly workable wheelchairs taken to the neighbouring Clydeside Auto Recycler centre by NHS staff.
All were manual chairs, which cost around £100 each. In April, 35 electric wheelchairs were taken to the scrapyard in just one day.
Some of the dumped chairs were manufactured in 2015 and 2016.
An insider said: "The waste is incredible. Powered and manual wheelchairs are routinely dumped for no reason other than no one is willing to fix them.
"There was a guy on site who fixed electric wheelchairs but he left two years ago and has never been replaced. None of the other staff are willing to do it.
"They are trained but argue with the bosses it's not in their job description.
"Many of the wheelchair faults are minor – things like they need a new arm rest or foot plate or maybe a new battery.
"They come back to us with a minor fault or to be adapted. Sometimes they are returned because the patient has died.
"It might cost a couple of hundred pounds and a few hours' labour to fix them but instead they are just being thrown out.
"I've seen some thrown out for just being dirty because they have been sitting in someone's garage unused."
Helensburgh man Andrew Walsh had both his legs amputated because of diabetes last August.
The 51-year-old applied for an electric wheelchair via WestMARC last August but was turned down because he was judged to be physically capable of using a manual one.
He said: "This makes me very angry. The NHS should be doing all it can to fix chairs like this.
"I can understand them not fixing ones beyond economic repair but if they are just minor repairs needed, then more should be done.
"Just one of these machines can give someone like me a world of independence."
Our undercover reporter visited Clyde-side Auto Recyclers and was told there were electric wheelchairs on site and while they were unable to sell them, the wheelchairs could be rented out.
The worker said the scrapyard bought the wheelchairs from the NHS.
Scottish Conservative shadow health secretary Miles Briggs said: "There's clearly an issue here which needs to be investigated urgently.
"The NHS is strapped for cash and simply can't afford to throw out anything which is still of use, especially valuable wheelchairs."
The NHS refused to say how much it sold the wheelchairs for.
NHS Greater Glasgow and Clyde, which runs WestMARC, said: "Wheelchairs are only recycled when they are beyond economical repair, unsafe for our patients or have excessive levels of contamination.
"Wheelchairs are reviewed in batches and recycled in batches if repair isn't viable.
On the question of the 35 being sent for recycling, he said: "WestMARC has 60,000 wheelchairs out for patient use. We have contracts with several recycling companies of which Clydeside Auto Recyclers is one."