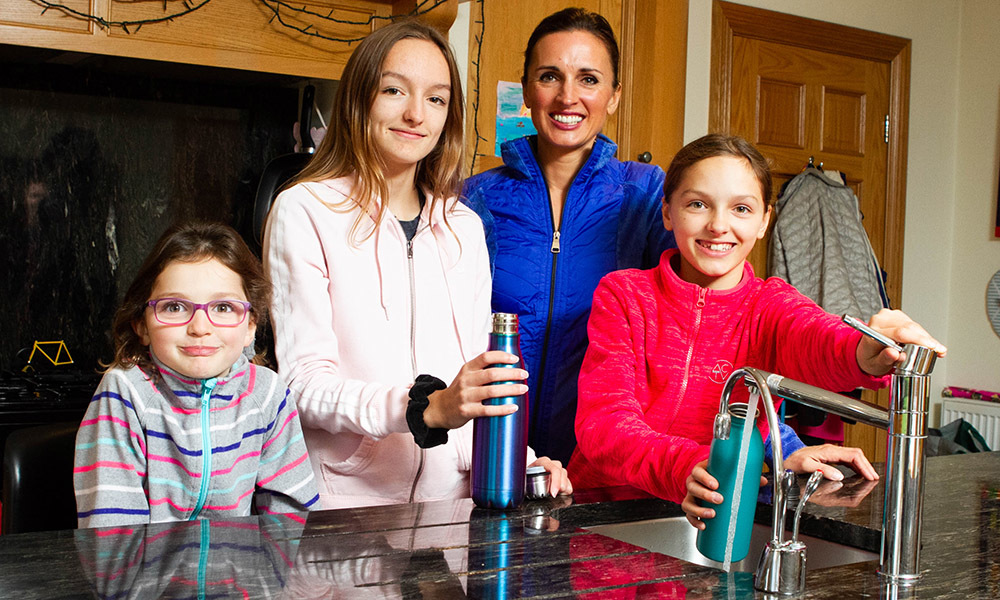 We have world-class drinking water on tap here in Scotland. From saving money to helping protect the environment, there are many great reasons to switch to tap as a convenient and healthy way to stay hydrated.
Here, two readers who won't leave home without it tell us why water works for them.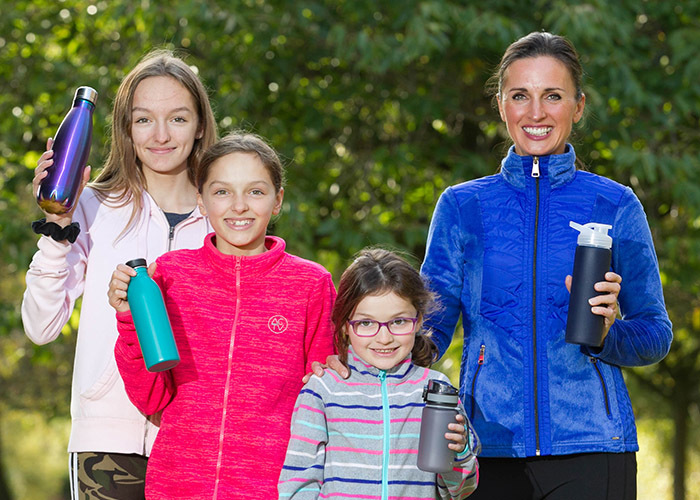 JULIE CURZON, 44, business owner and mum of three, from Edinburgh
Tap water has been my drink of choice since I was a child. For me, it's a no brainer here in Scotland where we have such high-quality drinking water. It wouldn't make sense either practically or financially to buy bottled.
I don't drink tea or coffee so most days I am literally just drinking tap water to stay hydrated.
I have three girls and they are the same. We don't drink any juices at home, but we have a tap on our fridge and we just top up all the time with fresh chilled water from there.
Water is actually my bread and butter as well because I own the Murrayfield Laundrette in Edinburgh. Being a working parent I'm always dashing around. I keep a reusable bottle in the car filled with tap water which I take everywhere with me. After I drop the kids off at school in the morning I try to do an hour of exercise, either running or at the gym, and so I'll have the bottle with me then and I can refill it throughout the day.
The girls were given steel water flasks for their birthdays from their cousins and they love them, particularly the older ones who, like me, avoid plastics wherever possible. They take their water bottles to school and my two girls who are at senior school top up during the day. They're both very sporty so they drink quite a lot of water.
My younger one tends not to drink as much at school and I remind her all the time to drink more. I always say to Daisy, 'Your brain is like a little sponge and you need to drink water to keep it hydrated and working well.' That's true for all of us.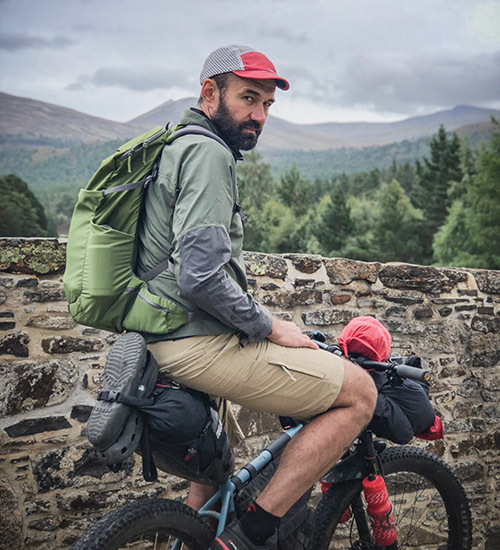 Bart Giszter, 37, graphic designer and cyclist from Dundee
I grew up in Poland and drinking tap water wasn't really an option there, at least when I was young. I used to live close to the mountains so there was a lot of mineral water available in glass bottles. A Coca Cola or fizzy drink would have been for a very special occasion, so we mainly drank water.
Later, when a variety of products started to appear on the market, I began to drink a lot of fruit juices thinking that was a healthier option. I got into cycling around 10 years ago and, as my fitness began to improve, I became more and more interested in diet and hydration.
I started to travel and I was regularly cycling in other parts of Europe. I wanted to perform better on the bike so I took note of what other cyclists were doing.
When I was in some parts of Northern Europe, I noticed that drinking tap water was part of the culture. Travelling really opened my eyes to tap as an option and I realised it was the easiest solution, and it would save me money. It also began to dawn on me that there was a lot of sugar in the juices I was drinking.
The quality of water in Poland has improved over the years, and around five years ago I began drinking tap water there.
When I moved to Scotland two years ago, one of my first questions was whether I could drink tap. I soon found out the quality here is very, very high and the water tastes better too. So, from day one, tap water has been my main drink in Scotland.
I take a reusable bottle everywhere with me. Sometimes when I go out to work in the morning I forget my glasses, I forget my keys, but I don't ever forget my drinking bottle. I drink tap water everywhere.
I cycle a lot here, and I love to go up to the Highlands at the weekend. Among cyclists it's common to carry a reusable water bottle and top up along the way. Wherever I stop people are super helpful. Water bottles are attached to the bike so they can get really muddy, and I was pleasantly surprised that when I stopped in cafes and bars to ask for a refill I was not only getting bottles of fresh water back, they were even cleaning them for me.
I have never been refused a refill of tap anywhere that I've stopped and no one should ever feel afraid to ask.
DID YOU KNOW?
On average a litre bottle of water costs about 65p, so topping up daily from the tap could save £1.30 a day – that's nearly £500 a year.
Scotland's drinking water meets some of the strictest standards found anywhere around the globe, with samples tested every two minutes on average.
TAP WITH A TWIST
Follow these simple recipes to serve your water in style.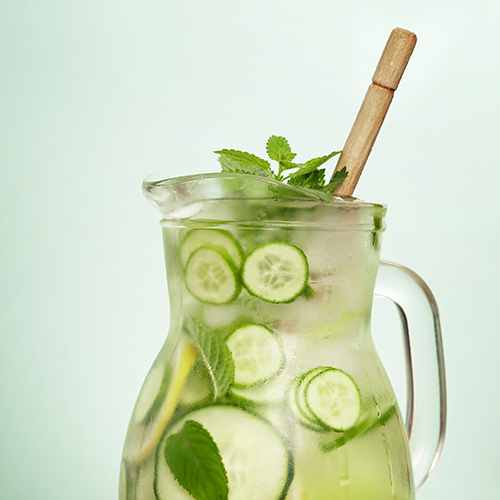 The Rejuvenator
This refreshing drink is the ideal way to rehydrate and stay on top form. Slice your cucumber as thinly as possible lengthways in strips – you can use a veg peeler for the best effect. Add ice, a handful of mint and a squeeze of lime juice, and top up from the tap for a perfect zing.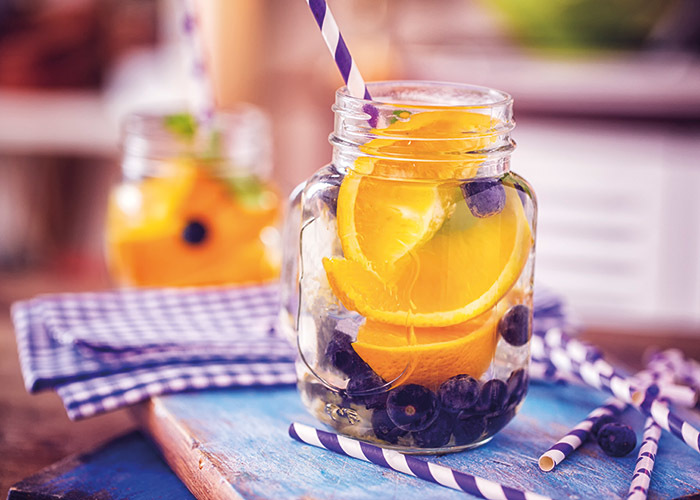 Vitamin C Booster
In the season of sniffles give yourself a lift by adding citrus and antioxidant-packed berries. To make this drink just slice an orange into eight segments, giving them a squeeze when you put them to the jug for some extra tang – then add ice and a handful of blueberries and top up from the tap for the perfect vitamin boost.
* As part of Scottish Water's campaign, a network of high-profile water refill points will be introduced across the country to encourage people to top up from the tap using refillable bottles. To find out more about the campaign, visit www.yourwateryourlife.co.uk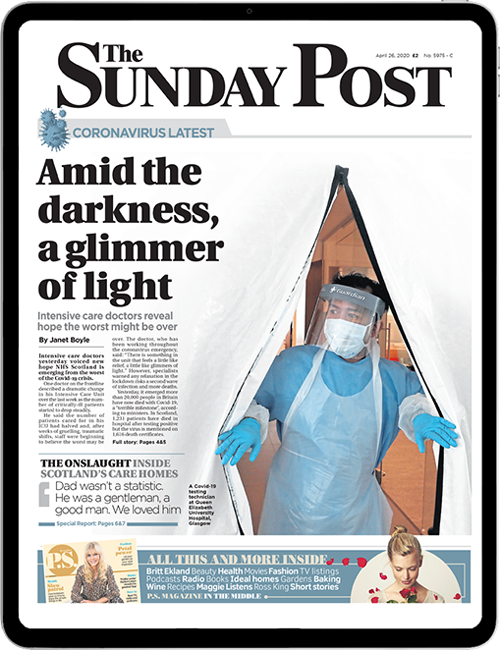 Enjoy the convenience of having The Sunday Post delivered as a digital ePaper straight to your smartphone, tablet or computer.
Subscribe for only £5.49 a month and enjoy all the benefits of the printed paper as a digital replica.
Subscribe