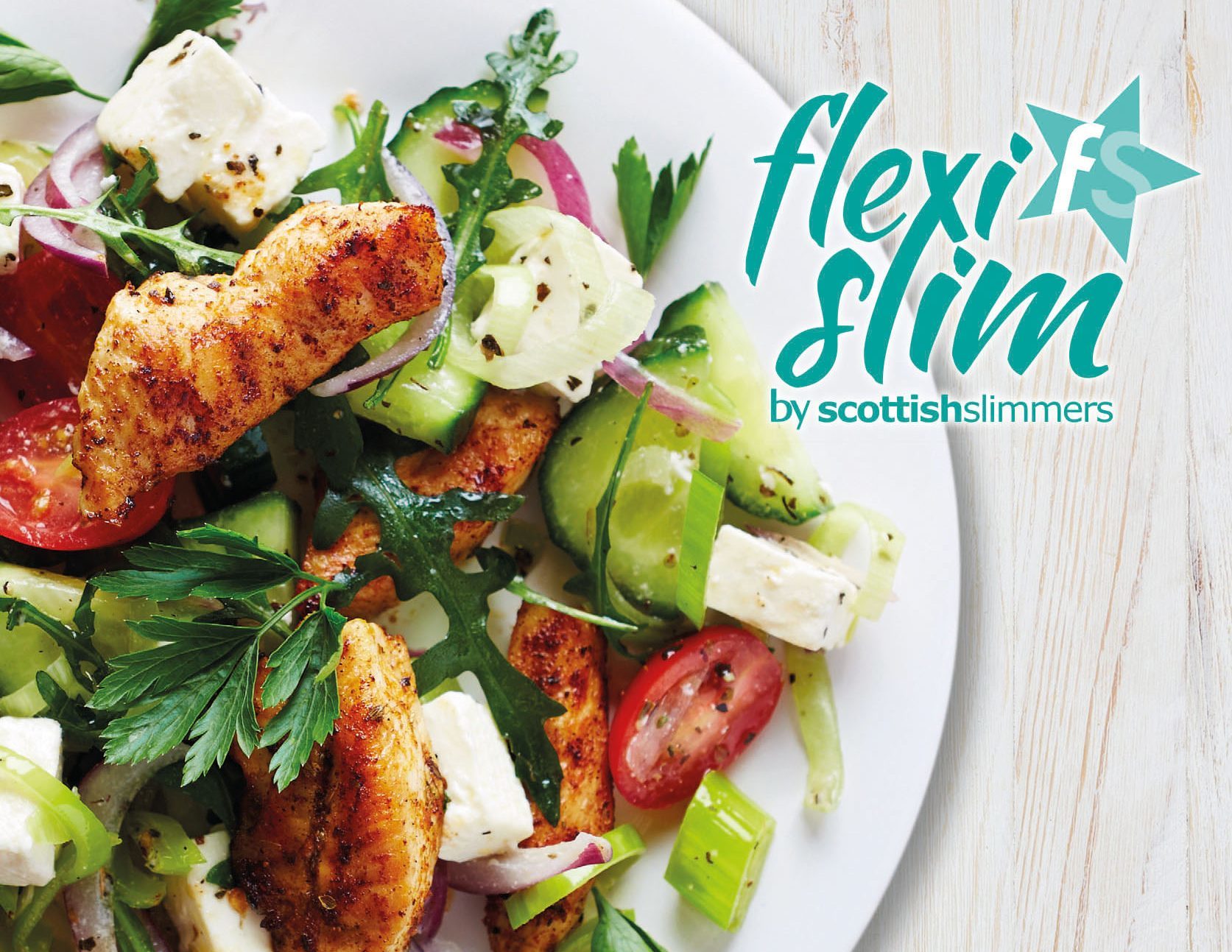 FULL of flavour and packing a punch, these dishes are light, healthy and really easy to make.
Perfect for a healthy lunch with friends or family.
Why not spice up and slim down your lunch? Go on, invite some friends to share!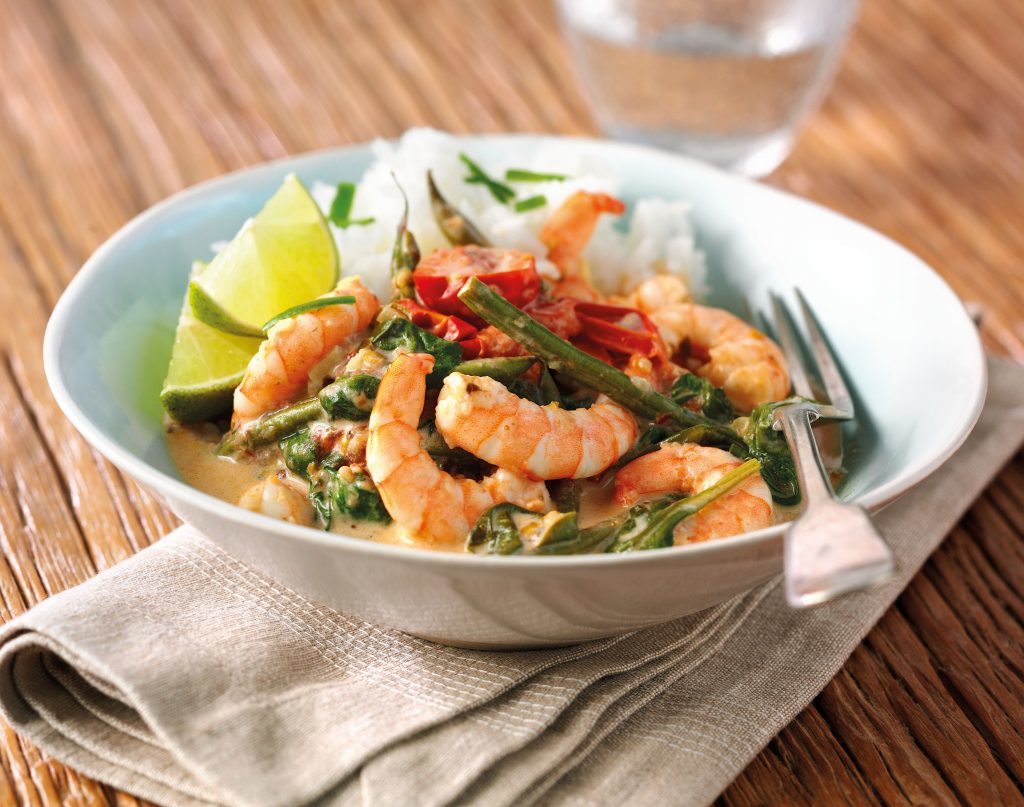 Indonesian Prawn Curry
Serves 4, 10 Checks,  250cals 
Spray oil
2.5cm piece fresh root ginger, peeled and finely chopped
2 garlic cloves, crushed
1 green or red chilli, finely chopped
2 kaffir lime leaves
200g cherry tomatoes, halved
100g thin green beans, trimmed
1 tbsp green Thai curry paste
200ml half-fat coconut milk
400g raw shelled tiger prawns
250g baby spinach leaves
150g Thai jasmine rice (dried weight)
few sprigs of coriander
1 lime, quartered
Spray a non-stick frying pan lightly with oil. Place over a low heat. When it's hot, add the ginger, garlic and chilli, and cook for 2 minutes.
Stir in the lime leaves, cherry tomatoes and beans, then cook for 1 minute. Add the curry paste and coconut milk, then simmer gently for 8–10 minutes.
Stir in the prawns and spinach and cook, turning the prawns in the sauce, for about 3 minutes, until they have turned pink all over. The spinach will wilt and turn bright green.
Meanwhile, cook the rice according to the packet instructions.
Serve the curry on a bed of rice, garnished with coriander, with a quarter of lime on the side.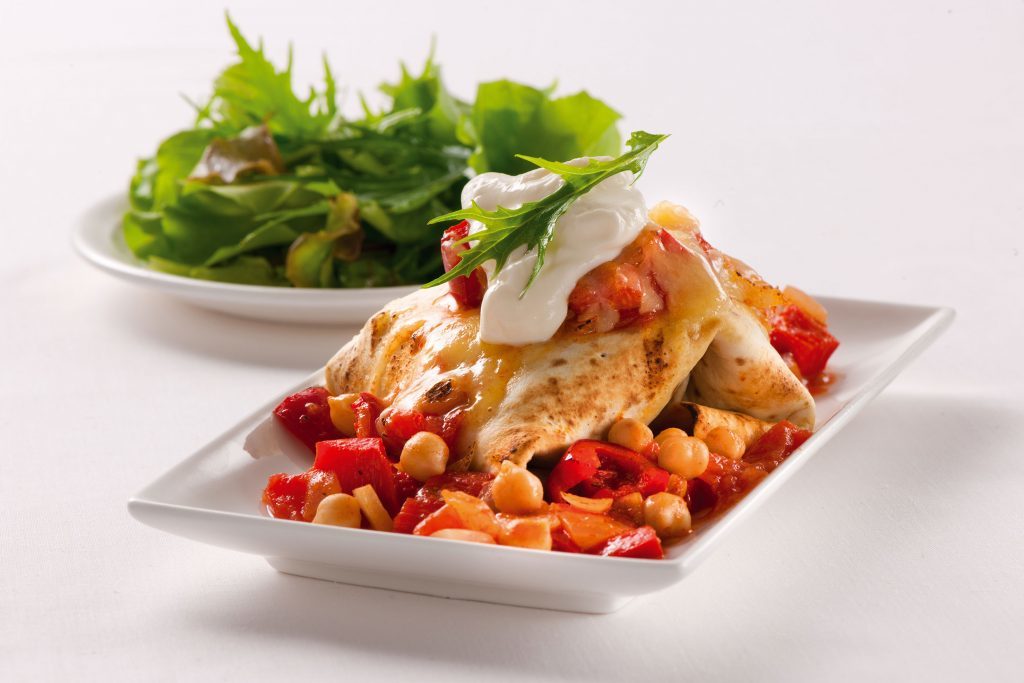 Chick Pea Burritos
Serves 4, 13 Checks,  325 cals
Ingredients
4 soft tortillas
30g half-fat Cheddar cheese, grated
4 tbsp fat-free l fromage frais
Vegetable and chick pea filling:
Spray oil
1 onion, chopped
1 garlic clove, crushed
1 red pepper, deseeded and diced
1 fresh red chilli, diced
1 tsp paprika
½ tsp cumin
pinch of cayenne pepper
300g ripe tomatoes, skinned and chopped
225g can chick peas, drained
salt and black pepper
4 spring onions, chopped
Preheat the oven to 180°C, gas mark 4.
Make the filling: spray a saucepan lightly with oil and place over a low heat. Add the onion, garlic, red pepper and chilli. Cook gently 10 minutes, until softened. Add the spices, tomatoes and chick peas and simmer 10 -15 minutes. Season with salt and pepper.
Put a little of the filling into the centre of each tortilla. Don't use it all – you need to reserve some. Sprinkle with the spring onions. Fold each tortilla around the filling like a parcel, to seal it. Secure with cocktail sticks and arrange in an ovenproof dish.
Pour the remaining filling over and sprinkle with grated cheese. Bake in the preheated oven 15 minutes. Serve immediately with fromage frais and a crisp no-Check salad.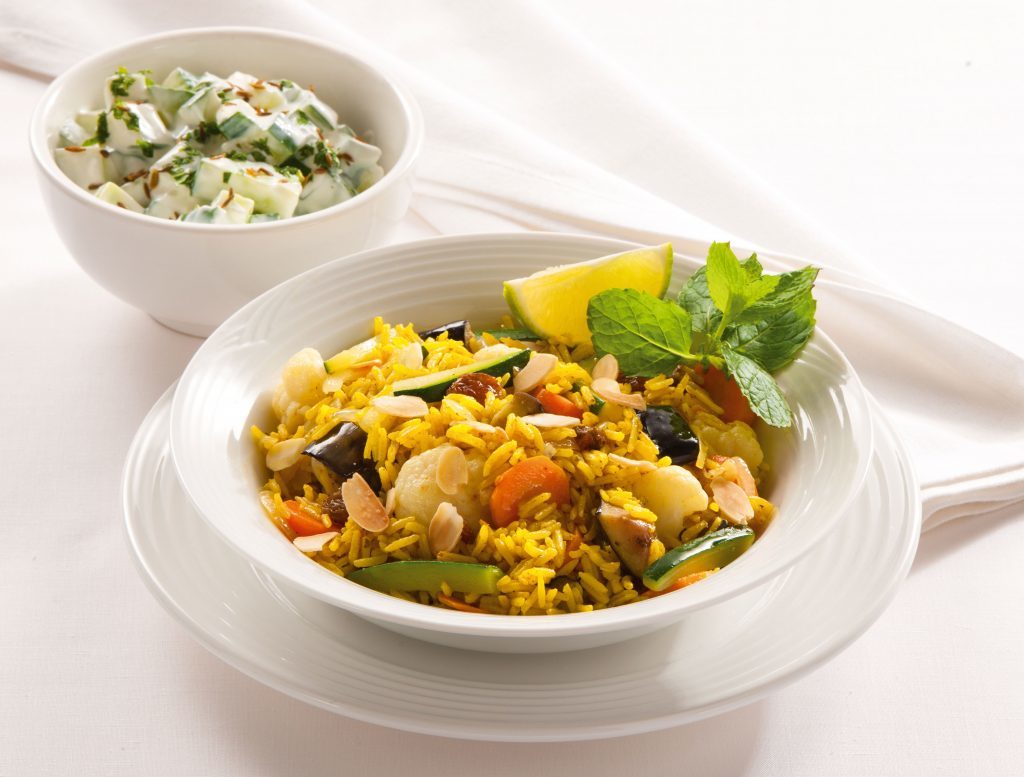 Vegetable Biriyani
Serves 4, 10 Checks 4, Fg 10
Ingredients
Spray oil
1 large onion, finely chopped
1 small aubergine, diced
2 garlic cloves, crushed
1 tsp ground coriander, ½ tsp ground cumin
½ tsp ground turmeric, 4 cloves
4 green cardamom pods,
1 cinnamon stick
1 x 2cm piece fresh root ginger, peeled and diced
1 tbsp curry paste
175g basmati rice (dry weight)
2 carrots, sliced
1 courgette, sliced
1 small cauliflower, divided into florets
400ml vegetable stock (water and a stock cube)
2 tbsp sultanas
salt and freshly-ground black pepper
2 level tbsp toasted flaked almonds (optional)
Cucumber raita:
¼ cucumber, diced or grated
100ml low-fat natural yoghurt
small bunch of mint, chopped
pinch of cumin seeds
pinch of salt
Lightly spray a pan with oil . Place over a low heat. Add the onion, aubergine and garlic . Cook gently 10 minutes, until softened.
Stir in the spices, ginger and curry paste, and cook gently 2 minutes. Add the rice and cook on a very low heat, stirring frequently, for 2–3 minutes, until all the grains are glistening.
Add the carrots, courgette, cauliflower and stock. Bring to the boil, then reduce the heat and simmer gently for 25–30 minutes, until the vegetables are tender, the rice is cooked and all the liquid has been absorbed.
While the biriyani is cooking, mix together all the cucumber raita ingredients in a bowl. Cover and chill.
Stir in the sultanas and season to taster. Remove the cinnamon stick. Serve immediately, sprinkled with toasted flaked almonds with a spoonful raita.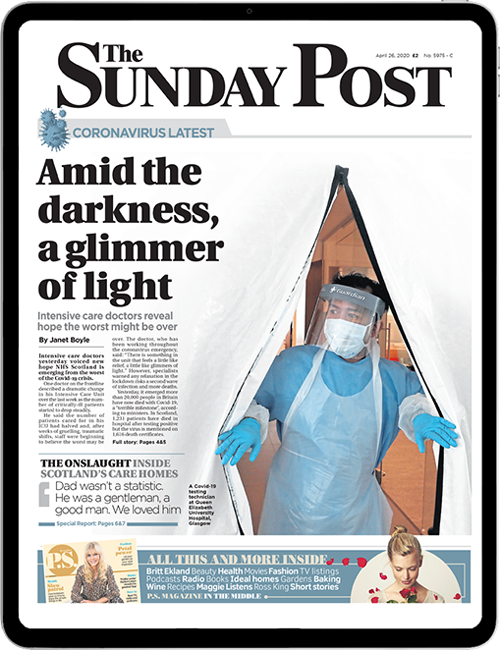 Enjoy the convenience of having The Sunday Post delivered as a digital ePaper straight to your smartphone, tablet or computer.
Subscribe for only £5.49 a month and enjoy all the benefits of the printed paper as a digital replica.
Subscribe