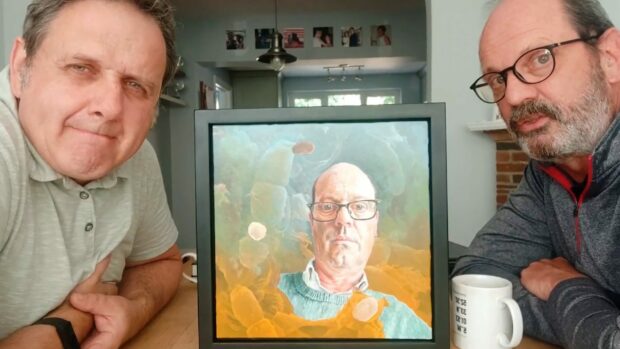 They share so much from genes to childhood but the Robinson brothers took dramatically different paths with Keith becoming an artist and Gary a scientist.
Now their divergent worlds have collided as Keith's portrait of Gary, 58, is shortlisted at the Scottish Portrait Awards, with the winner being announced on Wednesday in Edinburgh.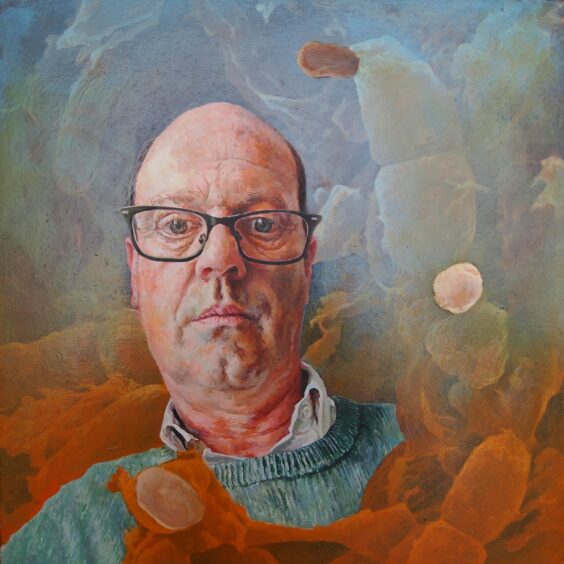 The painting depicts Gary, a senior lecturer in microbial technology at the University of Kent, surrounded by the microorganisms of the gut. Keith, 53, told his brother: "I wanted to show you in your microbiological world."
Here, the brothers speak about their common bonds and dramatic differences.
Keith: the artist
I left school suddenly at 17 and moved down to Bath on a whim, much to the surprise of my parents. Gary is five years older than me, but he has always supported me and told me to do what I wanted to do.

I did not go to university right away, and when I did, I did a history of ideas degree, which has fewer job prospects than even an art degree! Through it all Gary has backed my decisions and been there for me. We have two other brothers and a sister but it was only Gary and I who moved out of our home town while each of us were making our way in life. There was a commonality there beyond just being brothers.

To work the way I do, you definitely need to have a certain mindset. I have been a freelance artist for 20 years and you do the job, get paid for it, and worry about the next when it comes. That is how I live, and I could not work any other way now.

I remember Gary always doing really, really well at school. He used to organise a quiz for the students, and I think he was a bit upset that I would never win it. I did not put as much into it as I should have done.

Gary has always appeared to be quite single-minded and in control of situations. Behind that front, however, he is a big softy really. He would do anything for anybody and has gone beyond the pale many times for our family and me. There are two sides to him and that he is very, very admirable.

When I paint him, I like to capture his particular combination of control and softness. I was watching a talk by musician Brian Eno and he was saying that if you have too much control, you make crap art but that if you do not have enough control you make crap art too. I agree, and think that good art requires a balance between control and lack of control.

During a drunken conversation about 20 years ago, Gary suggested we try to do some work together and collaborate on a project.

I was up for it because it was quite an interesting challenge for me as an artist to enter his scientific world. I wanted to do more than just illustrate the science – I wanted to make art that is art but that also had a strong science influence. We have been looking at the gut microbiome, which is where my portrait of him came from.
Gary: the scientist
I always saw Keith as an artist and it was clear that it was what he wanted to do. It surprised me when he abruptly left school, and I guess so did his career choice.

There is a rigour and discipline and career path that comes with what I do that does not come with what Keith does. I came to the University of Kent in 1989 to work on a project about fragrances and microbiology and have not left.

I always admire people who have skills I simply do not have. I am proud of Keith and what he has achieved, and I am glad we can do these projects together. I admire Keith and his wife Kerry, who is a photographic stylist, and the way they live. I like going to visit them because Keith is more laid-back than I am. I like to engage and enjoy the disorder, and then leave again when it gets too much.

I admire Keith's ease and his tenacity to keep doing what he is doing. I think fundamentally we have similar interests and come from a very similar political space. We both have a strong sense of what is right and wrong.

I am a scientist and I do what I do because it interests me, and I am all for people doing what they are interested in. I do not care if they go to university or what they do, but I think that it is important that people are doing something they are enthused by.

I never saw a problem in Keith pursuing a creative and artistic career over a career like mine, and I would actually argue that there are similarities in both.

The overriding thing in science, and what I wake up for every morning, is the belief that you are going to discover something that nobody has ever seen before. Scientists often have to be creative thinkers, and it is about having something that you have discovered, or in terms of art, you have created.

To me, it is about discovery and originality and I think that is science's commonality with art. A lot of people would say that science and art are unlikely bedfellows, and that has actually been the topic of discussion for many of Keith and I's drunken conversations!
Judge hails artist's gut instincts in bumper year for portrait awards
Gordon Mitchell, the director of the Scottish Portrait Awards since its inception and chair of the Fine Art Panel, has been blown away by the quality of work on this year's shortlist.
Of Keith Robinson's painting, he said: "It is very brave and ambitious to do a portrait of someone and the inside of their gut. Keith used a limited palette, mostly greens and oranges, and it is fantastic that he got such a good, sharp, realistic painting of his brother with this watery image of his gut microbiome, they marry very well together. It pulls a real punch, and it is amazing that something so small is so striking and powerful."
Other finalists include 23-year-old Glaswegian Paula Elder, whose striking self-portrait shows her after a cry. Of the painting, she said: "I was visibly upset, trying to accept the reality of where I was at this time in my life."
The judges were impressed with Elder's openness to be vulnerable and her ability to capture her emotional state.
In the photography section of the competition, Effie Ioannou turned in a remarkable black and white portrait called Aisha. In it, a woman stares down the lens of the camera, while her white hat looks like halo.
The judges were struck by the work, and how Aisha's spirit was captured by Ioannou's astute composition.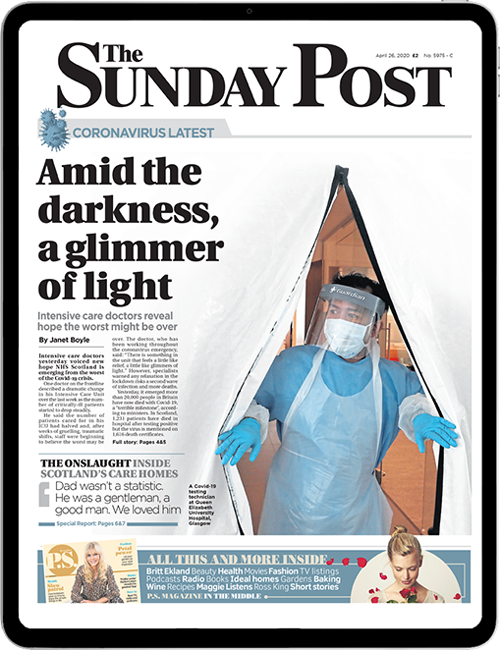 Enjoy the convenience of having The Sunday Post delivered as a digital ePaper straight to your smartphone, tablet or computer.
Subscribe for only £5.49 a month and enjoy all the benefits of the printed paper as a digital replica.
Subscribe