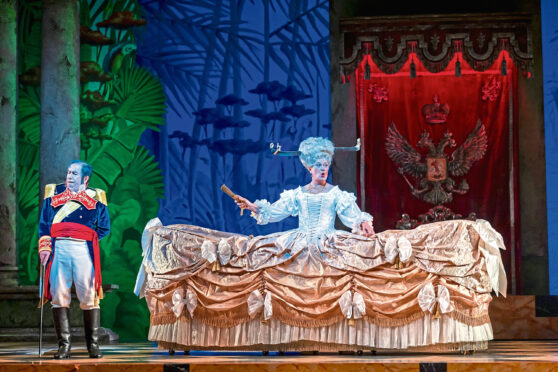 Yvonne Howard can remember her initial reaction when she saw the spectacular dress she would wear every night in Scottish Opera's new production of The Gondoliers.
"I just laughed and said, 'flipping heck'. It's amazing, but then I wondered how I would move around in it," smiled Howard, who plays the Duchess Of Plaza-Toro in the Gilbert and Sullivan comedy.
"I thought it was absurd, but then she's an absurd character, so it makes my job easier in that sense, but it does mean I have to work harder physically."
To make the bodice and dress, which measures 11ft wide, 24 castors were required (it's on wheels!), 50 metres of crin steel, 50 metres of poly carbon rods, 50 metres of beige twill tape and 50 metres of India tape, as well as a sheet of plywood and 10 metres of gold bullion fringe.
"It takes four or five people to lift it when I climb inside," Howard continued. "They can't put my wig on until I go inside.
"The costume and wig are different in the second act from the first, so I have to get out and back in again a second time.
"It's quite heavy and the wheels, at first, were directional, so I really had to drive it and lift it to turn, and it was doing damage to my shoulder, so we put it on castors and whichever way I turn it comes with me.
"I haven't knocked anyone over yet, which is always a slight worry, and dare I say it but I haven't gone off the edge yet. There's always someone there to guide me."
The costumes and set were designed by Dick Bird, who oversaw the sets for Kate Bush's Before The Dawn tour in 2014.
"Yvonne is such a trooper – I can't think of very many singers who would take on something that made her life so difficult and do so with such good grace," he said. "Her participation has been extraordinary.
"In terms of designing the costume, you're tempted to be as outrageous as the occasion demands, and I spoke to the director about what I was thinking
"At each stage it became a little bigger, which just added to the joke. Then you spend two years working away at all the technical aspects and it is no longer funny at all, and it doesn't become so again until you see it on opening night. It's a triumph of teamwork really."
Directed by Stuart Maunder, artistic director at State Opera South Australia, The Gondoliers satirises the ruling classes and their position within society, with the tale of two happy-go-lucky gondoliers who discover that one of them is heir to the throne of a distant kingdom. They set off to rule with an idealistic – if somewhat chaotic – plan.
Howard, whose previous roles include Queen of the Fairies in Iolanthe, is back working with Scottish Opera for the first time in 30 years, and she says it's lovely to not only be with the company again but also performing in traditional theatres to enthusiastic audiences once more after lockdown.
"The company has been amazing and so careful in keeping us healthy and safe," she added. "To be back in traditional theatre spaces is brilliant, and I don't think any of us will ever take it for granted again.
"Everyone needs some light-hearted fun, so why not get out and have a giggle, and hear quality music well played and well sung.
"Plus, it looks beautiful. It's a feast for the ears and the eyes, and there are some touching and poignant moments, too. It's got something for everyone."
The Gondoliers, Eden Court Theatre, Inverness, Wednesday, Thursday and Saturday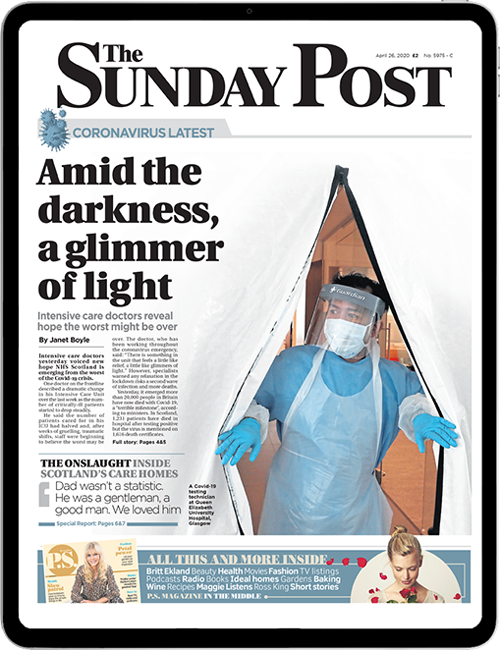 Enjoy the convenience of having The Sunday Post delivered as a digital ePaper straight to your smartphone, tablet or computer.
Subscribe for only £5.49 a month and enjoy all the benefits of the printed paper as a digital replica.
Subscribe