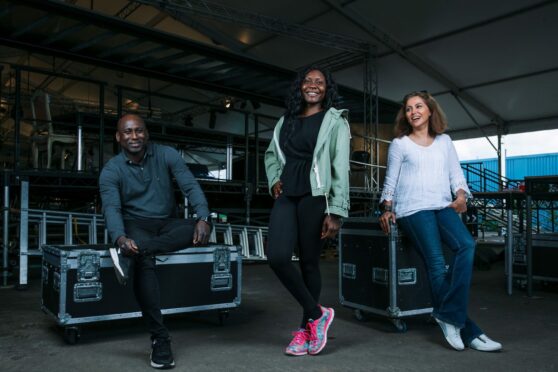 Scottish Opera has joined with the organisation welcoming and settling refugees, migrants and asylum seekers to stage Candide, a bolshie opera, full of comedy and satire, anguish, resilience and hope.
New Glaswegians, being supported by Maryhill Integration Network, will perform on stage alongside Scottish Opera's professionals next month.
Director Jack Furness was so impressed by the quality of performance from the Maryhill participants that he began to create roles for them that are not in the original opera, tapping into richness of their talents and cultural backgrounds. Many now have speaking roles, and some will even sing solo too.
Three members of the Maryhill group who joined the Scottish Opera community chorus are Sekou Louis, Rezvan Faghani, 42, and Juliet Enoch, 29. Louis has been settled in Glasgow for so long that he considers himself to be Glaswegian, and Faghani and Enoch hail from Iran and Nigeria respectively. Each came to the chorus for different reasons.
Enoch said: "I used to watch opera way before, and the sound, the voices, the trained professionals – I thought it was really lovely. When the opportunity came to join the opera, I was like – wow, is this me? Am I really going to join the opera? Am I really going to experience it?
"I watched the opera and I never thought that I would be there. I'm living in a dream I never had. It's a whole new level of excitement, I'm so loving what I am doing."
Louis comes from a musical background and plays guitar, but he kept his involvement in the chorus group a secret from his friends initially.
He said: "I hid it from everyone in the beginning. But two weeks ago, I told my friends, 'guys, I need to tell you something.' And they were like 'wow, there's something special this guy is going to tell us!' and I said, 'I've been hiding that since April, when you've been phoning me and my phone has been switched off, I've been busy with the Scottish Opera' – they were like 'what?!' They were so happy, they wanted to know how to get tickets. They see me smiling all the time, and feeling happy and relaxed, and are happy for me."
Faghani loves to sing, but public female singing is strongly regulated in her home country of Iran, and until recently she did not consider herself to be a good singer anyway.
She said: "When we start singing together, you can't hear your own voice and it is only one sound that we are making together. Some members of the chorus are very professional unlike me, but when I stick close to them, it improves my self-confidence because I realise that I can do something that I never knew I could before."
Candide will be part of the Live at No. 40 programme, which will take place outside under a tented structure at New Rotterdam Wharf. It is an immersive, almost interactive, show, with performers often moving in, out and within the audience area.
Leonard Bernstein's satirical opera based on the 1759 novel by Voltaire charts the outrageous voyages and misfortune of the eponymous hero and will be a centrepiece of Scottish Opera's third year of outdoor performances in the heart of Glasgow.
"It is not far off to say it has a party atmosphere. It has a notoriously complicated narrative," explained Roxana Haines, staff director at Scottish Opera. "The main characters are Candide and Cunégonde who are in love but can't be together. They go on a journey through fantastical worlds to get back together, but the people that they meet along the way are extraordinary and literally out of this world. It's very bright and total chaos at points, but fun."
Haines has been working with the community chorus to teach them stagecraft, and to get them comfortable enough to perform on in front of an audience.
Deeply aware that some members of the chorus will have experienced of some of the darker topics explored in the opera, Scottish Opera will be working with an intimacy co-ordinator and have been liaising closely with the Maryhill group to ensure there is support for those who may find some aspects of the production too challenging or uncomfortable because of their past lives.
Louis, Faghani and Enoch all have multiple roles in Candide. Faghani is only in Glasgow for nine months. She is without her two children, who remain in Iran. Joining the Scottish Opera community group has given her a sense of joy during a difficult time. She said: "When I start singing in the Scottish Opera chorus, I knew myself better, I find something inside of myself that exists, but that I didn't know about before.
"When I start singing, I can forget everything, and I see something beautiful, I can forget all of my problems. Here, I am alone, my kids are not here. I can forget everything and live in the moment. I can forgive myself for everything in the past. I feel that I am really living. I'm alive, I can feel that I am alive."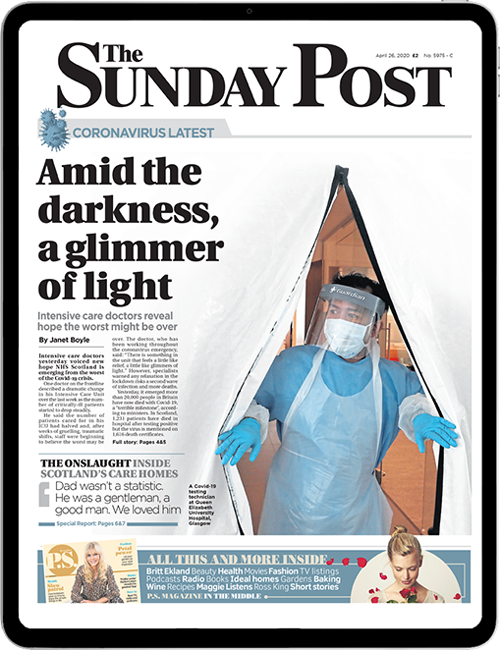 Enjoy the convenience of having The Sunday Post delivered as a digital ePaper straight to your smartphone, tablet or computer.
Subscribe for only £5.49 a month and enjoy all the benefits of the printed paper as a digital replica.
Subscribe