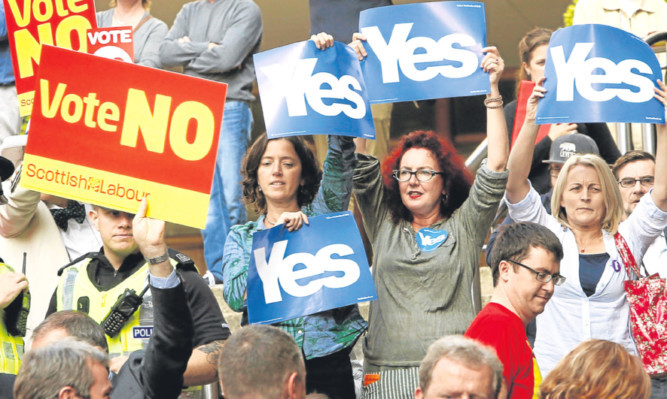 The election campaign is, like every campaign since 2014, dominated by Scotland's constitutional quandary.
Last week, Nicola Sturgeon said she would want to stage a referendum during the recovery from the pandemic as her opponents accuse her of prioritising independence and talking up another poll despite the chances of Downing Street green-lighting it being slim to nil.
While the SNP and Tories seem happy to talk about independence, critics fear discussion of other issues is being lost in the noise. Here, leaders of the Yes and No campaigns in 2014 have their say.
---
We've too much to worry us. This is a fight we don't need
Blair McDougall, former Better Together chief executive.
Nicola Sturgeon began this election saying she wants a referendum in the next two years. For some people leaving the UK is more important than anything else. For most of us, though, the idea is the wrong priority at the wrong time.
With so many businesses closed and jobs lost, our economy will need years to repair and reopen. Our kids need time to catch up on everything they've missed. Our NHS needs to fight the next crisis: everyone who hasn't been treated during the virus. Our priority needs to be recovery, not referendums.
If there's one positive in what has been a terrible year, it's that we've broken down those things that separated us. As communities, we organised to look after each other. When we clapped for the NHS the noise of our applause didn't stop at an imaginary border. We saw solidarity across the whole UK as so many of us had our wages paid by the state. We developed and distributed the vaccine together.
When social distancing ends, we can't immediately start to divide against each other again. We can't go right back to the old arguments.
Sturgeon is only planning to hold a referendum during recovery because the SNP is so deeply split. She's putting the impatience of her own party members before the interests of the country.
In her rush to divide us into Yes and No again, the first minister hasn't done her homework. She can't say how a new border with England will work. She can't say how we'll fund the NHS now that oil taxes have evaporated. She still can't say what currency we will use and when.
We all had too much to worry about in the last year. Yet another divisive political fight is a headache none of us needs.
---
After this, we can choose to create a new kind of Scotland
by Blair Jenkins, Yes Scotland chief executive
Most people I talk to about life after the pandemic say they want to be part of a more caring society, where we all have decent homes, proper jobs and great public services.
Hand on heart, who thinks that is even possible let alone likely in Boris Johnson's UK?
That's why Scotland now has a choice to make about its future.
Do we remain part of an increasingly isolated and inward-looking UK, or become an independent country where we look out for one another and build stronger communities with a commitment to reducing inequality and tackling climate change?
For the first time, we are voting at a point where the UK has left the European Union and the only way back in is for the people of Scotland to vote for independence.
The most successful countries in the world are small independent European nations of a similar size – countries like Norway, Ireland and Switzerland. They top the UN league table for human development with the best outcomes in prosperity, wellbeing and life expectancy. Independent, we can be as successful.
In the last year, Scotland has felt more than ever before like a different country with a different government – in fact, a better government. That's why many of us have been changing our minds about independence.
In May, it will be the people who decide if there should be another referendum once the pandemic is over.
And if we vote for the right to choose our future, then all fair-minded folk will agree that we must have a referendum.
Not everyone in Scotland is in favour of independence, but we are all in favour of democracy. And democracy means the people get to decide.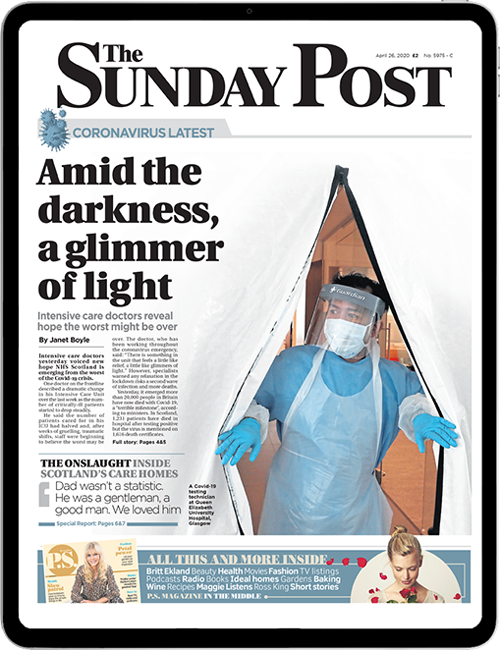 Enjoy the convenience of having The Sunday Post delivered as a digital ePaper straight to your smartphone, tablet or computer.
Subscribe for only £5.49 a month and enjoy all the benefits of the printed paper as a digital replica.
Subscribe