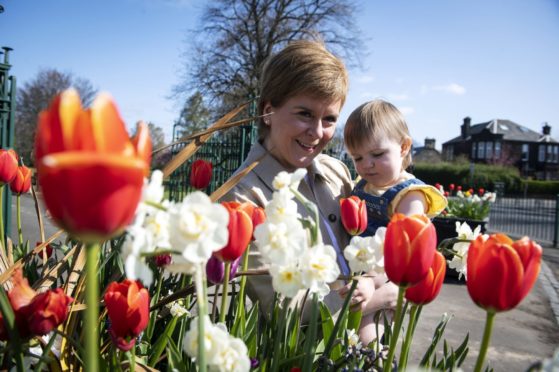 Alex Salmond is less popular than Boris Johnson with Scots voters, according to a poll suggesting the Greens, not his Alba Party, are the biggest threat to the SNP winning a majority.
The opinion poll suggests the SNP is on course for a historic fourth victory and a five-seat majority in next month's Scottish election but Scottish Labour, led by Anas Sarwar, whose popularity is climbing, is poised to take second place from the Conservatives.
Projections based on the survey, carried out for The Sunday Post by polling company Survation, suggests the SNP will win 67 seats, giving Nicola Sturgeon a majority of five at Holyrood.
Scottish Labour is projected to win 24 seats, the same number the party won in the last Holyrood election, with the Scottish Tories coming third with 22 seats, nine fewer than they won in 2016. Meanwhile, the survey of more than 1,000 Scots last week, suggests the Scottish Greens could almost double their seats from six to 11.
But Salmond's hopes of a return to Holyrood are hanging by a thread with his Alba Party projected to secure just 3% of the regional list vote and needing a late surge in support to win any seats.
Leading polling expert Sir John Curtice said: "At the beginning of the campaign Nicola Sturgeon was concerned that Salmond's Alba Party would eat into her party's list vote. There is not much sign of that happening. Just 5% of SNP constituency voters are backing Salmond. Rather, it is the Greens who are doing much of the damage with as many as 15% of SNP constituency voters saying they will back the Greens on the list."
The results put the SNP ahead in both constituency and list votes, on 50% and 35% respectively. Labour sit on 21% and 22%, the Tories 21% and 20%, and the Lib Dems on 7% for both votes. The Greens are on 10% in the list and Salmond's Alba Party on just 3%.
Curtice estimates the figures would translate to 67 seats for the SNP, giving Nicola Sturgeon a majority of five. Labour would be second with 24, the Tories 22, the Greens 11 and the Lib Dems 5.
After the Holyrood inquiry into the Scottish government's handling of sexual harassment complaints, Salmond, the former SNP first minister, announced his return to politics with the formation of a new political party.
However, the reputational damage inflicted by his behaviour towards women who worked for him has dogged him through the campaign, and the poll suggests he is the least popular political leader in the UK among Scottish voters with just 10% holding a favourable view of him and 74% holding an unfavourable view, giving him a net rating of -64. By contrast, Sturgeon remains Scotland's most popular leader, with 52% of voters holding a favourable view of her. When those with unfavourable views are subtracted from favourable to give a net score, only Sturgeon and Sarwar have positive ratings.
The survey will be discouraging for Scottish Tory leader Douglas Ross, who, it is suggested, like Salmond, is less popular with Scots voters than Boris Johnson. There was speculation last week that Johnson was not visiting Scotland during the campaign because of his unpopularity here.
Meanwhile, Sarwar is viewed favourably by 29% of voters. Labour political strategist and former Better Together chief executive Blair McDougall said: "What Anas Sarwar has managed to do through force of personality is what previous Labour leaders have tried but failed to do, which is tell a more positive story about what Scotland can do as opposed to a return to divisive arguments.
"For me the most important thing Labour has lacked is consistency in message. Every time we have changed leader, we have changed message, personnel and policy.
"The important thing for Anas in what remains of the election and after is to continue to tell that story. It took the SNP years of very hard and disciplined work, telling the same story over and over again, for them to shape Scottish politics into what they wanted it to be.
"I think Anas and the Labour Party need to realise it will take that kind of attitude and determination to turn things around."
Stephen Gethins, professor in international relations at St Andrews University and a former SNP MP, says the party's predicted performance is astonishing after 14 years in power.
He said: "It is extraordinary to see a party which is seeking a fourth term of government to still have this level of popular support and be looking at a majority in a parliament where the system was designed not to have that. That being said, we still have another 10 days of election campaigning and I know better than anyone that every single vote will count.
"If people want to see an SNP government, and it is up to them, the 'both votes SNP' strategy will be crucial to delivering that."
Professor John Curtice: Poll shows SNP edging to a majority but cannot afford a slip – read more
He added: "If the Greens are doing well, then that's good for independence because the Greens are a strong pro-independence party. But in order to deliver a SNP government, voting for the SNP with both votes will be incredibly important."
SNP depute leader Keith Brown said: "This poll shows the election is on a knife edge when it comes to whether the SNP has a majority. Only Nicola Sturgeon and the SNP are strong enough to stand up to Boris Johnson.
"A vote for any other party is a vote to leave Scotland's future in Boris Johnson's hands and that underlines the importance of giving both votes to the SNP."
Ian Murray, Scottish Labour campaign co-chair, said: "Anas's positive campaign for national recovery is cutting through with voters. anyone who wants our politics to focus on what unites us, not what divides us, should support Scottish Labour with both votes, especially the peach ballot second vote."
The Alba Party shrugged off the apparent unpopularity of its leader, saying: "We have polled that we are on course to help elect a supermajority of pro-independence MSPs.
"We are confident that as the party that has made independence the key issue in this election it will result in parliamentary representation when our message hits home."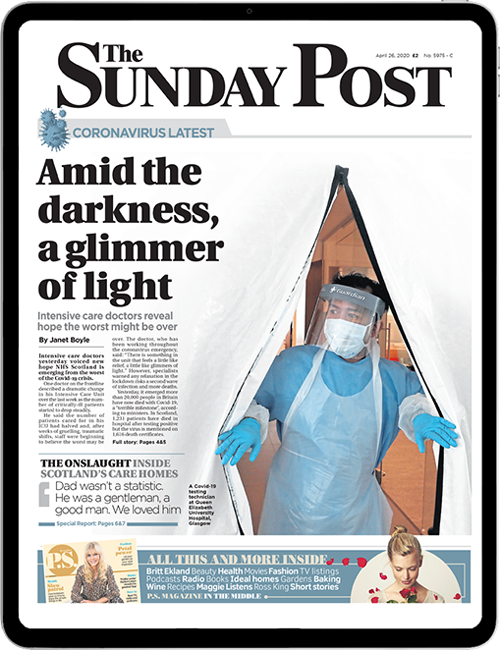 Enjoy the convenience of having The Sunday Post delivered as a digital ePaper straight to your smartphone, tablet or computer.
Subscribe for only £5.49 a month and enjoy all the benefits of the printed paper as a digital replica.
Subscribe