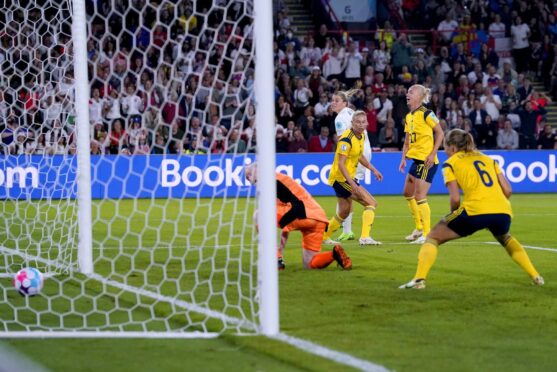 Maybe Erin Cuthbert has a crystal ball. The Chelsea and Scotland midfielder left the country while the women's Euros were playing out because she found it impossible to watch, as Scotland reflected on a tournament passing them by.
If the incessant dressing-room talk before the tournament was too much to bear, she may want to find a dark tunnel on the way in and out of the club's training ground these next few months.
The Euros have been hailed a triumph, a thrilling game-changing, tournament that has won legions of new fans for women's football, with more than 10 million viewers – one of the biggest audiences of the year – expected to tune in this afternoon to see England's Lionesses take on Germany in the final at Wembley.
But even if coach Sarina Wiegman's England side fall at the final hurdle it would be difficult to argue that it has been anything but a success for the Lionesses.
The sustained investment within the sport across the last decade has seen the trajectory of the women's game move at an incredible pace in England. It should be no surprise that there is a culture of professionalism that has fostered not just the ability that has been visible throughout the tournament but also the mentality necessary to compete at a major finals.
Having qualified for the 2017 European Championships – and missed out on a quarter-final place only by one goal – and then made history by qualifying for the 2019 World Cup, this summer's absence has been painfully acute for Scotland.
Pedro Martinez Losa, at the helm of the women's national team largely because of that failure to qualify for this year's Euros, will be charged with leading the side through a convoluted play-off process as they seek to make it to the Women's World Cup in Australia and New Zealand next year.
Martinez Losa based himself in London and watched nine games as he kept an eye on potential opponents that Scotland could meet on their play-off route.
"The standard has increased year on year in England," he said. "The culture has changed. Everyone is part of the picture. Clubs are heavily involved and have invested in their women's teams. Commercially, the league has worked to promote itself and for a long time there has been an ambition, a plan to create a winning and successful team.
"They set themselves an ambition to go and win a major tournament. That doesn't happen overnight. But what they did was identified all the things they had to do to get there and then went about implementing them.
"There is cohesion. What you have seen since 2012 is a clear line of progression, since the league was professional. You will always have bad moments but it is about sustained growth and movement.
"We hope that we can get Scotland to the 2023 Women's World Cup. This is a country that should be at every major tournament.
"You have to create the progress step by step. It takes a lot of work and it means that the whole country has to be united in making that happen. We need as much work at grassroots level as possible and clubs, players, the national side all have to have the same goals."
Scotland has seen a move towards a professional structure in recent seasons but the danger is that clubs with significant resources will be able to offer full-time contracts while other clubs struggle to replicate that, meaning it will always be a hybrid league. It has been reflected in recent tables; there were 17 points between third-placed Celtic and fourth-placed Hibs last season.
Leanne Crichton, part of Scotland's 2019 World Cup squad, and Julie Fleeting, who was the first Scottish female player to play as a professional when she went to the US, have both echoed the view that Scotland needs to find a way to copy the infrastructure of England.
Crichton had a two-year stint with Notts County while Fleeting had nine years with Arsenal. Both saw the benefits that centralised contracts by the English FA had in keeping players within the league as it sought to strengthen it.
"They invested in homegrown players," said Crichton, who is now a player-coach at Motherwell. "The central contracts are and were essential to that. Contracts worth maybe £25,000 to £30,000 allowed players to focus on their game but it kept players within the league.
"One of the challenges for the SFA is keeping the best players in the league and to do that it needs to be attractive enough financially.
"In 2015 when I was in England we got to the FA Cup final. There were 35,000 fans inside Wembley. Seven years on and you can be sure that every women's FA Cup final from now on will be a sell-out. These players have become household names. That came through giving tickets away for free, involving communities, schools and kids' football teams. But that is how you grow it."
INTERVIEW: Scotland football star Caroline Weir on realising an impossible dream and inspiring a new generation
Fleeting was of a similar mind. "The Scottish league is the strongest it has ever been but there is such a long way still to go," said the former Ayr United Ladies and San Diego Spirit forward.
"It is incredibly tough to play at a high level and hold down a full-time job. For me, the central contracts from the FA were the cornerstone for what they have built. The quality on display at the Euros was extraordinary. It will take time for Scotland to catch up and obviously there are different resources available but financially everything should be done to try to keep young and emerging talent within the league for as long as possible."
Rose Reilly, who represented Italy as well as Scotland, has questioned whether enough was done in 2019 to capitalise on Scotland's first appearance at a World Cup.
"I am proud of the fact that I can turn on the television and see female players, the best in Europe, on a mainstream television channel," she said.
"But I felt that way too during the 2019 World Cup. I heard a lot about a legacy and the start of a new chapter for Scottish women's football but where is it?
"What you have seen in England is investment. And where there is investment there is growth. So it is no surprise how well they have done."
---
Decisions about the future of the women's game must be shaped and driven by women
by Aileen Campbell, chief executive of Scottish Women's Football
I was astounded by England's Alessia Russo as she nutmegged the Sweden goalkeeper with a cheeky back-heel.
It was the coolest of finishes, which I've no doubt will inspire girls across England and the world, including here in Scotland.
The Uefa Women's Euro 2022 has been a triumph. It has showcased the women's game in the best possible way with full stadia, compelling narratives, excellent punditry and TikTok dances. It has had everything.
Although I am heartsore that Scotland wasn't at the party, our game benefits, too. There will be girls attempting back-heel nutmegs right now. We need to learn from what has happened in England and let women's football in Scotland flourish. Of course, the game in England has benefited from significant investment, and I know from our own discussions that prospective commercial partners see the women's game as a sound investment.
But this success is about more than the obvious allocation of resources from the English FA. When you look at the England set-up, from the way the players are allowed to express themselves to the incredible coverage helmed by Gabby Logan and Eilidh Barbour, with punditry from Alex Scott and others, it is clear that it is women leading this surge.
The appointment of Sarina Wiegman to replace the sometimes controversial Phil Neville as England manager was clearly a significant moment. It turned England into winners. Here was a woman, a proven winner with a clear vision. We can see that vision replicated in Chelsea coach Emma Hayes, who has ensured her side do not live in the shadow of the men's team, but are winners on their own terms.
Decisions about the future of the women's game should be shaped and driven by women. In Scotland we are lucky to have excellent clubs that are uniquely women's teams.
They make the brand stronger. And while there is much to be positive about, the Euros offers us a chance to think about what more we can do to improve our game and harness the inspiration that a big sporting event on our doorstep brings.
That is why I look forward to working with the SFA and SPFL to make sure women off the pitch are the architects of change that will enable successes on the pitch.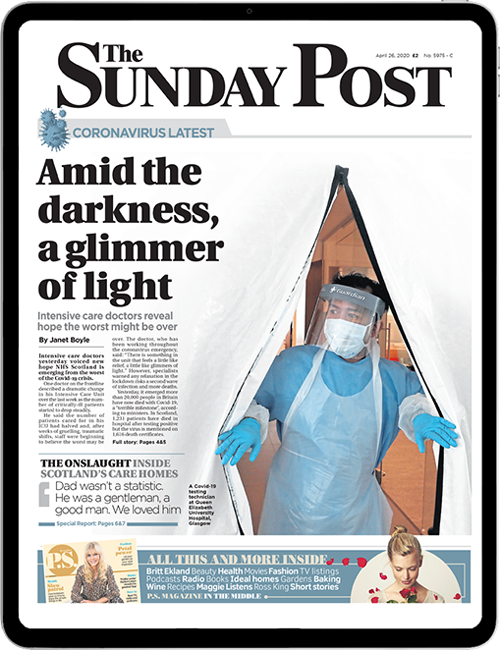 Enjoy the convenience of having The Sunday Post delivered as a digital ePaper straight to your smartphone, tablet or computer.
Subscribe for only £5.49 a month and enjoy all the benefits of the printed paper as a digital replica.
Subscribe