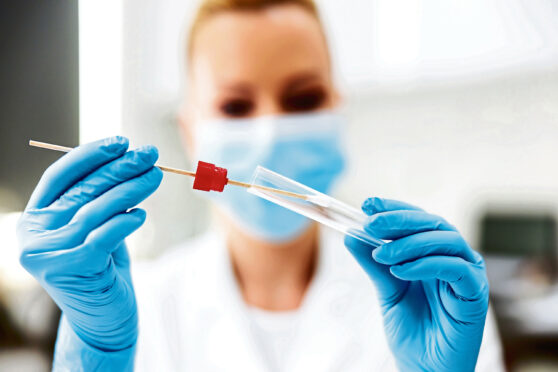 Covid labs for speeding up the turnaround of care home tests during the second wave were not signed off by ministers until October – the same month they were due to open.
Contracts for the hubs in Aberdeen and Edinburgh aimed at increasing testing capacity were rubber-stamped in mid-October, according to document seen by The Sunday Post.
First Minister Nicola Sturgeon and then-Health Secretary Jeane Freeman repeatedly told Parliament they would open three labs in October, before revising the timetable.
Two of the labs in Glasgow and Aberdeen eventually opened in December while a third in Edinburgh did not open until late January.
At the time, care home staff were waiting up to a fortnight for Covid test results. Outbreaks have claimed the lives of 3,324 residents, a third of the death toll in Scotland.
The ­revelation has prompted the president of the Institute of Biomedical Science (IBMS), an industry body for UK lab workers, to call for a separate Scottish public inquiry.
IBMS president Allan Wilson, a ­scientist based at Monklands Hospital in Lanarkshire, said: "The Glasgow hub was a godsend for us because we were doing Covid testing for care homes in hospital labs and that work then went to the Glasgow lab. It went live in December, and even then it wasn't operating at full capacity. However, once we had that, I think the politicians felt the pressure to deliver the other two labs was reduced.
"It would be useful to have a ­separate Scottish inquiry. There were some aspects of this that were unique to Scotland, for example the way we set up these hub labs."
Demand for care home public inquiry escalates as the independence of watchdog comes under scrutiny
Last year, we told how Wilson feared the timetable for delivering the testing hubs had slipped. The first minister publicly dismissed his claims during a televised press conference, saying: "There was some press speculation over the weekend about possible delays to these hubs, so I want to take this opportunity today to stress that all three of them are on track to open before the end of the year."
The three hubs – designed to process 22,000 tests a day to take pressure off the UK Government's overstretched Lighthouse lab – were first mooted by Freeman in the summer of last year. She told Parliament in September they would open in October at the latest, before later admitting they wouldn't open until December. Documents published by the government last week showed the £2.8 million contract for the Edinburgh hub was not awarded until October 12 and the £1.6m contract for the Aberdeen hub was not awarded until October 13.
Alan Wightman of Covid-19 Bereaved Families For Justice, who lost his mum, Helen, to a Covid outbreak in a Fife care home, said: "We were assured that additional expenditure had been made available to bring these three hubs into existence by October or sooner. Now we hear that such a timescale was never realistic. An inquiry could establish what advice the health secretary was listening to when she promised the much earlier delivery times."
Balhousie Care Group, Scotland's largest private care home group, repeatedly warned that staff were waiting more than a week for test results. In August we told how only six results were returned from 846 staff tests in one week.
Balhousie CEO Jill Kerr said: "Balhousie Care Group argued for a long time that more attention was needed to testing in care homes and we hope now the Scottish Government's timeline on testing can be looked at it in more detail through a public inquiry into coronavirus in Scotland."
The Scottish Parliament voted last year for an immediate judge-led inquiry and the SNP's manifesto gave a commitment to launching a probe. However, First Minister Nicola Sturgeon has since said she wants to wait for details of a UK-wide inquiry, which will not begin until 2022.
Naomi McAuliffe, Scotland programme director for Amnesty International, who organised an open letter to the First Minister – signed by 22 civil society organisations – calling on her to set up a separate Scottish inquiry, said: "It's concerning that, as experts warned only urgent mass testing would help prevent yet more deaths in care homes, there were delays in establishing the regional testing hubs promised as part of the Scottish Government's response to the crisis in care homes.
"All of this information needs to be considered in the context of a public inquiry."
Nurses demand urgent public inquiry into Scottish Government's handling of Covid-19
Age Scotland chief executive Brian Sloan, who signed Amnesty's letter to the first minister, said: "As case numbers are again on the increase, we cannot allow this to be kicked into the long grass. A full inquiry into Scotland's handling of the pandemic is needed urgently."
The Scottish Government said: "We are grateful to the hub teams who worked tirelessly to deliver the regional hubs in incredibly short timescales while working in the greatest challenge of our time.
"Following the UK Government's decision to follow us in committing to take forward a four-nations full public inquiry, detailed work will be done on the terms of reference and the timescale.
"When we have a greater sense of that remit, we will make a judgment as to whether the UK-wide inquiry covers all of the issues that need to be covered for Scotland or whether there is a need to have a part of the process that looks at other issues.
"We are also clear that we expect it to begin its work by the end of this year. If the UK Government does not take this forward swiftly, we will determine if a distinct Scottish inquiry is required to meet the needs of families who have been impacted by the pandemic."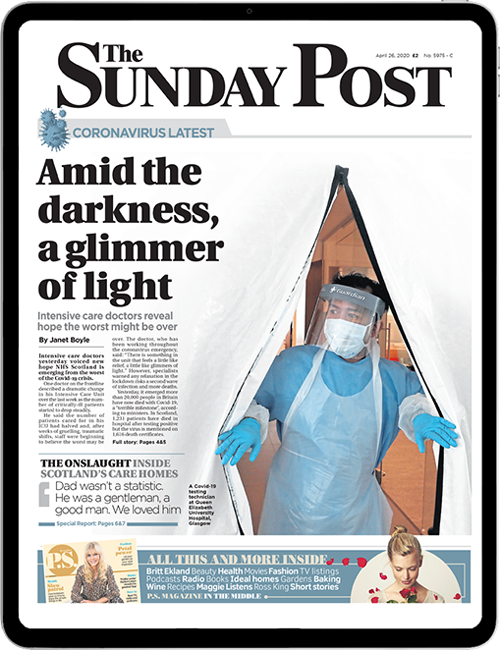 Enjoy the convenience of having The Sunday Post delivered as a digital ePaper straight to your smartphone, tablet or computer.
Subscribe for only £5.49 a month and enjoy all the benefits of the printed paper as a digital replica.
Subscribe