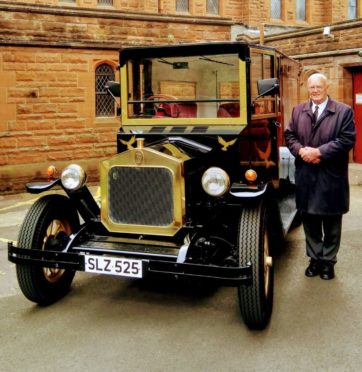 At 68, Sandy Muirhead has finally found his dream job – driving a hearse.
Lifelong motor enthusiast, Sandy, from East Kilbride, has converted two vintage kit cars from the last century into unique hearses.
One was a Belgravia, made for the English market, the other a Fleur-de-Lys. An identical car but with a different name, intended for France.
Both were based on a 1920s classic car. Sandy adapted and modified both cars for brides who wanted something extra special for their big day.
But after 30 years in the wedding business, Sandy decided to venture into funerals.
Sandy, who is on Facebook as SM Cars, said: "One night, about five years ago, I grabbed an electric saw and went out into my garage and attacked one of the cars.
"I took the roof off and virtually cut it half, so just the wheel base was left. Then I started rebuilding it, with the image of a classic hearse in my head."
He added: "I'm still like that teenager who loved tinkering with cars. It was my passion. I became a butcher at 16 because I wanted to earn money. But cars are my true love."