Scots football club to run distance of Glasgow to Zambia in fundraising effort
A Scottish amateur football club is running the distance of Glasgow to Zambia to raise funds to assist in Africa's fight against coronavirus.
Players from Glasgow on the Ball – charity Africa on the Ball's Sunday League amateur football team – will take part in a collective run of 8,500km to support people in Zambia, who are particularly vulnerable to Covid-19 due to the country's poor infrastructure and amenities.
Stirling-based Africa on the Ball – which received its biggest ever donation of £15,000 from EuroMillions lottery winner Colin Weir last year – uses football to promote health and wellbeing, community development, gender equality and education in Kalingalinga, Lusaka, Zambia.
Since it is currently not possible to play football in Scotland, the charity is finding new ways to help the community as the chance of survival from Covid-19 in Zambia – which only has 17 ventilators for a population of over 18 million – is significantly lower than in developed countries.
To help, Glasgow on the Ball team members aim to raise an additional £8,500 for the Covid-19 project by the end of May through the running challenge, tracking their daily exercise on Strava. They have already raised over £3,500.
Recently, Africa on the Ball received a micro-grant of £500 from Corra Foundation, which enabled them to meet urgent costs for soap, toilet roll, tapped buckets of water and PPE for medical staff and community workers.
They also bought 300 washable face masks for the community, made by the Women's Economic Empowerment Zambia, based in Lusaka.
Africa on the Ball is also providing educational workshops in Kalingalinga about hygiene, sanitation and social distancing and distributing food and baby clothes to vulnerable people who have been most affected by the outbreak.
Kelvin Chasauka, Africa on the Ball project manager in Kalingalinga, said: "Covid 19 has greatly affected the community and things are not the same as they were a few months ago.
"The virus has contributed to a rise in house break-ins, not only in Kalingalinga, but many other communities.
"Because we can't use football just now to promote positive social change we are finding new ways.
"We are leading the way towards reducing the spread of Covid 19 to give people hope and show them we are all together in this fight."
Co-founder of Africa on the Ball, Andrew Jenkin, said: "Africa on the Ball's work and educational activities have been greatly affected by the outbreak of Covid-19.
"We know times are hard and people will have been affected by the ongoing lockdown, but we want to ensure some of the world's most vulnerable communities aren't forgotten about.
"Therefore, any contribution you make will be greatly appreciated by everyone involved with the club and charity."
For more details and to donate visit here.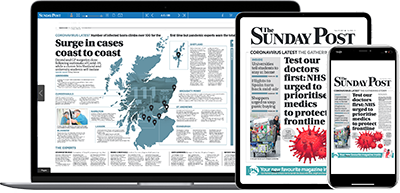 Our free web and ePaper offer to help you stay informed in these challenging times
3 months free access to our web and ePaper pack including Premium articles.
Subscribe