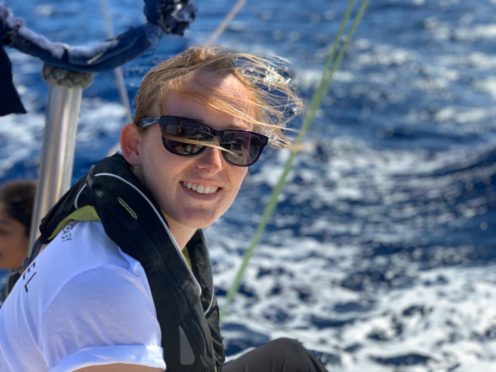 Being tailed by a whale across a stretch of the Atlantic Ocean put the task facing the all-female crew of a round-the-world plastic pollution mission in perspective.
The eXXpedition voyage, which sees 300 women over several legs sail the 38,000 mile journey, aims to analyse how much plastic has ended up in our oceans, its impacts and potential solutions.
The importance of their work was underlined by the majestic mammal's appearance, a timely reminder of the habitats put at risk by humanity's plastic consumption.
In eXXpedition's initial legs, heading from the UK to the Caribbean, samples were taken from water at the edge of the North Atlantic Gyre, where plastic is known to accumulate.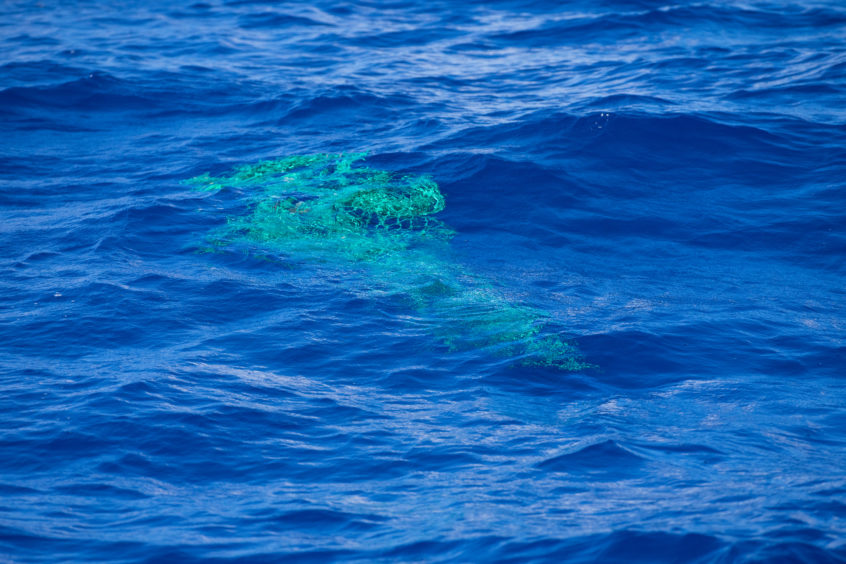 Even at the edge, there were many plastic fragments within the samples as well as  items floating on the surface – from fishing gear and plastic chairs to plastic forks and chunks of a door.
And while the accumulation at the Gyre isn't quite forming an island of plastic, the micro-plastics contained within the water were at an alarming level.
On one day, samples found 70 pieces in each trawl, which took in 30 minutes sailing and about one mile in distance.
Multiplied by the size of the ocean's surface, these tiny and tricky to locate plastic particles present more of a problem than a simple pile of debris.
The whale's keen interest in the 70-foot yacht was the most memorable and poignant moment from an unforgettable trip for Scot Emily Butler, who was among the first to set sail.
"Most whale sightings they just pop up and go away. This one followed us for almost two hours and it was just amazing," she recalls.
"The waves behind the boat were quite big and you could just see this ominous shape following us in the water.
"But when we reached Antigua, we saw an abandoned fishing net in the water and we'd seen other bigger bits of plastic – at one point a garden chair.
"Seeing that and thinking about the whale and the dolphins we saw on the trip, and how you hear about them being found dead with fishing gear in their stomachs brought it all home."
22-year-old Emily, from Saline in Fife, was part of the crew for the second leg of the journey in the Caribbean, voyaging from the Azores to Antigua.
Various tropical storms delayed their departure, and it took a while for them to find their sea-legs.
"It was quite rough on our first day and we did all of our man overboard drills and then it went silent on deck," Emily says.
"You can just feel the seasickness coming. I struggled the first few days mentally but I couldn't really tell you why, it was just a strange, amazing experience."
Luckily, the rest of the journey was unexpectedly calm so the rough seas weren't too much of an issue – but the sweltering heat was.
"I struggled with sleep the most out of everyone just because it was so hot below deck. Everyone said it was because I was from Scotland," Emily laughs.
"It was calm but my bed was right at the front of the boat – where you don't want to be. You definitely feel like it's a lot rougher than it is."
The main scientific tasks to be carried out each day included putting out a trawl for a nautical mile to collect samples and measure the amount of plastic.
From the samples, researchers can determine where the plastic has come from and what it had formed before.
It was a great opportunity for Emily, an environmental science graduate from the University of Dundee, to see the kind of thing she could end up doing as a career.
"We were doing so many different kinds of sampling," she says. "There was one where we'd place a square sieve on the water and collect fish eggs and tiny plastic particles.
"We also took samples from 100m down and filtered that out to see if there were any plastic fibres to see how far it was through the water column."
As well as tasks on the yacht, the crew did a beach clean in the Azores and visited locals to see how they dealt with plastic waste.
"I would definitely do it again," Emily says. "Coming off the boat and it being over was one of those moments, for the whole year we'd been building up to it and then it was done.
"Although I still have so much to do, this was such an exciting part of it. Because at the start and the middle I struggled a little bit, by the time I got into it and started really enjoying it, it was over too soon."
The message Emily hopes to share from her voyage is the need for a change in attitude to plastic not just from individuals, but up to the highest level of industry and government.
"If an individual cuts out plastic that's great, but then there's eight billion people living life the same as before. It'll take everyone.
"It links in with climate change, we know we have to do something but for a lot of people it needs to be implemented through the products we buy."
---
---
Emily and her fellow crew members relieved the first leg sailors who had made their way from Plymouth to the Azores.
It meant the end of the trip for fellow Scot Kirsty Young, from Duns in the Scottish Borders. A complete sailing novice, the 29-year-old admits first setting off was a mix of nerves and excitement.
"It was really nerve-wracking, having never done it before," she says. "It's absolutely terrifying. I know the ocean is massive, but I think I underestimated the enormity of it and how vast it actually is.
"It felt like we didn't see ships for days, and land for two weeks. I really underestimated the whole task. It was such a huge challenge."
The crew were split into watches, each tasked with keeping the boat going, cooking meals and taking samples from the water.
"For the first few days it was impossible to sleep," Kirsty recalls. "I've never experienced how noisy it is smashing against waves, how much the boat moves.
"You're sailing at a 45 degree angle so I was hanging out of my bed for the first three or four days with just a little cloth tied up above me to stop me falling out. I didn't trust it, so I spent most of the night trying to hold on to the bunk to stop me falling out.
"After about three or four days you're just so tired and exhausted you get used to it, and it almost rocks you to sleep.
"You can't cook without holding on and you're trying to chop vegetables without cutting your finger off. Simple tasks like showering or going to the toilet are so difficult."
"The saying I've used quite a lot lately is that, if I can sail across the Atlantic Ocean, I can do anything. It really puts into perspective how minuscule the issues in daily life are."
Helping to keep her motivated was the backing and support of the all-female crew around her. A Ministry of Defence police firearms officer back on shore, it was something Kirsty admits she wasn't used to.
"I'm used to a male dominated environment and quite harsh situations so to be in such a loving, friendly group in such a tough circumstance, I've never felt anything like that before," she says.
"Without the amazing women on board it would've been impossible. They kept me going. I was very bad with seasickness and without them dragging me through it would've been a horrible place to be.
"It really inspired me and you couldn't help but end up laughing about things. It was one of the most challenging experiences of my life but one of the most enjoyable.
"When you can smile and laugh through tough times like that it's something special."
Kirsty recalls one particular "magical experience" of calm tranquillity that she cites as the highlight of the trip.
"I went up on watch at three in the morning and it was pitch dark. We had very few calm days so I was used to it being rough and struggling to put the kit and lifejacket on to get up there but it was oddly quite still going up onto deck, sailing along nicely and all the stars were out.
"It was unbelievable and the bio-luminescence in the sea hitting the boat was sparkling. You could see shooting stars, it was perfect."
Now that she's back on dry land, the task is to spread what she's learned.
She says: "I learned so much, and saw just how much plastic is out there. The ocean is so vast and you don't see much of it so don't realise how bad the situation really is. I didn't think that would affect me as much, but it's really not nice to see."
Finding so much plastic came as a shock not just to the beginners, but also expedition organisers who have been on several missions like this before.
"When we were going out we were told the sea state was really rough. It was horrific the amount of storms we had," Kirsty says.
"We were told that meant the plastic should mix and be pushed down a bit so we maybe wouldn't find as much. We were nowhere near the accumulation points either where it all collects.
"We weren't expecting to find a huge deal but the first sample we took, the closest to the UK, had nearly 100 bits of plastic in it.
"It was a huge shock. We didn't take one sample that didn't have plastic in it. It's quite scary, especially when you see stuff floating by."
Both Emily and Kirsty are involved in Girlguiding, and will use that as a platform to share the insights they've learned from the expedition.
"My main goal is to speak to Brownie groups, guide groups, and try to push it to kids more," Kirsty says.
"They're the next generation so I'd like to see that they change what we've done. Someone has to save us."
---
---
Having initially started the project while looking into the potential toxic implications on female health of chemicals used in the production of plastic and other pollutants in our environment, eXXpedition leaders felt it important to continue the all-women venture, given that only 13% of the global STEM workforce is female.
Before setting off around the world, previous sailing expeditions have taken in the Caribbean, the British coast and the North Pacific.
Co-founder Emily Penn said: "Women are underrepresented in sailing and science, which I'm passionate to readdress by promoting positive female role models.
"eXXpedition Round the World is a unique opportunity to conduct cutting edge research into ocean plastics and find out what plastic is getting mismanaged and ending up in our ocean and therefore how to solve it on land.
"There's no silver bullet to plastic pollution. Our goal is to take a group of women who would never normally go sailing across our oceans to have that first hand experience, better understand the problem, and be able to implement the change we need to see when they get back home.
"The plastic pollution challenge our ocean faces is a global one and it will take an inspired army of passionate, skilled and experienced people to tackle it."
Across the course of the expedition, each crew member will collect samples and data, conduct outreach work with locals at each port, and receive training to run workshops about plastic pollution when they return home.
The crew rotate shifts on S.V. TravelEdge, a 70-foot expedition boat, spending four to 31 days on board. All costs of the not-for-profit expedition have covered by crew contributions, fundraisers, sponsorship and partnerships.
---
---
eXXpedition resumes its journey for 2020 on January 28, heading from Panama to the Galapagos Islands.
The yacht is scheduled to return to the UK in September 2021, having stopped off in Tahiti, Perth, Cape Town, Bermuda, Reykjavik and more along the way.
For more information, visit exxpedition.com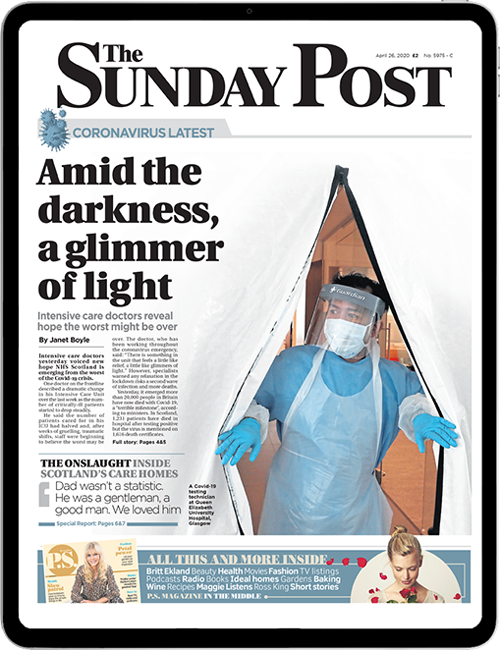 Enjoy the convenience of having The Sunday Post delivered as a digital ePaper straight to your smartphone, tablet or computer.
Subscribe for only £5.49 a month and enjoy all the benefits of the printed paper as a digital replica.
Subscribe