A Scot who put his time in lockdown to good use by creating a mash-up of a Dua Lipa track and the BBC News theme has told of the surreal experience on seeing it played out on TV.
Ben Howell, from Glasgow, shared a clip of the remix last week on Twitter.
It saw the vocals from Hallucinate, from Dua's recently released album Future Nostalgia, overlaid on the pounding beat of the famous BBC News theme.
The remix was picked up by a number of BBC presenters, including Radio 1's Greg James.
After some lobbying, the full mash-up was eventually played out on the BBC News channel on Tuesday afternoon.
Dua herself also shared Ben's creation on her social media accounts.
"I do think it's a bop" 🎵@piffleandwhimsy spoke to @BBCSimonMcCoy and @gregjames about his @dualipa remix of the BBC News theme https://t.co/gSLI9WVYSj pic.twitter.com/oxcOuRWhwZ

— BBC News (UK) (@BBCNews) April 28, 2020
Ben, 30, told The Sunday Post: "It's been a very strange day and such a surreal experience. Every time I think it's reached peak bizarreness it takes another turn.
"It was unreal seeing it playing out on the actual news, but in a good way. I'm delighted people are enjoying it.
"It's a bit of fun in these otherwise gloomy times, I guess it's the benefit of having more time to be a bit creative and try things."
Ben, a graphic designer, said that his love of the BBC News theme had become a running joke amongst his friends.
Such was his fondness for it, he'd often sneak it onto party playlists.
He added: "I really enjoy remixes and mash-ups that other people make. Initially when I was listening to the Dua Lipa track I thought it might work.
"I had the luxury of the spare time to put it together. Once I saw the BBC presenters sharing it around I thought, oh great, now I have to put some effort in to get it finished!"
quarantine level : @BBCNews remix of Hallucinate by @piffleandwhimsy 😂 // thank you @gregjames for sending me this! I think this calls for a new theme tune??? pic.twitter.com/0F6SzPJ523

— DUA LIPA (@DUALIPA) April 28, 2020
A share on Twitter and Instagram from the chart-topping star took the remix to a new level, and resulted in a flood of Twitter notifications.
"I had been trying to keep an eye on them and keep on top of them but there was a point where it just accelerated. It really took off," Ben said.
"Someone then told me she'd shared it. Which is just ridiculous!
"My friends are really nice so when I posted a clip of it in our group chat they told me I should send it to her, imagine she actually heard it. She actually has now!"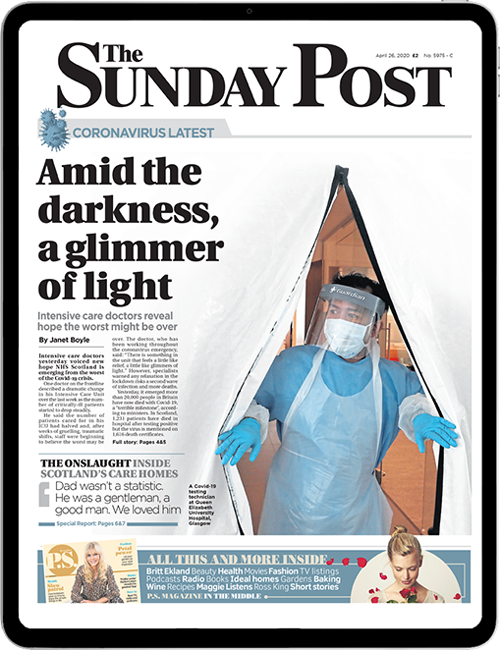 Enjoy the convenience of having The Sunday Post delivered as a digital ePaper straight to your smartphone, tablet or computer.
Subscribe for only £5.49 a month and enjoy all the benefits of the printed paper as a digital replica.
Subscribe